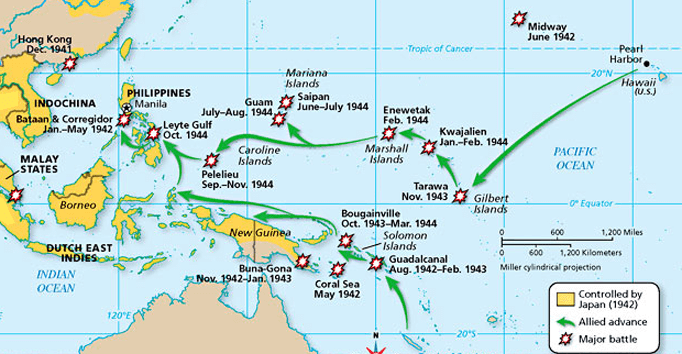 Betio is a small triangular island located about 2,400 miles southwest of Hawaii in the Tarawa Atoll in the Gilbert Islands. Only 2 miles long and about 800 yards at its widest point it would not seem to be a place of any great importance in the world. Yet, during the Second World War, Imperial Japan fortified it with 2,600 troops and 2,200 construction workers, 1,200 of which were Korean slave laborers.
Admiral Chester Nimitz called it "the front door to Japanese defenses in the Central Pacific." The Gilberts lead you to the Marshall Islands, the Marshalls to the Marianas, the Marianas to the Carolines and, finally, back to the Philippines. Further southwest, closer to Australia, US forces had began a similar campaign in the Solomons in February of 1943. There, over the course of six months, the 2nd Marine Division took 1,200 casualties (268 dead). After R&R in New Zealand, they would be tasked to lead the assault on Tarawa where they took 3,301 casualties (990 dead) in just two weeks of operation. Almost half of that would come in the first 24 hours. It has been called the toughest battle in the history of the United States Marines.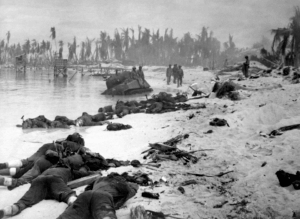 The dead were buried quickly and haphazardly. When the island was secured, the Seabees came to build an airfield. In the process, grave markers were moved but not the graves. In the last decade volunteers from History Flight, a non-profit dedicated to securing the bodies of all WWII era missing, have found and help repatriate 272 Marines and Navy personnel including Medal of Honor recipient 1st Lt. Alexander "Sandy" Bonnyman Jr. They estimate that there are approximately 270 men left to be recovered on the island.
This week, the Department of Defense POW/MIA Accounting Agency, in conjunction with History Flight and the Marine Corps solemnly loaded 22 more remains onto C-130s for the long journey to Joint Base Pearl Harbor-Hickam where they will undergo forensic testing to see if they can identify them and return each to their hometowns for burial "with pride, dignity and honor."
In 2017, Mark Noah, the president of
History Flight
estimated that they had already spent close to $6.5 million in the effort. "Our trans-disciplinary team — including many volunteers — of forensic anthropologists, geophysicists, historians, surveyors, anthropologists, forensic odontologists, unexploded ordnance specialists, medics and even a cadaver-dog handler have excelled in difficult conditions to produce spectacular results."
Published in General