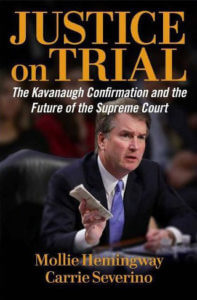 Justice on Trial by Mollie Hemingway and Carrie Severino is a great book. It arrived this week, and I read it in one day. I read until after midnight, and then woke up early to tackle it again. It has a number of insights and inside stories, from Justice Kennedy slipping out to give Trump his letter of resignation, to mind-numbing detail about how the Dems tried to scam the process.
Two Dems come out the best, Amy Klobuchar and Chris Coons. Yes, they voted against Kavanaugh but they did not disgrace themselves as did Kamala Harris and Cory "Spartacus" Booker. Special praise goes to Majority Leader Mitch McConnell, Chair Chuck Grassley, and Lindsey Graham.
After Clarence Thomas was confirmed, the majority of the nation sided with him. However, after the publication of smear job books like Strange Justice, the public has been turned against Justice Thomas. I hope that my fellow Ricochetti buy and read Justice on Trial and use it to rebut those who would try to smear Kavanaugh in the future.
Published in General