I am alone now, truly alone, and absolutely isolated from any known life. I am it. If a count were taken, the score would be three billion plus two over on the other side of the moon, and one plus God knows what on this side. – Michael Collins
We a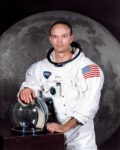 re now celebrating the 50th anniversary of Apollo 11 landing on the Moon. On Wednesday we discussed the first man on the Moon Neil Armstrong, who died in 2012. Yesterday we discussed Buzz Aldrin, who had a PhD in astronautics from the Massachusetts Institute of Technology. The third member of the crew, Michael Collins, orbited the Moon while Neil and Buzz landed. There were many question on his role and how he felt about not landing. Like Armstrong and Aldrin, Collins decided to stop space flights after Apollo 11:
During the training for Apollo 11, [Deke] Slayton offered to get Collins back into the crew sequence after the flight. Collins would almost certainly have been the backup commander of Apollo 14, followed by commander of Apollo 17, but he told Slayton he did not want to travel to space again if Apollo 11 was successful. The strenuous schedule of an astronaut strained his family life.
Soon after leaving NASA, Collins took up the demanding role as Director of the National Air and Space Museum in Washington DC. In August 1972, Congress approved a $40 million budget for construction, and set the museum opening date of July 4, 1976 as part of the Bicentennial celebration. The design was completed in just nine months, and all contracts were awarded within a year. Over one million people visited during the first month, and it averages over eight million visitors per year. It holds the important aviation relics, including the Wright Flyer, The Spirit of St. Louis, the Bell X-1 that broke the sound barrier, and the Apollo 11 Columbia capsule. Collins held the directorship until 1978.
In his autobiography he wrote "this venture has been structured for three men, and I consider my third to be as necessary as either of the other two." During the 48 minutes of moon orbit out of radio contact, he reported it was not loneliness, but rather "awareness, anticipation, satisfaction, confidence, almost exultation," as shown in the quote above. However:
In a July 2009 interview with The Guardian, Collins revealed that he was very worried about Armstrong and Aldrin's safety. He was also concerned in the event of their deaths on the Moon, he would be forced to return to Earth alone and, as the mission's sole survivor, be regarded as "a marked man for life."
On the 25th anniversary of Apollo 11 in July 1994, I was in Oshkosh Wisconsin, less than 20 feet from the famous trio of astronauts. Rather than sit with the thousands of Airventure spectators, our family sat behind the stage area (dais) less than 20 feet from the 15 Apollo astronauts that were present. The three Apollo 11 astronauts described their journey, and all 15 astronauts were very gracious answering questions from the crowd. Their banter and joviality was well received. A group picture from the Experimental Aircraft Association's October 1994 publication Sport Aviation is shown below: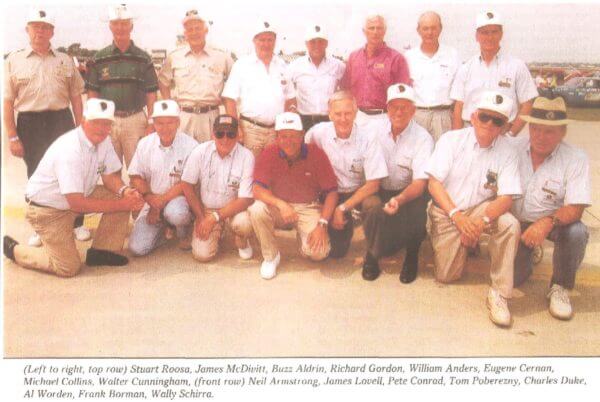 Published in Group Writing