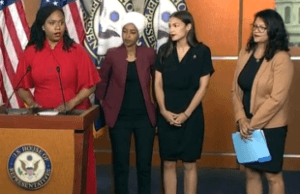 Yes, the phase is casually, dishonestly employed, and so debased as to be largely emptied of moral weight. This is another thing the left has ruined. At the same time, leftist identity politics legitimize preferred forms of segregation, racial favoritism, and ideological policing of color lines.
Demanding "safe spaces" with admission only to specific ethnic groups is segregation. Fiddling with admission criteria to boost or suppress college class membership for a racial group is racial favoritism. And this is raw ideological policing of the color lines:
Rasmussen just released a poll with the following questions:
1* Which is closer to your point of view – that President Trump is a racist or that his opponents are accusing him of racism for political gain?

2* Is it racist for a white politician to criticize the political views of a politician of color?

3* Does the term racism refer to any discrimination by people of one race against another or does racism refer only to discrimination by white people against minorities?
If you have paid attention to the changing tone in our schools, translating into activism around campus and in city government, you will not be too surprised at the results. The answers are a real mixed bag for our body politic. As PJMedia reports Rasmussen's results:
While 80% of Democrats believe the president is a racist, 85% of Republicans think the racism charges by his opponents are politically motivated. Voters not affiliated with either major party are evenly divided on the question.

Thirty-two percent (32%) of Democrats, however, say it's racist for any white politician to criticize the political views of a politician of color. That's a view shared by just 16% of both GOP and unaffiliated voters.

Among all voters, 22% think it's racist if a white politician criticizes the political views of a politician of color. Sixty-eight percent (68%) disagree, while 10% are undecided.
Surely this makes the new version of the "race card" self-defeating for Democrats. Or does it? Calling President Trump a racist works in solidly Democrat districts. Indeed, if you are a strong "D" district congresswoman who does not call him "racist," you are out of step with your constituents. If you mash the "Trump racist" button, you are fending off any serious primary challenger and may forecloseing any long-shot Republican challenge.
At the same time, President Trump and any Republican member who votes "no" on House "Trump racist" posturing votes, benefits in solid Republican districts. Now here is the depressing part: In competitive districts, there is no clear winner on this play. Contrary to pom-pom punditry, the math is what it is on this question. If there are a roughly even number of R and D voters in a district, then the independents will carry the day, and on the "Trump racist" play, independents are … evenly divided!
Now, if we pivot to the dynamic of President Trump and Congresswoman Liz Cheney hammering the "Squad," this would seem to be a big winner for Republicans. Even in solidly Democrat districts, at most 32% of voters will presume that a white politician's criticism of a "politician of color" is racist. Lead-pipe cinch winner for President Trump and the 2020 House GOP, right? Likely, yes, but look very closely.
Is this an issue that motivates one side more? Is it firing up one side to engage, while the other side responds by a shoulder shrug, an eye roll? The 2016 presidential election came down to Donald J. Trump flipping three reliably Democratic states by a few tens of thousands of votes. He knows that he will not have a catatonic Democratic Party failing to actively contest those states again.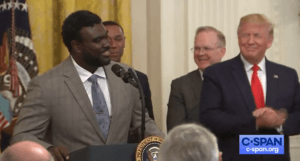 President Trump has worked every day to expand the competitive electoral map. Understand his constant recital of great good news for African-American, Latino, and Asian-American employment. Look again at his two high-profile events, first celebrating prison sentencing reform and then celebrating the Second Change Hiring initiative. President Trump has done more of substance for African Americans than any other Republican president since Grant. He has vastly outperformed every Democrat since at least LBJ, including former President Obama.
This has thrown the Democrats into reactive mode, tipping their ideological hands completely. President Trump, as a counter-puncher. with a basic fight strategy of doing well by doing good for forgotten Americans, has continued to operate inside the OODA loop of every opponent. So, why not just break out the balloons and confetti now?
President Trump is showing, by his actions since his election, that he knows he must get more votes in the right states in 2020 to repeat, let alone, improve on his 2016 performance. The same baseless accusations that are generally rejected by Americans have resonance, have some power, in the deepest blue precincts. How does Trump close the deal with the African Americans he expects to gain, when the Democrats are pounding away to make him toxic in urban areas? Will this desperate move drive up Democrat turnout enough, and keep traditional Democrat voters on their side, to overcome the Trump voters in the rural and exurban areas?
Expect more of the same between now and November 3, 2020. As Larry Elder is wont to quote:
.