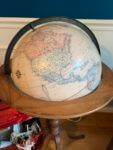 Literally, the one in my office. I have a beautiful Rand McNally globe that sat in my grandfather's office when he worked for the company in the 1960s. My dad has had it since the 80s, and gave it to me a few months back (ok, I took it and he didn't object). Only recently have I had time to really take a close look; the first time in 35 years.
The mystery is: how old is the globe?
My dad's memory is that it was in his dad's office just around the time he started high school in 1960, so at least 60 years old. Now, the first twist: There is only one Germany represented, so pre WWII, eighty years?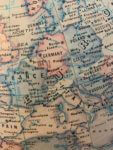 There is also a Soviet Union represented- post WW1 ? So is it one hundred years?!!
But wait. Egypt is represented as UAR (United Arab Republic), which the interwebs tell me was an alliance between Egypt and Syria from 1958 to 1971 that I'd never heard of.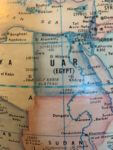 So it has to be globe produced basically in 1960, but then why the heck would East Germany not be represented?
I can't find anything on the globe that gives me any sort of a "copyright" date, but I'd love to figure it out. Any thoughts?
P.S. I'm starting to believe that perhaps this globe had some sort of printing error ("Say Fred- this thing only has one Germany- you know we won the war, right?") Maybe this is a goof globe that they just gave away to employees.
Not a big deal. Still works.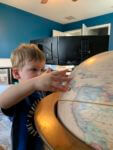 Published in General