As a historian, I have a great love for names and the stories they can tell. Even the most common names can tell a wonderful story. Take for example this image, of a young lady named Smith, taken about the time of the Civil War: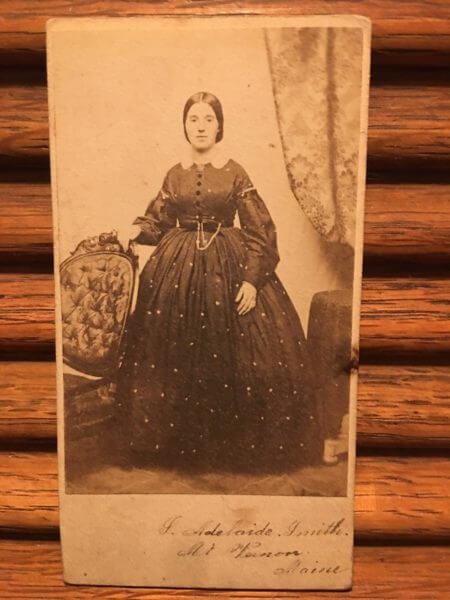 This type of photograph is known as a carte de visite, and they were very popular during the Civil War era. Invented in the mid-1850s, an individual photo of this type could be had for as little as twenty-five cents, making them wildly popular and very affordable for just about everyone. Untold numbers of these images were produced and, fortunately for photograph collectors, many of them survive to this day.
I recently picked up this carte de visite, and in the course of my research into it found that the lady's full name was Susan Adelaide Smith, and she was born on July 25, 1837, in Mount Vernon, Maine. I looked her up on the 1860 US Census and found her living in Mount Vernon with her parents, Nathan and Irena Smith, and her siblings Marine, Hiram, Albion, Addia, Louisa, Albina, and Sarah. (1860 U.S. Census, Mount Vernon, Kennebec, Maine, page 621)

On March 23, 1865, Susan married Benjamin F. Robinson, a Civil War Veteran who had served in Company F, 6th Kansas Cavalry. He was a native of Mount Vernon but had moved to Kansas before the war. Soon after the nuptials, Benjamin took his bride to Kansas, and the couple settled in Saline County.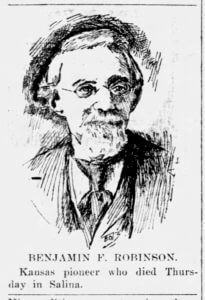 One of the Robinsons' new neighbors was a former slave named Larry Lapsley, who escaped from bondage in Texas during the Civil War. He had made an epic trek which took him through Confederate-controlled Indian Territory before reaching the Union lines in Kansas. The Robinsons befriended Lapsley and became close friends with the former slave. Fortunately, Lapsley was persuaded to tell the story of how he escaped from captivity, and it was published in the Kansas Historical Quarterly under the title, "The Story of a Kansas Freedman." (Kansas Historical Quarterly, Volume 11, #4, November 1942)
Lapsley related in the article how he was "taught to read by Mrs. B.F. Robinson, the wife of his nearest neighbor, in the kitchen of her home. She held there what is considered the first school in Liberty township. Larry's favorite paper was the Police Gazette, to which he was a subscriber for many years. Mrs. Robinson protested that it was too vulgar for him to read but he always argued that it didn't hurt him and couldn't possible hurt anyone else because it came in a wrapper and no one else could see the pictures."
When Larry Lapsley died in December 1897, he was buried in the Gypsum Hill Cemetery in Salina, Kansas. He had never married, and he left his farm, worth about $3,500, to the Robinsons. Benjamin F. Robinson died August 5, 1909, at the age of 77, and Susan Robinson died on May 18, 1919. They are buried in the Gypsum Hill Cemetery as well, next to their good friend Larry Lapsley.
On Larry Lapsley's tombstone is carved the following phrase, and I think it must have been picked out by Lapsley himself, for he is truly someone that knew the value of freedom:
"If the Son there-
fore shall make
you free, ye shall
be free indeed."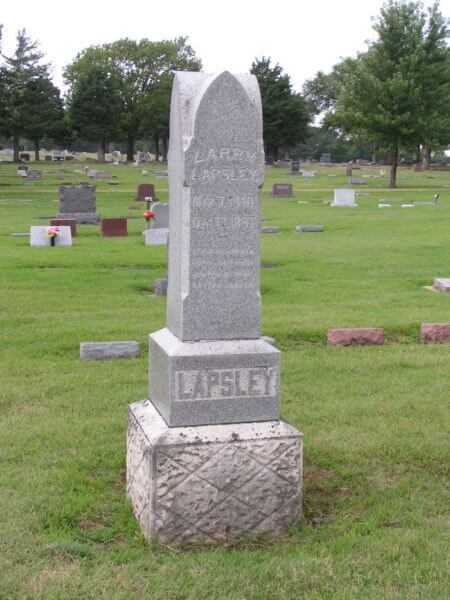 If anyone would like to read the remarkable story of Larry Lapsley's journey to freedom, the article has been transcribed and put online – it can be found here.
Published in History