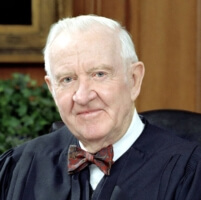 John Paul Stevens was nominated to the Supreme Court by President Gerald Ford, a Republican. Justice Stevens became a leader of the left wing of the court, and did not retire until a suitably leftist president could name his successor. In 2010, Stevens retired, allowing President Obama to select his replacement, Elena Kagan. Age 90 at his retirement, Stevens enjoyed nine years of retirement before his passing on Tuesday, July 16, 2019.
The New York Times is praising Stevens in its obituary, written entirely positively by Linda Greenhouse. Writing on the Supreme Court for 40 years, until retiring in 2008, she was credited with shifting Republican appointees left by her writing at the paper, created what has been called "the Greenhouse Effect." She praises this Republican appointee for going all the way her way. Read her article and you will glimpse what an unaccountable official in black robes can do over a lifetime.
Bloomberg, in its remembrance of Retired Justice Stevens, offers the responses of both Chief Justice Roberts and the White House. Consider each statement along with a few facts from the Bloomberg article [emphasis added]:
"He brought to our bench an inimitable blend of kindness, humility, wisdom, and independence," Chief Justice John Roberts said in a statement. "His unrelenting commitment to justice has left us a better nation."

[…]

He dissented from the court's 5-4 decision stopping the Florida ballot recounts that might have led to Democrat Al Gore's election over Republican George W. Bush in 2000. Stevens accused the majority of ordering "the disenfranchisement of an unknown number of voters whose ballots reveal their intent."

He remained engaged in public debate, sometimes controversially, even in his final years. Last year, he called for the repeal of the Constitution's Second Amendment, which protects gun rights, and said the Senate shouldn't have confirmed Brett Kavanaugh to the court after his performance at his confirmation hearing. Stevens had been in the process of writing a new memoir.

A statement by the White House released late Tuesday said his "work over the course of nearly 35 years on the Supreme Court will continue to shape the legal framework of our nation for years to come. His passion for the law and for our country will not soon be forgotten."
Judge the retired jurist's political legacy for yourself, and so the chief justice's and the president's assessments. C-SPAN posted a 2009 interview with Justice Stevens, from the year before he retired.