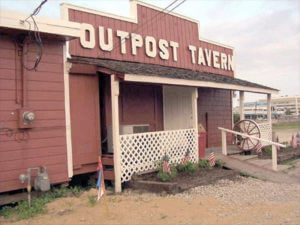 In the 1960s there was no hotter job in Texas than that of astronaut. If you were one of that elite crew, you were conquering space, getting there by riding a column of fire. With a job that hot, you needed to cool down after the workday was over. Fortunately, the astronauts were based in Houston and did most of their work there. They could take advantage of a Texas tradition: the ice house.
For those of you from more benighted regions, a Texas ice house is not just a place where you buy blocks of ice or which manufactures or stores ice. That is what folks mean when they talk about an ice house in some parts of America.
Maybe that is all they once were in Texas way back when artificial ice was new. But it did not take long before Texas ice houses began selling stuff that was better on ice, milk, and eggs, sure. But more importantly, beer. Lots of beer. On ice. In a Texas summer. (In Houston summer starts mid-April and ends two weeks before Halloween.)
Since ice-chilled beer is best as cold as possible, you do not want to take it far from where you buy it, lest it get warm. You drank that long neck at the ice house where you bought it if you could. Ice house owners soon figured out putting out some shaded picnic tables and selling burgers and sides was good for beer and ice sales.
They got to be neighborhood gathering places; informal social clubs. They were more rudimentary than bars or saloons, and families would often gather too. (Soft drinks were added.)
In the 1960s you went to an ice house to where cool down after work, whether you were a petrochemical plant worker, an auto mechanic, or an astronaut. Tradition called for a stop as close to the plant gate as possible. The astronaut corps was housed at Johnson Space Center – at least after 1962 – they looked for something near the main gate of JSC, something along NASA Road 1.
At the time the area was largely rural. There was Webster three miles west and Seabrook and Kemah about five miles east. (If you went to Kemah you hoped the drawbridge over Clear Creek was down.) The master-planned community of Clear Lake City was going up, as were bedroom subdivisions of Clear Lake Forest, Timber Cove, Taylor Lake Village, and El Lago, but none of those had a proper ice house.
However, on what was then a gravel road, just south of NASA 1, about 1 mile west of NASA's main gate was The Outpost. Located in a wood-framed building, it was your classic ice house. All it lacked was the requisite garage door. Which did not much matter. The beer was cold and plentiful. The cheeseburgers were good enough. It took minutes to get there.
It was not fancy. The building was already over 20 years old in the 1960s (ancient by Clear Lake standards back then). It was once a one-story office building at Ellington Field, moved to its location at some point after World War II because Ellington Field had no use for it. There was no air conditioning when it was built, and the toilet facilities back during Gemini, Apollo, and Skylab were primitive. That did not discourage its then all-male clientele. It was isolated enough many relieved themselves off the back porch.
That it had been a military building was probably a plus to a then largely ex-military astronaut corps. They felt at home. They moved in. For the next twelve years, from the mid-60s until nearly the end of the eighties, it was the place the astronauts and the flight controllers from Building 30 celebrated their triumphs, mourned their losses, and let down their hair. Hard living, hard partying, and hard drinking was then a tradition.
You could go there and see Gus Grissom, Gordon Cooper, John Young, Neil Armstrong, and Buzz Aldrin knock back a few beers. Astronauts would chaff the flight controllers, while the men who ran the rendezvous and training simulators ribbed astronauts about mistakes made during sims. Flight directors and department managers would stop in.
Things quieted down after the end of the Apollo era, which lasted until the 1975 Apollo-Soyuz mission (and saw cosmonauts visiting the Outpost). By 1979, when the Shuttle era was beginning, it was tamer. Yet the Outpost remained an astronaut hangout through the end of the 1980s. Shuttle missions were re-flown at its tables by the flight crews. The boys' club attitude was mitigated by the female astronauts that first joined the corps in 1978. It became the Outpost Tavern, not just the Outpost. Air conditioning was added, the street in front of it had been paved and the place became more civilized.
By the 1990s astronauts still went there, but more out of a sense of nostalgia than to party hard. In 1979, an engineer could be described as "someone who had beer with his cornflakes" as a measure of admiration. By 1999, the description would have been a condemnation. Military astronauts were rarer, and those with combat experience a minority. They were still risk-takers but measured risk-takers. Most patrons were there to absorb the atmosphere of the old days in space.
The Outpost closed in 2006, over the objections of the owner of the tavern. (The land the building was on was owned by someone else, who wanted to sell it.) A few months later it burned down, killing any chances of it reopening.
A Japanese steakhouse today sits next to where the Outpost once stood. Yet if you drive past the site of the old ice house on the evening of July 16 (when Apollo 11 was launched) or July 20 (when Eagle landed on the Moon), listen carefully. You might hear the ghosts of the mission controllers and astronauts who went there those evenings over 50 years ago celebrating those triumphs having left work for that day.
Published in Group Writing