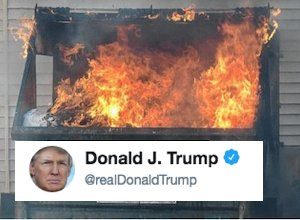 This is not good at all. President Trump unleashed a series of tweets that have cut short the story about Democrats self-destructing, making him and us the targets now. I don't know how he's going to dig himself out of his false claim that any of the "'Progressive' Democrat Congresswomen," other than Ilhan Omar, came from another country.
So interesting to see "Progressive" Democrat Congresswomen, who originally came from countries whose governments are a complete and total catastrophe, the worst, most corrupt and inept anywhere in the world (if they even have a functioning government at all), now loudly……

— Donald J. Trump (@realDonaldTrump) July 14, 2019
….it is done. These places need your help badly, you can't leave fast enough. I'm sure that Nancy Pelosi would be very happy to quickly work out free travel arrangements!

— Donald J. Trump (@realDonaldTrump) July 14, 2019
They are, as they are happy to point out, "women of color," so the race card is just too easy to play here. Indeed, President Trump knew this as he chided AOC and her "squad" for falsely accusing Nancy Pelosi of racism. Before he tweeted this Sunday, Maureen Dowd of The New York Times was attacking AOC for her false claims of racism, in a piece mockingly titled "Scaling Wokeback Mountain." The AOC Squad was advocating "grabbing" power from the old leadership. They were busy self-destructing and President Trump had added fuel to the fire, saying "[Pelosi] is not a racist." In doing so, the president was voicing the sensible middle of American thought.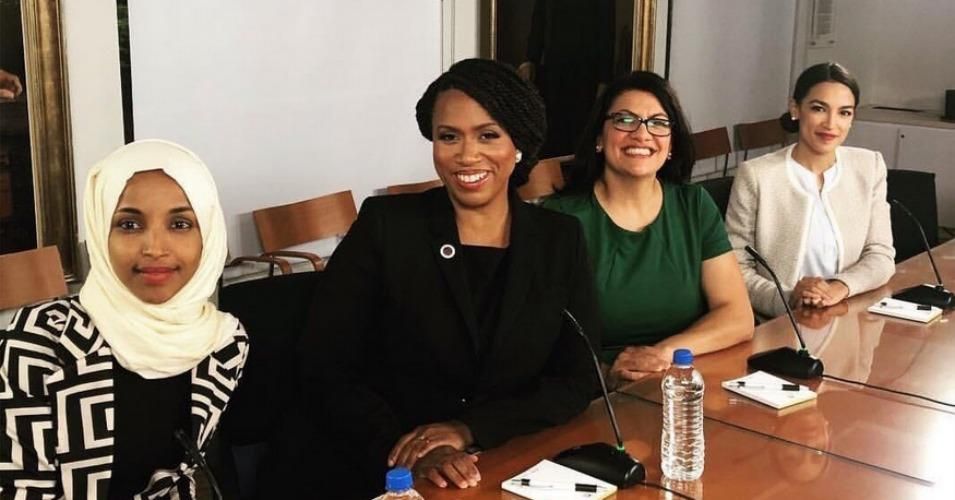 The "Squad:" Reps. Ilhan Omar (Minn.), Ayanna Pressley (Mass.), Rashida Tlaib (Mich.) and Alexandria Ocasio-Cortez (N.Y.)
Then he rolled out a variant of "go back where you came from." This was a bad move. Had he only addressed Ilhan Omar ("she," not "they"), he would be on very solid ground. Had he called out the others for loathing the country of their birth that had given them such advantages, including a path to become Congresswomen, he would have been preaching to the sensible center. Instead he created a mess.
He hates apologizing, but here he is going to have to clean up his own mess. Otherwise, he is going to lose reelection and hand the whole Congress to the Democrats. No matter how much he touts economic advances and criminal justice reform helping racial minorities, he has just made a vote for him toxic to suburban women and all the darker skinned ethnic groups he has actually dedicated his administration to helping.
Every member of the administration, every member of Congress, every state and local official, will be forced to denounce these tweets and President Trump for typing them. Time for him to show a skill he has not had to use, finding some way to turn this unforced blunder into a political win.
John Hinderaker calls this "A Blunder of Epic Proportions." I'm not sure about the magnitude, but it certainly makes a tough reelection tougher. To get how bad the Democrats were doing before President Trump just helped them, see this: "Democrats Start to Worry." Maureen Dowd was criticizing AOC. The "Squad" was split from Pelosi. PresidentTrump has put them back together, for now, with Pelosi defending the progressive congresswomen who had been attacking her.
When @realDonaldTrump tells four American Congresswomen to go back to their countries, he reaffirms his plan to "Make America Great Again" has always been about making America white again.

Our diversity is our strength and our unity is our power. https://t.co/ODqqHneyES

— Nancy Pelosi (@SpeakerPelosi) July 14, 2019
President Trump seems to recognize his blunder. He has already responded to responses in this way:
….and the many terrible things they say about the United States must not be allowed to go unchallenged. If the Democrat Party wants to continue to condone such disgraceful behavior, then we look even more forward to seeing you at the ballot box in 2020!

— Donald J. Trump (@realDonaldTrump) July 15, 2019
The only fix, in our "Ronnie Raygun the nuclear cowboy," "Bushitler" "pubic hair on Coke can" "high school rape" reality, is to go on offense. Yet, that offensive must be effective. Tucker Carlson was far more focused and careful in his attack on Ilhan Omar, not conflating any facts with the life stories of her allies in Congress. Perhaps President Trump should be tweeting something like this:
The other Progressive Democrat Congresswomen, who work together, aren't in the same category as Ilhan Omar. While they all attack America and defend bad foreign governments, only Omar was born outside America…

All the other Progressive Democrat Congresswomen were blessed to be born here but show hate for our country and want to change America to be like the countries so many people are leaving to come here…

My mistake: the "Progressive Democrat Congresswomen" only sound like government mouthpieces from countries whose people these Democrats support more than our legal immigrants and long time American citizens who are ethnic minorities…

Sad, contempt for America is homegrown through our schools and media. The Progressive Democrat Congresswomen, except Congresswoman Omar, have contempt for the country of their birth and success, America. They should go to their hometowns and count the blessings of being born here.
I don't say President Trump has thrown away the 2020 election. He continues to have strength among the "battle ground states," with a diverse range of voters who "love him because he listens." Indeed, there is growing bipartisan buzz that President Trump will be reelected. There is even talk of Democrats worrying about holding the House.
---
[Monday midday update]
To this end, President Trump has both worked and communicated tirelessly to win over voters who no Republican has ever really fought for in past elections. What do you think the president is doing when he reels off "best African-American employment rate ever, most Latinos, most women working ever?" Stop and really think on this: why does he recite these figures every week, virtually every time he steps in front of any microphone?
You will not get the obvious answer from conservative talk radio or pundits, entrenched in what has always worked for them with their audience. Indeed, Monday morning found talk show hosts pretending President Trump was only tweeting about one congresswoman (don't believe your lying eyes), or waving it off as Trump being Trump (no big deal if he scratches an Archie Bunker itch), and after all the congresswomen had it coming. The messaging only reinforces core support while amplifying the old message that minorities don't matter to Republican election plans. Contrast this response to Tucker Carlson getting fired up and hectoring the administration anytime he senses the president steering foreign policy towards the dreaded "neocons."
Sadly, there is no public voice, besides the president, invested in expanding the electoral coalition, in confounding the Democrats' plan for long term demographic dominance. President Trump has sought to do well by doing good for demographic groups long written off, taken for granted, by both parties. Now, as he seeks to close the deal, he has made a misstep with people who have never voted for a Republican before, but who he is striving to sell on himself. 
---
I do say President Trump put words on virtual paper that will be rammed down every Republican's throat. He needs to turn the conversation, again, and not in the good loser direction. Roll out a string of tweets like I suggest above and everyone can say "I don't need to defend the President's tweets; President Trump has corrected them completely."
Published in Politics