When I think of the vast distance covered in recent days, the adventures and misadventures, I want to go lie down. These were my thoughts yesterday while lying down, flat on my back, on the floor of the trailer staring up and checking to see if anything was broken. "Are you okay, sir?" one of the delightful young ladies called out from the back of the trailer. "Yes," I said. "I fell and thought I'd rest as long as I was down here."
Like leftist political theory, or the myriad schemes cooked by fertile and boundless imaginations in ivory towers and climate controlled cubicles, this load assignment looked a lot better on paper than did its application on the ground. After a lovely time spent in the American northwest, the load assignment called for me to pick up a fully loaded trailer of assorted retail merchandise in the Seattle area Tuesday at lunch, and have it in Omaha, Nebraska first thing Friday morning. In total, some 1,700 miles would be covered in very short order, necessitating at least 600 miles driven per day and work days that would start around 3AM. A tall order, but workable nonetheless.
The catch? Delivery would be to three separate stores on Friday (yesterday), two in Omaha and one in Sioux City, Iowa, and said deliveries would be "driver hand unload." The merchandise was stacked floor to ceiling, from the front and 53 feet back to the trailer doors. "Stacked" is not quite the right word. "Thrown," haphazardly would be more appropriate. There was no truck pallet, or "dolly" to use. Instead, boxes of all sizes, shapes and weights, along with furniture, tables, entertainment centers, rugs, bed rails, vases, mirrors, and much, much more were piled as if by a tornado. Total weight of freight for this "driver hand unload" experience was 16,000 pounds. You do see where this is going, no?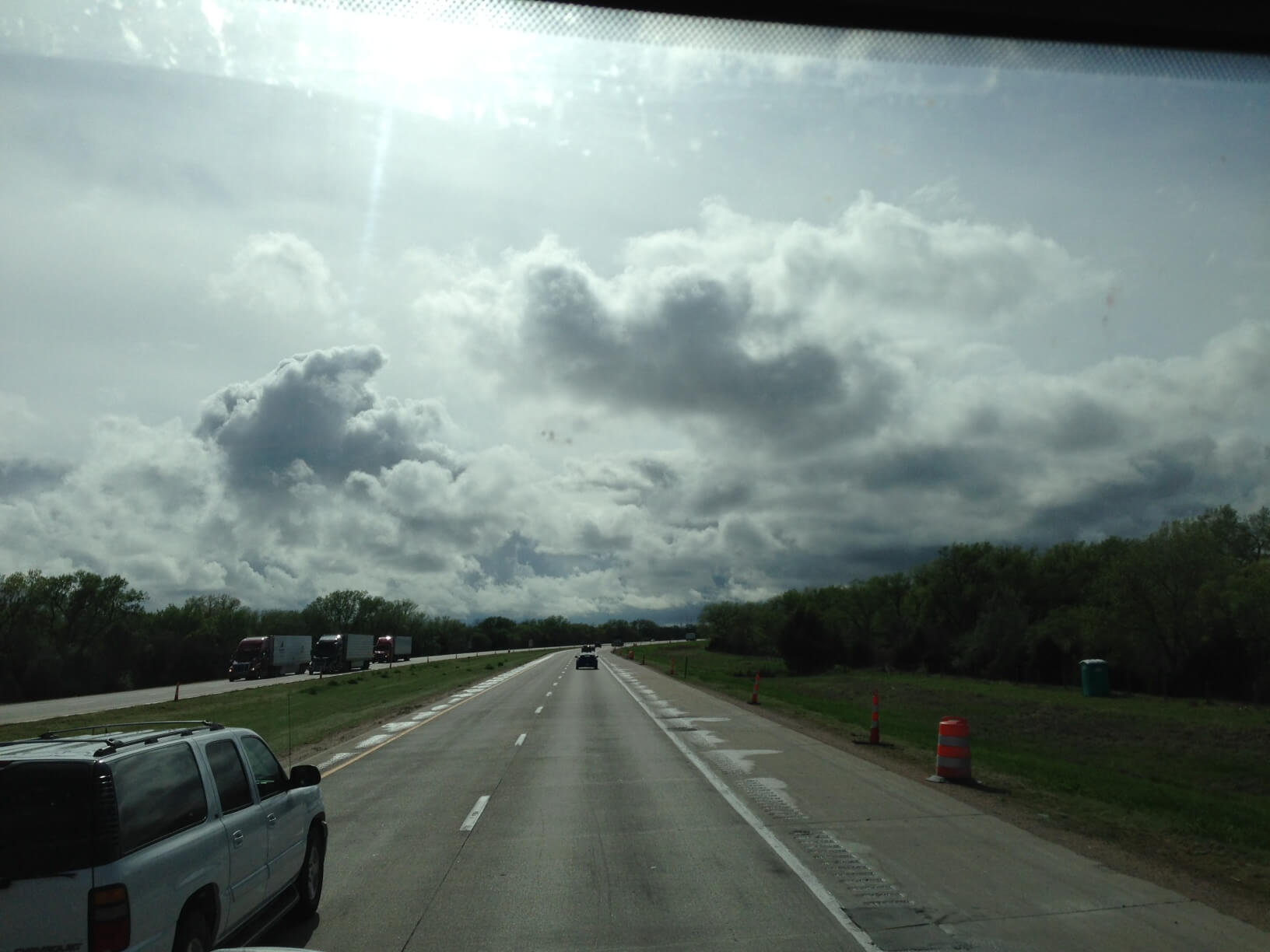 The drive itself was exhilarating if tiring. The scheduled allowed for no stops other than for fuel. I lost too much time in construction zones (where traffic is squeezed into one lane for stretches of 2 to 12 miles so that 30 people can watch another 5 do actual work) to allow time for lunch breaks. All the same, the sunrises were magnificent, the mountains regal, the endless formations of clouds imposingly beautiful. And then there was Little America, an oasis of good food and happy people in the Wyoming desert.
By the time I pulled into the parking lot of the first store in Omaha bright and early yesterday morning, I was full of enthusiasm and raring to "driver hand unload" this sucker all to hell and back. That lasted about 15 minutes, I think, after which each layer of absurdly loaded breakables and heavy items was cleared to reveal a layer of even greater lunacy. Why would you put a very heavy box labeled "Do Not Drop," precariously on top of fragile and light weight items and then expect anyone less than 8 feet tall to prevent said heavy item from dropping? This was like playing "pick up sticks" with a pile of railroad ties and glass tables.
My job was to get these items to the tailgate of the trailer where delightful young ladies would put them on carts and wheel them into the store. The first load, already at the back of the trailer, was a challenge, though not impossible. That was 5,000 pounds unloaded, with 11,000 to go. The second store on the list would prove to be my undoing.
When I arrived at the second store, the parking lot of the shopping plaza was largely empty, making maneuvering the semi into position very easy. The young ladies would not arrive for another hour or so, which gave me time to catch my breath from the first stop. In time, however, I was in the trailer again, hauling another 5,600 pounds of merchandise to the tailgate. The temperature was climbing rapidly, and the trailer was doing an admirable job of heating up. Sofas were perched precariously at ceiling level. Heavy mirrors were packed so as to be most easily broken. Tables were under chairs, which were stacked by fours, upside down, and the weight of the whole predicament pressed down on bamboo poles and railings and ceramic elephants or some such. Soon, I had taken to extending a middle finger to boxes marked, "Do Not Drop."
A little over an hour into the services, the heat and exertion became a bit much and things began spinning. I felt at once very light and yet not totally in control of my faculties and balance. I had to sit down or fall down. The young ladies were kind enough to point me to a restroom. In the mirror, I saw someone with a face as red as an apple. I looked like an upside down thermometer except that thermometers don't use that kind of language. But 5 minutes later, I was back in the trailer determined to see this thing through.
The Mensa Society members who had loaded the thing were kind enough to throw in a couple of pallets full of merchandise, wrapped in endlessly long sheets of plastic. Cutting through the plastic, I tried pulling the boxes off the pallets, except that the plastic wouldn't turn loose of the boxes and things began falling on me yet again. There was no other option, however, as I'm not quite tall enough to reach up 9 feet or so and take the stuff off the top of the stack.
Unaware that some of the plastic had become wrapped around my left ankle, I took a box and tried to back up so that the falling merchandise wouldn't land on my head. The plastic ensnared my foot and down I went, landing on my back, neck and head while all manner of exotic merchandise from far away lands pelted me from above. But it was nice to get a moment's rest, and the kind ladies were worried too. They didn't assist me, but they did inquire and I was gratified. I got up, and continued working another 40 minutes or so until everything for that store had been unloaded. I walked funny too.
Once finished, I found that climbing into the cab was more of an ordeal than it used to be. In fact, I was tempted to plant a flag on the steering wheel and claim it in the name of the something or other. I was worried about how in the world I would ever finish that last stop in Sioux City when I looked out over the parking lot and knew I had nothing to be worried about. It had taken a couple of hours to unload the merchandise for that store, and now the parking lot was full of cars which effectively blocked my exit. I was stuck.
A three-way conference call with my dispatcher and customer service, confirmed a few things, namely; 1) The final stop would have to wait until Saturday since I was completely wiped out physically, and my truck was blocked in any event, and 2) I was on record as confirming that I would not accept such a load assignment again and would resign if forced to do so. The customer service representative allowed as how they had assigned this load to a female driver a few weeks ago who had broken her arm while trying to "driver hand unload" the freight and assured me that care would be given to selecting which drivers get these assignments in the future. But it's a big company and I expect the assurances of one cog in the bureaucratic machinery will likely disappear into a sea of cubicles.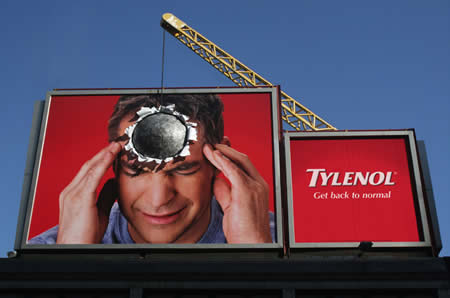 I've seen a team of half a dozen men load and unload a 53 foot trailer by hand and I've seen it take six hours or more for them to do so. I've never seen a solitary person assigned the task. I still love my work, and I'll get that final stop unloaded today no matter what. But somewhere in the recesses of the mind, the slogans, posters, signs, and sermons on how we value safety ring a little less true now. No matter, though. It will go on as before, and people with little connection to the dirt and sweat of an honest day's labor will remain ensconced in climate controlled comfort, issuing out-of-the-box, paradigm shattering directives that have little relation to reality. And the guys on the ground will make it all work, somehow, with the aid of a little Tylenol and a lot of perseverance.