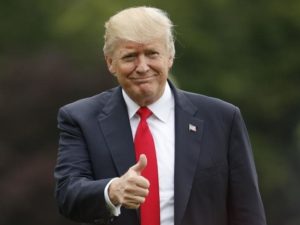 A three-judge panel of the 9th US Circuit Court of Appeals has reversed a district (trial-level) judge's decision on funding of sanctuary cities, and with it another fraudulent nation-wide injunction by a mere district judge. Voting 2-1, with two George W. Bush appointees, Judges Sandra Ikuta and Jay Bybee, supporting President Trump and the Clinton appointee, Judge Kim McLane Wardlaw, supporting the California and national Democrats' position.
Here is the decision [PDF], in City of Los Angeles v Barr, handed down on July 12, 2019. From the case summary:
The panel reversed the district court's summary judgment in favor of the City of Los Angeles in an action challenging the U.S. Department of Justice ("DOJ")'s use of certain factors in determining scores for applicants to a competitive grant program – the Community Oriented Policing Services (COPS) grant program – that allocates a limited pool of funds to state and local applicants under the Public Safety Partnership and Community Policing Act (the "Act"), enacted as part of the Violent Crime Control and Law Enforcement Act.

[…]

The panel rejected Los Angeles's argument that DOJ's practice of giving additional consideration to applicants that choose to further the two specified federal goals violated the Constitution's Spending Clause. Because DOJ's scoring factors encouraged, but did not coerce, an applicant to cooperate on immigration matters, the panel also rejected Los Angeles's claims that DOJ's use of the factors infringed on state autonomy in a manner that raised Tenth Amendment concerns.

The panel held that DOJ did not exceed its statutory authority in awarding bonus points to applicants that selected the illegal immigration focus area or that agreed to the Certification. Specifically, the panel first held that DOJ's understanding that illegal immigration presents a public safety issue has been acknowledged by the Supreme Court. Second, DOJ's determination that the techniques of community policing may be used to address this public safety issue was entirely reasonable. Finally, because Congress did not directly address the precise question at issue, the panel must defer to DOJ's interpretation as long as it is reasonable.

The panel held that DOJ did not act arbitrarily and capriciously under the Administrative Procedure Act when it decided to give points for adopting the illegal immigration focus and submitting the Certification.
This decision makes more likely that cities and states cannot subvert national immigration law without any cost in annual funding. The White House was naturally happy with the result, the new Press Secretary issuing a statement:
Statement from the Press Secretary Regarding Victory in Ninth Circuit Sanctuary Cities Case
Issued on: July 12, 2019

Today, the Ninth Circuit agreed that the Department of Justice can prioritize Federal discretionary grant dollars to support policing in cities and towns that cooperate with Federal efforts to remove illegal aliens from the country. This ruling reverses a lawless decision that enabled Sanctuary City policies, putting the safety and security of all Americans in harm's way. Sanctuary Cities knowingly release criminal aliens out of their jails and back into our communities, instead of cooperating with ICE to ensure they are kept in custody and safely removed from the United States. Many innocent Americans are injured, maimed, or killed as a result of Sanctuary City policies. This ruling upholds the right of the Department of Justice to ensure discretionary grants under its control are not being used to subsidize these jurisdictions' open assault on law-abiding Americans and their loved ones. We urge citizens across America to demand that Democrat leaders cease their support for Sanctuary policies that deprive Americans of life, limb, and liberty. The injustice of Criminal Sanctuaries must end.
It seems highly unlikely that Chief Justice John Roberts will join the leftists in overturning a decision by two Bush appointees. President Trump appears to have won an important lawfare skirmish. Those of us who care about our right as a people to determine our new membership, as a way of preserving our constitutional republic in the future, can briefly rejoice.