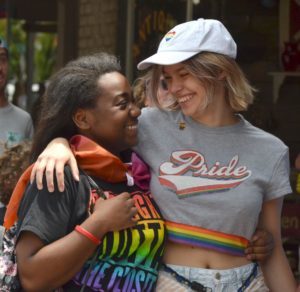 My lesbian friend told me that on Saturday there was to be a Gay pride parade on King Street between Foggy Pine bookstore and the Jones house. Reading about it in the local news feed, I didn't agree with the narratives proclaimed on the Jones house steps, but I don't begrudge them for staging the event. All people of religious convictions should take their best shot at winning their fellow traveler.
To sink one's heart in the LGBTQ+ way of thinking you have to embrace Gnosticism. Gnosticism was a departure from Christianity that captured the cultural imagination at the end of the Apostolic age. John, the last of the Apostles, warned against this coming trend when he spoke about not denying that Christ "as coming in the flesh" (2 John 1:7) and arguing in his epistle that doing righteous deeds in the body does indeed matter (1 John 3:7).
Gnosticism, on the other hand, thought the body as irrelevant and bad. The God of the Old Testament was stupid at best and evil at worst creating a yuck-filled body with its guts and blood and vile liquids and excrement. Jesus transcended the body as a spiritual being to allow us to break past the limitations of matter and push into a mysteriously discerned knowledge or "gnosis". 
Through the years, as the Gay narriative ebbed and flowed from the pre-AIDS 1970s of militant "you can't tell us what to do with our body, you sexual Fascists" to the post-AIDS "we were born this way" to the new-millinaial "love-wins fluidity" there is always the same common thread: I have my physical biology over there that may be wired up to a certain gender but my sexual orientation, my true overriding gender, is over here mysteriously discerned through my own private gnosis. Like the Gnostics, the transcending spiritual knowledge of sexual identity transcends the lesser body/matter gender of biology.
Historical Christians, at least those who trace back to the faith once delivered to the Saints and preserved through the ages, never bought into Gnosticism from the beginning. They never traded in the late coming gospels of Mary or Thomas. Against pagan cultures and newly emerging heresies, Christians tended to see humans as a harmonious being. The body and the spirit work together in union, not against itself. The disharmony we find within ourselves is not because we were built with contrary, conflicting parts but because our fallen nature and sin disfigure the image of God wired in us. Redemption seeks to restore this image making us whole and unified rather than pitting our higher spiritual self against our lower physical body.
But in our little town, the Gay Pride band plays on. Gay and Lesbian friends should march to the tune of their beliefs, rehashed and resurrected Gnosticism and all. They have a right to express their religious view. And so do we.