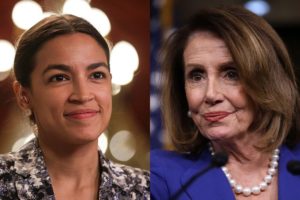 This is really getting interesting. The Democrat party, known for both its odd amalgam of special interest groups and its remarkable ability to coordinate these different groups into lockstep support of ever-increasing leftism, seems to be coming apart. I'm sure Donald Trump and some others would like to take credit for this, but it appears to be more of an attempted suicide than an attempted murder. It will be interesting to see how this turns out.
The accusation of racism is pretty much the most vicious attack one can wage against someone in modern America, and for one leftist to attack another leftist in that way really is ruthless. And extremely unusual. I doubt that AOC understands the irony of her accusation, considering the racist background of the Democrat party in the not-too-distant past, but Pelosi probably does. I'm trying to feel sorry for Pelosi, or at least avert my eyes from this humiliating spectacle, but I just can't. A few years ago, I thought Bernie Sanders was an entertaining old crackpot. But look what he hath wrought! What do you think? Can Pelosi hang on? Or is the Democrat party about to be officially renamed the American Socialist Party?
For the record, I'm not sure how much this matters. The Democrat party has been going as far left as it could for decades, and that line keeps moving further and further left. I'm sure that it will continue to do so, no matter how this turns out. But perhaps I'm wrong – this could be serious. What do you think?
Published in General