If push comes to shove, could American air power lay waste to the Iranian regime in a cake walk, a turkey shoot? Consider what we know, publicly, of Iranian military capabilities in the air. They have aircraft from the pre-stealth era, drones, and extensive surface-to-air missile defenses. Perhaps, however, their best "air" assets are computer coding and diplomatic shuttle flights.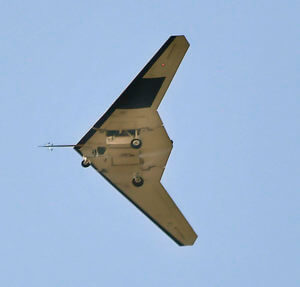 It was not big news when fairly rag-tag forces shot down a low and slow flying armed MQ-9 Reaper drone. After all, the Iranian Revolutionary Guard Corps (IRGC) has a wing dedicated to advising foreign forces, including the Yemeni forces fighting other Yemeni forces backed by Saudi Arabia. This is not secret, so the U.S. Central Command was willing to claim Iranian participation in the June 2019 shoot-down:
Iran-backed Houthi rebels in Yemen shot down a U.S. MQ-9 Reaper drone at an altitude that U.S. Central Command said Sunday shows improved capability and likely assistance by Iran.
When (probably) the Iranian Revolutionary Guard Corps shot down an advanced U.S. reconnaissance drone in June of 2019, this was not the first U.S. drone lost while gathering intelligence information on Iran. In 2011, a stealthy RQ-170 drone, possibly operated by the CIA, went down deep inside Iranian territory:
Iran said over the weekend that it had recovered the RQ-170, the same drone deployed over Osama bin Laden's compound before he was killed in May. Senior intelligence officials were disturbed that the drone was publicly discussed in the coverage of the Bin Laden raid, in part because of the fear of exposing its use over Iran.

A statement Sunday from the American-led International Security Assistance Force in Afghanistan said Iran might have recovered an "unarmed reconnaissance aircraft" lost while "flying a mission over western Afghanistan." But several experts noted that the stealth technology of the RQ-170 — which greatly reduces the chances that the drone can be detected by radar — had little use in western Afghanistan, because the Taliban have no radar to detect flights.

Iranian officials have said that the aircraft was detected near the town of Kashmar, 140 miles from the Afghan border, and that it was shot down or crashed because its control systems were hacked by the Iranian military. American officials say that those stories are fanciful, and that the drone was lost because of a malfunction.
Malfunction, hack or missile strike? All three are possible. The RQ-170 looks similar to a B-2 bomber, but is much smaller. It was apparently being flown out of Afghanistan. Fly enough hours, since the late 1990s, and you will get a major malfunction in at least one flight. Operate a system by remote control and you are inherently vulnerable to someone interfering with that control, through jamming of some sort or through a network computer coding hack. Operate a subsonic aircraft and you are vulnerable to at least air-to-air shoot-down.
But the aircraft is all stealthy! True, but it does not have a cloaking device. Surely the Iranians have ground observers with cell phones near airbases in the region. Report the time it took off and which direction it was headed. Knowing the approximate performance parameters, you can go back to WWII dead-reckoning to get the arrival window. Now you can alert ground spotters and put aircraft up between sensitive sites and the direction in which the drone will likely approach.
It certainly helps that we supplied the Shah of Iran with F-14 Tomcats, an outstanding air-superiority fighter. The Khomeinist ayatollahs' air force apparently is still managing to operate these aircraft four decades later, through an underground parts supply system and possibly local fabrication.
And it's not for no reason that Tehran would keep trying to supply its Tomcats. In recent years the United States has stepped up its efforts to spy on Iran, deploying drone aircraft including the secretive, stealthy RQ-170 to the Middle East apparently to surveil Iranian nuclear facilities. An RQ-170 crashed in Iranian territory in 2011.

Tomcats have led the effort to intercept these drones. In the early 2000s, the Iranian air force stationed an F-14 squadron in Bushehr, the site of Iran's first nuclear reactor. That squadron eventually disbanded as its Tomcats fell into disrepair, but other F-14 squadrons maintained vigil over Bushehr and two other atomic facilities as U.S. spy flights continued to probe the sites, trying to glean intelligence on Iran's nuclear efforts.
Can these first generation F-14s, with whatever local or illicit upgrades the Iranians have managed, stand against even F-15Es flown by U.S. pilots? We know the approximate answer from decades of practice engagements, showing the importance of pilot training, and from the fact that the Iranian air force could not dominate the Iraqi air force, equipped with older Soviet fighter aircraft:
"We knew without a doubt that this…F-14A fighter force would not give Iran total air superiority over Iraq," says Hashemi. He says the strategy was to use the prized F-14s sparingly to keep them safe from Iraqi surface-to-air missiles but to have them ready for any strike force that invaded Iranian airspace.
F-14 pilots might, deep in their own territory, shoot down one or more U.S. aircraft, but the real threat to U.S. manned aircraft would come from multiple belts of surface-to-air missiles. If you have to worry about fighter opposition, then you have to have your own aircraft in sufficient numbers and in the right formations to counter that threat. The Iranian commanders, if minimally competent or if advised properly, might then array surface-to-air missile systems to inflict the most damage possible.
If Iran lacks a way to meaningfully challenge the US Air Force on the sky, does it have any means at all of securing its airspace against an American offensive? As it stands, the closest that the IRIAF can come to credibly threatening American airpower is the S-300 missile system. The S-300PMU-2, the latest S-300 variant, and popular import choice boasts a range of up to 150 kilometers and can track six enemy aircraft simultaneously. Assuming– and it's important to highlight that this remains an assumption– that Iran is, in fact, able to deploy S-300 systems, the IRIAF is still unlikely to overcome the USAF, but can at least raise the costs of American victory with an effective anti-access/area-denial (A2/AD) campaign.
That is, the Ayatollahs' air force can raise the cost of any manned U.S. strike, limiting American forces to long range cruise missiles if leaders want to avoid any U.S. aircrew being shot down, possibly captured, over Iran. At the same time, Iranian-built drones are limited in size and sophistication, but provide the basic scouting and artillery spotting function that the earliest World War I aircraft provided.
Iranian drones scouting for targets in Syria have proven all too lethal to the innocent civilians and rebels whom they help target. Witnesses there often report the presence of Mohajers and Ababils directing more accurate rocket and artillery fire onto their positions, filling in for Syria's beleaguered air force.

As the U.S. Defense Department's annual report on Iran's military power points out, unmanned technology is a relative bright spot for the Iranian air force, which struggles to maintain its manned fighters amid sanctions.
The Iranian regime has limited but significant defenses against manned air attack, and against subsonic cruise missiles. They have some capability of inflicting casualties on large targets within missile or rocket artillery range, possibly assisted by simple drone video data. All of this, though is really most effective as a moderate deterrent, making diplomatic concessions or continued talk seem preferable. To this end, the ayatollahs have been encouraged both by European and Asian trade partners, and by disloyal opposition from Americans actively seeking to preserve Obama's deal and to undercut President Trump. Consider the Washington Post blaming President Trump for Iranian attacks in the Persian Gulf:
The Post's claim that Trump bears any responsibility for Iran's attacks because of his hostile posture towards the regime is based on nothing more than hatred of the president. At a certain point in his presidency, Barack Obama had imposed crippling sanctions on Iran. If Iran had responded by attacking ships in the Persian Gulf, would the Post have blamed Obama? Of course not.

It won't do to respond that Obama was always willing to negotiate with Iran. Trump too has said he wants to talk with the regime. Iran has ruled out such negotiations, as the Post editorial acknowledges.

The most interesting question here is what Iran hopes to gain from its aggression in the Persian Gulf. The Post doesn't address that question. Doing so would be beside the point for an organ focused singlemindedly on attacking Trump.
The New York Post points out Obama administration connections to American defenses of Iranian actions [emphasis added]:
The Trump administration, quick to blame the Islamic Republic for the attacks, has produced a video and photos of an Iranian navy boat removing evidence of an unexploded mine attached to the hull of the Japanese-owned oil tanker. None of which stopped Obama-era echo-chamberists like Ben Rhodes from calling for international investigations into the matter, intimating that the attacks might be a "false flag" operation by some other nation.

Why would the Iranians do something so foolish, they ask? It doesn't make sense.

Well, it's simple, really. First, this is the brand of terrorism that Iran — either directly or through its numerous proxies — has employed, without any real repercussions, for the past 40 years. Last year, the Revolutionary Guard commander, Ismail Kowsari, in fact, explicitly promised his forces would ignite havoc in the Gulf if the United States sanctioned Iranian oil sales.

[…]

Perhaps Iranian leadership has been emboldened after listening to former Obama administration officials like John Kerry tell them to wait out the president.
The Khomeinists have a weak hand, relative to the full power of all the instruments of national power being played by President Trump. Yet, they hope to avoid going all-in and busting before President Trump has to leave the table and return to private life. The Iranian ayatollahs seem to be trying to draw President Trump into a larger military response, creating the American election campaign narrative of breaking his word and entangling America in another "endless" war. On the other hand, if they keep inflicting smaller damage and insults, they help Democrats blame President Trump while also claiming he is really weak and ineffective. President Trump must recognize the players and their hands, and play for the 2020 electoral win, not letting the Democrats and theocrats play their hands together for the win.
Published in Foreign Policy