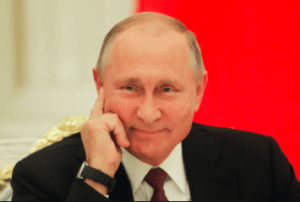 You mean to tell me that the Democratic candidates are going to campaign on kitchen table issues like forced busing, reparations, open borders and banning private health insurance and that Putin has nothing to do with it?
I know the counterargument: America's election can't be hacked by a second rate country whose chief exports are vodka, brides and performance-enhancing drugs. To that, I have a two-word response: Marianne Williamson.
Imagine the Democratic pollsters (if any) charged with dusting off 45-year old polling data on busing. I know it's a crowded primary and non-entities like Kirsten Gillibrand need to distinguish themselves from the rest of the pack. But Kamala Harris? My sense is that the California senator's attack on Biden had less to do with his position on busing than to remind voters that he was a fixture in Washington during the Mesozoic era. And for those primary voters too dense to get the point, t-shirts depicting Harris as a five-year-old were ready for launch quicker than Eric Swalwell folded his campaign. 
Forced busing should be one of the tools at our disposal? Really? Clearly, Harris is taking the John "Bluto" Blutarski approach to the issues: "Over? Did you say over? Nothing is over until we decide it is!
Then there's healthcare. It depends on the time of day you pose her the question, of course, but one iteration of Harris' positions is that private insurance should be made a thing of the past with the exception of things like cosmetic surgery. If you can think of something more Democrat than kicking millions of Americans off their health insurance by design while leaving an exemption for celebrities to get their nose jobs, I'd like to hear it. 
Meanwhile, ordinary Americans find the news ever more befuddling, as corporations like Nike and Gillette seem hellbent on out-woking one another in the name of profit. The Betsy Ross flag can no longer be displayed in polite company? A man clad in lingerie is removed from a plane for wearing a MAGA hat? How does The Onion even stay in business? 
If Russia's not meddling in the primary, how do you explain Beto choosing to answer the first question posed to him in Spanish? I felt like the car lot attendant in Ferris Buhler's Day Off: "What country do you think this is?" Trump is no more admirable with the way he panders to his base by speaking English… 
Then, of course, there's the issue of what to do with the children at the border. At this point, I wouldn't be surprised to hear Virginia Governor Ralph Northam propose keeping them comfortable while their mothers consult with doctors on how to proceed. 
As for the eagerly-anticipated Sanders-Warren showdown, the only substantive difference between the two is that Bernie hates capitalism and Warren hates capitalists. They'll probably they'll pull the party so far left on fiscal issues that every candidate will eagerly raise his hand in support of national debt forgiveness. 
At the end of the day, the safe money is that Democrats will end up nominating a candidate who's never lost an election: Stacy Abrams. 
Published in Elections