I'm not sure how I got to be on the mailing list for Change.org, but the lefty petition site sometimes sends me petitions they've decided to highlight on their site. This afternoon, I received an email with the subject line "Aldi." As a loyal Aldi shopper, I clicked, wondering why the site had decided to aim its firepower at the low-cost grocery store.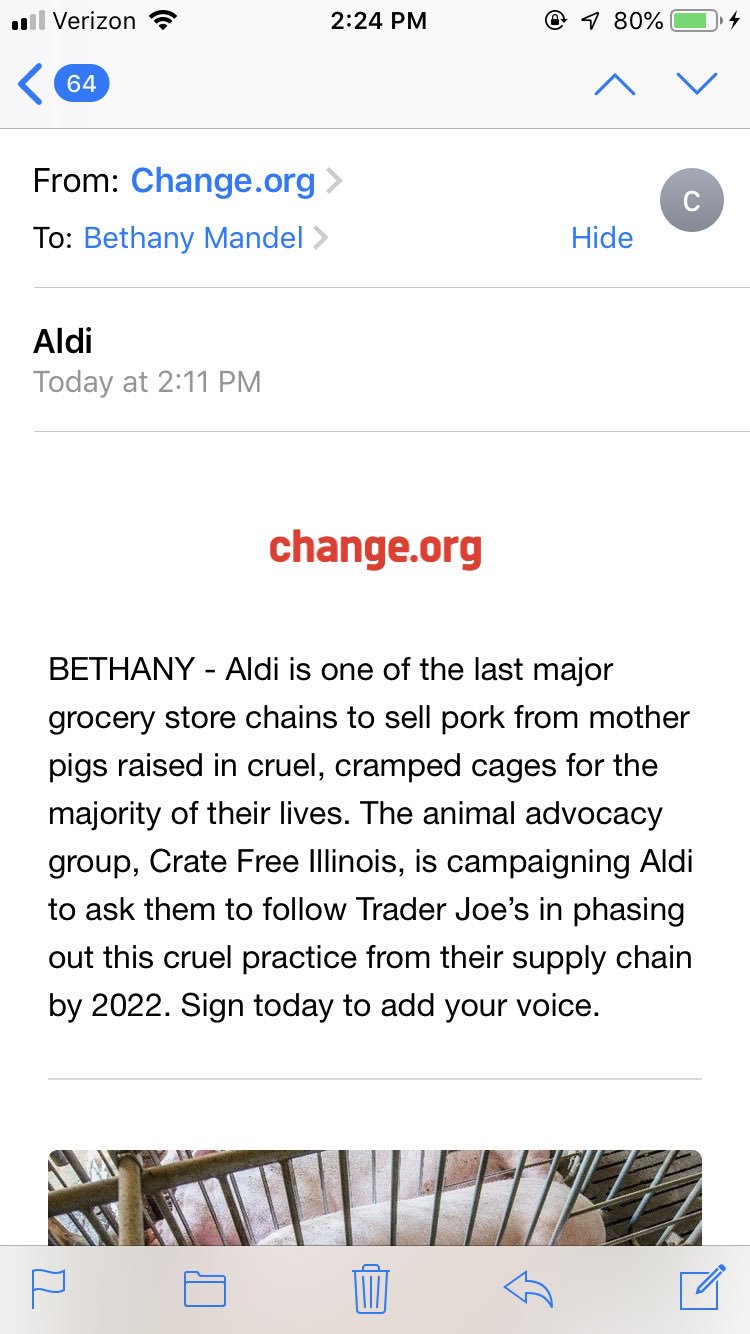 This is the kind of issue only rich people have the luxury of caring about.
Those behind the petition would like Aldi to join other stores who have all stopped using suppliers that utilize these crates, stores like Trader Joe's, Costco, Kroger, and Walmart. Do you know what these stores all have in common? They are more expensive (though Walmart, not by much) than Aldi. Aldi bills itself on providing high-quality food for the lowest cost possible. Their business model is entirely predicated on that latter point; while other stores like Trader Joe's and Costco offer a fun shopping experience with rotating seasonal items and hold a cult following, Aldi supplies the basics families need to feed themselves on the lowest margins possible.
It's fine to care about animal rights, and indeed, these gestational crates don't exactly sound like a pleasant way to live. If those behind the Change petition were working towards educating Aldi's customers about the practice, or using their platform to inform Aldi about why they buy their pork elsewhere; fine. But that's not what they're doing. They are using social media to bully the grocer into changing pork suppliers, which would pass the increased cost of the meat onto consumers already living on the margins. There are plenty of people who are willing and able to pay an extra few dimes per pound for more ethically sourced meat. But there are plenty more, and most of them are Aldi shoppers, who don't have that ability. If you can afford more sustainable, ethical meat sources, shop your values. But if you need to feed your family protein every night for under $10 a meal, you don't have that luxury. The former group doesn't understand that that's exactly what it is: a luxury. For a group of folks who constantly lecture us to "check your privilege," it's time they do the same.
Published in General