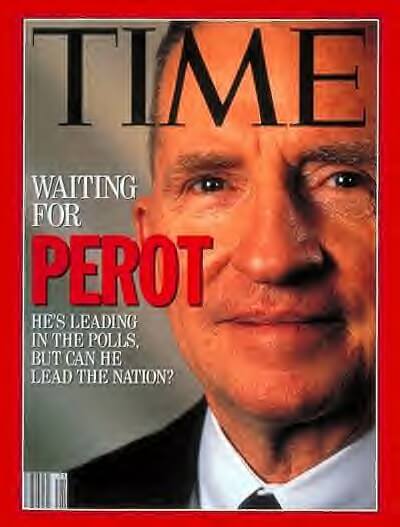 H. Ross Perot, the man who could have been America's first Independent President, died today at age 89. When he ran in 1992 against the incumbent George H.W. Bush and the Democratic Party nominee Bill Clinton he received 19% of the popular vote, the highest since Teddy Roosevelt's Bull Moose bid in 1912.
An Annapolis graduate, he was a pioneer in computer data systems, twice building companies and twice selling them to make his fortune. And he was generous with his money while being appalled at the government's generosity with the money of taxpayers. A special cause of his was the medical care of veterans. He personally funded the research of Dr. Robert Haley at UT Southwestern that showed that many vets of the first Gulf War did, indeed, suffer from a chemical-induced toxin syndrome.
He will be remembered for his first presidential run which he announced on Larry King's talk show on CNN. Talking about the nation's problems in a folksy manner, particularly the deficit and the North American Free Trade Agreement (NAFTA), he promised to run if supporters would self-mobilize and get his name on the ballot in all 50 states, which they did.
By June he was leading in the polls with 39%. (Bush was at 31% and Clinton at 25%.) Then he abruptly quit, claiming that Bush's dirty tricks operatives were trying to disrupt his daughter's wedding. He returned in October but it damaged his chances greatly. He would win no electoral votes and the best showing he had was 2nd place in Maine.
His lasting legacy from that race is adding the phrase "giant sucking sound" to the political lexicon. In the second presidential debate with Bush and Clinton, he was the only candidate opposed to NAFTA.
"We have got to stop sending jobs overseas," he warned. "It's pretty simple: If you're paying $12, $13, $14 an hour for factory workers and you can move your factory South of the border, pay a dollar an hour for labor, … have no health care—that's the most expensive single element in making a car— have no environmental controls, no pollution controls and no retirement, and you don't care about anything but making money, there will be a giant sucking sound going south.
"… when [Mexico's] jobs come up from a dollar an hour to six dollars an hour, and ours go down to six dollars an hour, and then it's leveled again. But in the meantime, you've wrecked the country with these kinds of deals."
If he had won that race, many of President Trump's problems may have paled in comparison. He would have been completely alone with absolute zero of the party support structure that presidents of all stripes lean on. He would probably have leaned heavily on his business organization which would have opened him up to even more criticism.
During that race in 1992, Rush Limbaugh tagged him with the nickname of "A Hand Grenade with a Bad Haircut" and loved to regale his audience with tales of Perot's eccentricities. One particular favorite surrounded the true story of Perot buying his childhood home in Texarkana. He was disappointed that a subsequent owner had painted the bricks white and that an attempt to sandblast the paint off was ineffective because of the porous nature of the material. He then paid to have every brick chiseled out of the walls, turned paint-side in and re-cemented in place.
Among his other eccentricities, he literally buried his father. When Ross was in the Navy his father suffered a heart attack and Perot was given leave to go home. When the elder Perot passed, Ross picked up a shovel and went down to the cemetery and dug the plot out himself and filled it in after the funeral service. He explained years later to The New York Times, "I buried him myself 'cause that's the last thing I could do for him."
He was an American character. Ferociously patriotic, he believed in the America of Norman Rockwell's paintings. And he lived it out to the fullest.
Published in Politics