After I had officially retired from my professorship in Kentucky, I stayed on to teach half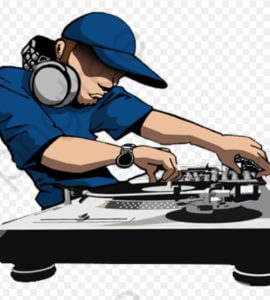 time. With time on my hands, I applied for a part-time job as a bouncer in a large dive bar just across the state line in Tennessee. (Kentucky was dry.) I tried to look tough during the interview, but after thirty years of teaching, I probably looked as if I would try to scold a troublemaker into submission instead of tossing him out on his ear. The bar owner said I didn't look intimidating enough for the job.
But then a position as a jazz DJ opened up at the local NPR radio station. Happily, the manager of the station had been a student of mine in a graduate seminar some years back, so after a perfunctory tryout and a brief interview, she hired me.
Unfortunately, I jump into these sorts of things without much thought. "Gee, that sounds like fun" is about as deliberate in thought as I get. I've gotten into trouble with that approach before. Once I thought, "Wouldn't it be fun to pretend to be someone else by acting in a play?" So I tried out for a play and got the lead. I played a detective. Badly. I'd like to forget that whole side trip into acting. I'm game for almost anything, even when I have no particular talent for the thing. I was hoping I had a talent for DJing.
After I practiced for a week or two in an unused studio, I was thrown into the mix as WKMS's new "Cool Jazz" disc jockey, spinning platters (actually compact discs) from 9 p.m. to 2 a.m. I still remember my first word into the mic: a throat-constricting "Ack." When I got home that night, my wife greeted me with "Ack?" The woman can be cruel. 
When I began, I didn't even know that Cool Jazz was a thing. Actually, Cool Jazz is a special sub-genre of jazz. It has a more relaxed tempo and melody than Bebop; a smaller number of musicians (and is devoid of the shuffle rhythm) than Swing; and it has more structure and melody than Free Jazz. Cool Jazz is the elevator music of the jazz world. 
Of course, the various styles of jazz often run together. I played a lot of Ella Fitzgerald, though much of what she sings is Swing. I would even play a few songs by the quintessential bebopper, Charlie Parker.
The perfect example of Cool Jazz is the Dave Brubeck quartet. I was especially taken by Take Five and played it a few times a week. Listen to Take Five in your head. Is that a great song or what?
I was on so late at night that I felt a certain freedom in my choice of music. One morning about 2 a.m. I played, on a whim, some didgeridoo music. (That's the long wooden wind instrument, buzzy and ultra low in pitch, that you see hippies sometimes play at craft fairs.) The station manager happened to be tuned in to my show. "What in the hell was that thing you played last night, Kent?" she asked the next day. "You're supposed to be playing Cool Jazz." Chastened by my onetime student! What a bummer!
So there I was, the voice and would-be authority of Cool Jazz for Western Kentucky. I was in show biz! And it was a paying gig. (That's the way we show biz types talk.)
From the beginning, I had difficulty projecting the cool persona that I thought befitted a jazz DJ. My decidedly uncool intonation patterns as a professor, slow and analytical, had been baked into my voice over the past thirty years. So I had to work hard to become less professor, more of a hip DJ. To accomplish that, I would get close to the mic and lower my voice a half octave. Then speed up my tempo and slur my words just a bit. I wasn't entirely successful.
I'm just not a cool guy. It's hard to be cool when you have red hair and freckles. Think Archie, Alfred E. Neuman, Harry Potter's buddy Ron Weasley, Carrot Top, and so on. Did you know that seven presidents, including George Washington, had red hair? None of them would have made good jazz DJs.
During the day, I was still working half-time as a professor, but at night I was the maestro of the airwaves, a jazz-playing DJ with an audience of bebopping hipsters and jazz aficionados. (At least that's what I imagined.) I was sitting in the catbird seat. 
It was a lot of fun, and I tried very hard to be a good DJ. On a typical shift, I would go in early to assembly my playlist and pull the discs I was going to play that night. Then I would go on the air, introduce each song from my playlist, provide transitions between songs, read public service announcements, and so on.
I was reminded how much of an amateur I was when we had our NPR fund drives. A couple of the daytime radio guys and I would sit around and try to persuade WKMS listeners to send in money. Both of them were more comfortable in front of a mic than I was and bantered easily with one another, leaving me to read the scripted banalities of our fund raising efforts.
My half-time professorship ran out in five years, and it was time for me and the family to move back to our home state of Oregon.
So that was end of my career in show business. It was the closest to cool as I've ever been.
Postscript: Let's face it, Ricochet is a town called Squaresville, wherein live probably the greatest concentration of squares and cornballs on the internet.
Democrats are hip; Republicans are square. Conservatives are even squarer. Everyone knows that. AOC exudes hipness; Ted Cruz exudes black ties and wingtip shoes, 
It's possible, I suppose, that a few of you might have been cool at some point in your life. Tell us about it.
Published in General