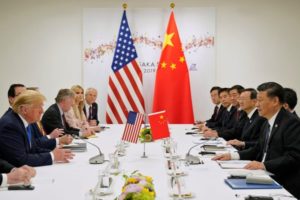 President Trump may not be interested in cold war with China, but cold war is interested in him. Well, at least if his fellow Republicans have any say in the matter.
If there's any clear takeaway from the G20 trade ceasefire, it's that Trump views the fate of Chinese telecom giant Huawei as something to be negotiated. Just another pressure point. This Bloomberg headline pretty much nails it: "Huawei Lifeline Shows Trump Prefers Business Deals Over Cold War."
After all, you can't very well conduct cold war against a nation that you refer to as a "strategic partner," as Trump did over the weekend. (Wall Street Journal reporter Bob Davis tweets: "Who else used that term? Bill Clinton and Jiang Zemin — the same Bill Clinton who Trump lambastes for paving the way for China to join the WTO.")
Then there are the GOP China hawks. They view the administration's ban on US companies supplying software and equipment to Huawei as a key move shaping the tech battlespace in a twilight struggle with Beijing. And this kettle is outraged by Trump's apparent reversal. On Twitter, Sen. Marco Rubio called it a potentially a credibility-destroying, "catastrophic mistake" for the president and his national security team, while Sen. Marsha Blackburn said it's "time to stop [Huawei] in their tracks." One should presume the Steve Bannon-led Committee on the Present Danger: China is also none-too-thrilled.
Of course, it has never been clear to what extent Trump had bought into the Cold War 2.0 narrative vs. seeing the conflict as economic in nature and revolving around trade deficits and trade deals. His language and emphasis on social media and at rallies certainly supports this reporting by Davis and Lingling Wei in The Wall Street Journal: "Mr. Trump, however, largely looks at Huawei as both a bargaining chip and a commercial challenger to US firms, not a part of an existential struggle with China, people familiar with his thinking said."
Now Rubio is threatening to reinstate the Huawei ban with veto-proof legislation. And maybe it's more than just a threat. Yet it seems unlikely that the United States can engage in a long-term, multi-faceted, geopolitical struggle with China without deep presidential commitment. And Tariff Man doesn't appear to be a Cold Warrior. Nor does it seem like Democrats have much interest, either, beyond tactical criticism. Anyone watching last week's Democratic presidential debate got zero sense that the party was ready to confront China in any sort of comprehensive way.
As I recently wrote for The Week: "The more you look at the idea of a tech cold war — from the lack of serious planning to the problems in disentangling the two ecosystems, the more fanciful it seems." So far, at least, events are bearing out that column, headlined, "Why the fears of a U.S.-China tech cold war are overblown."
Published in Economics