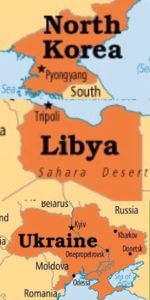 I recently urged "Don't Say You Want a Revolution," reviewing the sad and terrible consequences of American presidents talking up "regime change" or "revolution" in other countries. As the people of 1956 Hungary and 1991 Iraq discovered, the United States does not back up such talk with our own blood and treasure, even when local people put their own fortunes, sacred honor, and lives on the line. Now let us shift perspective, from the people to the governing elite.
What lessons should Kim Jong-Un draw from recent history? Does U.S. policy, as it has actually played out, cut against North Korean denuclearization? What of the Khomeinist regime in Iran? Consider Libya and Ukraine as cautionary tales for other governments considering what to do with their own weapons of mass destruction (WMD) programs.
Libyan dictator Muammar Gaddafi was only very technically not "targeted" by a bomb dropped on one of his residences on orders from President Reagan. Gaddafi was briefly chastened and then proceeded to develop both chemical and nuclear weapons programs. These programs were the subject of much international posturing by so-called arms control agencies and various governments. Then President George W. Bush sent the full might of the United States military crashing down on Saddam Hussein, on the claim that he had been defying arms control programs and had some really bad weapons of mass destruction. Gaddafi suddenly became entirely compliant and opened Libya to arms control inspectors:
On December 19, 2003, long-time Libyan President Muammar Gaddafi stunned much of the world by renouncing Tripoli's weapons of mass destruction (WMD) programs and welcoming international inspectors to verify that Tripoli would follow through on its commitment.

Following Gaddafi's announcement, inspectors from the United States, United Kingdom, and international organizations worked to dismantle Libya's chemical and nuclear weapons programs, as well as its longest-range ballistic missiles. Washington also took steps toward normalizing its bilateral relations with Tripoli, which had essentially been cut off in 1981.
So, in return for giving up his nuclear program, Gaddafi got some steps towards normalization of relations with the United States. We were not going to target him as a threat to our interests. Then, we had another presidential election, or so. President Obama, with his Secretary of State Hillary Clinton, had no interest in continuing a Bush, a Republican, policy. Indeed, they decided to take the bipartisan consensus on the virtue and historical force of supposedly democratic movements to the next level.
A brief aside here; Taiwan, South Korea, and Japan all stand for the proposition that "culture" has little explanatory power for democratization. You cannot point to the history in China, Korea, or Japan, of local democratic traditions building civic competency and expectations into national democratic institutions. Go search for the centuries of traditions in India that led to the current largest democracy in the world. So, "they just aren't suited" or "nation-building" are pretty weak arguments, by themselves, against a policy of encouraging democratization anywhere in the world.
Whatever the perspective, as opposed to the retrospective, issues with the "Arab Spring," our strongest and primary consideration in Libya should have been the example we would set for other governments or strongmen who have WMD programs, even if the nuclear component is only in a developmental stage. Gaddafi ended up losing a civil war, where the opposition had the support of the U.S. and European governments. President Obama admitted that Libya was his "worst mistake." Obama did so in the context of local chaos, even then not acknowledging the nuclear proliferation issue.
Gaddafi paid for his WMD disarmament compliance with his life in a quite nasty, brutal death. Gaddafi reportedly ended up begging for his life after being caught trying to flee. So, if you are a small-time dictator, perhaps you should not so easily give up your WMD program. Perhaps you should at least get some written assurances of protection from the United States government, like, say Ukraine.
Ukraine was pressured to give up a massive nuclear arsenal, inherited from the former Soviet Union, of which Ukraine was a major part. These were not Russia's weapons, even though the "evil empire" was ruled from Moscow. Ukraine would seem to have done it right, a decade before Gaddafi's Libya. They got a written diplomatic agreement from President Bill Clinton's America, PM John Major's Great Britain, and President Boris Yeltsin's Russia.
Then all the leaders changed. The diplomatic agreement, the "Budapest Memorandum," was not a treaty, not binding law on any of the signatory states' governments. Putin used "little green men," Russian troops pretending to be other than they were, to invade and we did nothing. As the Huffington Post observed, "Too Bad Ukraine Didn't Keep Its 2,000 Nuclear Weapons:"
At first, Ukraine planned to keep its nuclear weapons. But, at the insistence of the two strongest powers in the world — Russia and the United States — Ukraine agreed to give up their nukes in exchange for perpetual guarantees of sovereignty and territorial integrity.

[…]

Why not give up their nukes? Russia was their protector and would always be there, and the U.S. lived up to its treaties. Ukraine didn't need nuclear weapons. The Treaty was signed by Bill Clinton, Boris Yeltsin, John Major (of England) and Ukrainian President Leonid Kuchma.

All of these leaders agreed to protect the sovereignty and "territorial agreement" of Ukraine, meaning any Russian support for Crimean independence would be in violation of Russia's international obligations.

The three powers committed to "respect the independence and sovereignty and the existing borders of Ukraine" and "refrain from the threat or use of force against the territorial integrity or political independence of Ukraine."

I guess Ukrainians learned their lesson: Things change.
But, surely the Ukrainians could not expect too much with weapons they could not use, right? Not so fast. It turns out that Ukraine had not only the hardware but also a core of very competent scientific and technical people. Ukraine really did have something of great value to trade for promises of protected territorial integrity. Ukraine could have gained nuclear warhead trigger access if left with the weapons and time.
A successor of the former Soviet Union, Ukraine acceded to the NPT as a non-nuclear weapons state in December 1994. This meant not only relinquishing the right to develop nuclear weapons in the future, but also physically dismantling and removing the world's third-largest nuclear arsenal that Ukraine had inherited from the Soviet Union: 1,240 nuclear warheads arming 176 intercontinental ballistic missiles (ICBMs) including their extensive launch control infrastructure, 700 nuclear cruise missiles arming 44 strategic bombers, and nearly 3,000 tactical nuclear weapons, including artillery shells, gravity bombs, and mines.

While Ukraine lacked key elements of a fully-fledged nuclear weapons program, and Moscow retained operational control over the ICBMs in Ukrainian territory, recent research reveals that, due to the inherited defense industry and technological expertise, Ukraine had a much greater capacity to establish independent control over these weapons systems than has been previously assumed.
NPR, in the wake of Putin's invasion and of Gaddafi's death, gently asked some awkward questions of Ambassador Steven Pifer, former U.S. ambassador to Ukraine. NPR asked about the role of the 1994 nuclear agreement in Ukraine's loss of territory to Russia [emphasis added]:
PIFER: There's a very important reason why it's the Budapest Memorandum of Assurances and not of guarantees. And we were very clear – and the Ukrainians understood this back in 1994 – that we were not going to use the word guarantee because we were not prepared to extend a military commitment.

So I think that given what we see in this threat to Ukraine's territorial integrity, the United States and Britain by that are committed to extend various measures – political, diplomatic, even economic – to support Ukraine and try to push back against this Russian violation of the memorandum.

RATH: So we're required to do something, but it's not entirely clear what that something has to be?

PIFER: It wasn't exactly specified, but there was certainly at the time a clear understanding in Washington that the United States would react. And because the Ukrainians in 1993, as we were getting ready to bring this to closure, made very clear that a key element for them in their decision finally to get rid of those nuclear weapons was going to be having some kind of a commitment that had the Russians in particular signing on respecting their independence and their sovereignty and a pledge not to use force.

RATH: So looking across the world, Moammar Gadhafi gave up his nuclear program. And then several years later, he ends up getting overthrown and killed. Ukraine gave up its nuclear weapons for these guarantees, and they end up getting ignored, it seems, over the last couple of weeks. Are you worried about the message this sends to countries with nuclear programs – Iran, Pakistan, North Korea?

PIFER: Well, it may be slower than (unintelligible), but I do think that the United States and the west are now gearing up to do a couple of things. One is to be supportive of Ukraine, including politically and also working with the International Monetary Fund financially. There are also a number of political, diplomatic, economic sanctions that are now being laid out towards Russia.
You get the message, and so does every national leader around the world. Have nukes? Keep them. Period. Otherwise, the integrity of your country and your own body will be at risk.
This underlies the engagement between President Trump and Chairman Kim Jong-un. This conditions any movement in the Iranian nuclear program. Our government's decisions, across administrations and governing parties, have significant second order effects. When presidents like Eisenhower and George H.W. Bush cannot be trusted by foreign populations to back up talk of "revolution" or "regime change," and when America cannot be counted upon to protect leaders or countries that give up nuclear weapons' programs, our ability to influence the world with less than brute force is diminished.
Published in Foreign Policy