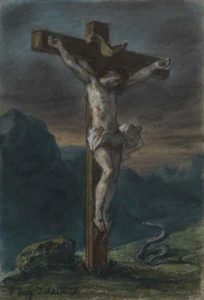 Throughout millennia, suffering and sacrifice have always been respected. For example, Simeon the Stylite lived on ever increasingly high pillars alone in the desert to devote himself to G-d. Hindus have a long tradition of torturing their body to advance the strength of their soul. Buddhists have similar traditions of starving themselves to death. (though that's controversial in Buddhism.)* Shia Islam seems to focus on flagellation and hitting yourself on the head with a sword (Grisly imagery contained in this link.
In animistic traditions, the Cheyenne and Crow tribe practiced a ritual known as the sundance where they pierce their skin and attach themselves to a tall pole. The list goes on; sacrificing your bodily health to attain spiritual prowess is a pretty normal thing.
Personally, I've always found the more grisly sacrifices offered up to a higher religious goal a little disturbing. But regardless of personal feelings, such practices are so universal that they illuminate a fundamental human reality. People have long associated suffering with holiness and holiness is part of every culture. I propose that the modern leftist obsession with victimhood is a continuation of the human inclination to make suffering holy. What's more, there is an odd echo of Christianity in the leftist worship of victimhood. 
Jesus Christ was the absolute personification of innocent victimhood and the ultimate in sacrifice. It is no coincidence that following him were untold numbers of martyrs. But people under the sway of the leftist echo of Christianity, confuse victimhood with holiness. If they are a victim, they become more beautiful and nobler. That's a large part (and a largely unspoken part) of what constitutes identity politics.
Dostoevsky saw a version of this yearning to be a righteous victim in his Book, The Brothers Karamazov. The Brother Ivan pointedly observes that Katerina Ivanovna's love for his brother, Dmitri, emerges out of a sort of victimhood pride.
And the more he insults you, the more you love him—that's your 'laceration.' You love him just as he is; you love him for insulting you. If he reformed, you'd give him up at once and cease to love him. But you need him so as to contemplate continually your heroic fidelity and to reproach him for infidelity. And it all comes from your pride. Oh, there's a great deal of humiliation and self-abasement about it, but it all comes from pride."
Katerina Ivanovna wants to abase herself in order to feel that she is a more a victim and thus, holier than others. This was always a thing but lately, it's been picking up,
Take the wave of fake hate crimes that are going on in America at the moment. It reminds me of the fake miracle-workers in Europe during the Middle Ages and the Renaissance. Traditionally, these hucksters would manufacture fake religious artifacts and makeup stories about divine intervention in order to fool religious people. But those flim-flam men and women understood that there was a deeply venerated religion to imitate. You won't find many Buddhist hucksters in the Europe Middle Ages for example but they're always a few of them in Buddhist countries.
The veneration of victimhood creates a demand for victims just as the devotion of the divine creates a demand for miracles. This is why college campuses are the main incubator of hate crime hoaxes. They are the most fervent of believers in the holiness of victimhood.
The people themselves who commit the fake hate crimes might be sociopaths indifferent to lying or they might have an unhealthy compulsion to hurt themselves and perhaps worst of all, they might have a perverse idea of what holiness is. Though it must be said that they can be all three.
https://youtu.be/LjZqI6QvUyc?t=346
I suspect that the true believers are the most destructive of the hucksters. They view themselves as actually being holy victims but feel stiffed when people don't hate them for their minority status. So even as they falsify stories, they believe that they are actually holy in some sense. The lie is justified because it serves a greater and nobler truth. It reminds me of a lyric about mental illness and religion by Johnny Cash.**
Have you come here for forgiveness?

Have you come to raise the dead?

Have you come here to play Jesus

To the lepers in your head?
Dr. Bastiat and I have politely disagreed about the nature of third motivation in the Jussie Smollet case. Dr. Bastiat thinks that Jussie did it in order to obtain more money and fame. I think that while self-promotion was part of his motivation, I think he has an unhealthy spiritual malady where he needs to feel that he is a suffering victim. He wants to play a black Jesus to the Trump voters in his head to paraphrase the late Johny Cash.
Dr. Bastiat also brilliantly noticed this celebration of victimhood in American pop-culture.
My wife and daughters enjoy reality TV shows in which contestants sing and dance in front of judges, attempting to win a prize. Like most competitive endeavors on TV now, from golf to the Olympics, the program includes a brief personal story about each contestant, so you can get to know the competitors a bit. This generally includes a statement by the competitor, in which he/she will explain why they think they should win.

Do they say, "I've worked really hard at this, and I hope that my hard work will be adequate to win this competition?" No. They engage in competitive victimhood and self-sacrifice: "So my Mom overdosed when I was 13 and one of her sister's boyfriends started beating me up so I lived under an overpass and sold my body to make money to buy insulin for my baby brother while I practiced my singing by volunteering in the local children's hospital and singing to the babies in the NICU. Gosh, I love those kids." The singing competition matters, but the self-sacrifice rivalry is where the most vicious competition happens. It may seem odd, competing at being non-competitive, but this is how you gain the upper hand in modern America.
The emotional incontinence of the left is partly explained by this reverence. I was working a blue collar job the night Trump got elected. Everyone there was like, "Huh. I didn't think that would happen." Then, even the Hillary Clinton supporters, moved on with their lives. This was not at all the case with the educated classes. On the AMU, a group voice chat with fellow Ricochet members, the nurses and the people who worked in law offices told me a story after story of glorious suffering. (It was like they were serving me a large schadenfreude cake frosted with a schadenfreude topping with schadenfreude sprinkles.) But my moral weaknesses aside, those on the left feel it necessary to demonstrate their suffering. It used to be considered good manners to stoically resign yourself to a political loss. But higher education did a fairly good job of ending that.
My living in China for a few years seems to support my theory that this veneration of the suffering victim is an echo of Christianity. The Chinese feel no guilt for being strong. They feel slighted that they were bullied by other countries for so long. The pain of the Tibetan and Uighyur minorities mean little not only to the Communist Government but to the average Han (majority Chinese ethnicity). There is an inferiority/superiority complex that China has with Japan and America but they don't present themselves as hapless victims. They don't want to be victims; they want to be strong.
This also perfectly explains why lefties hate black and gay conservatives and why they are indifferent to Ayan Hirsi Ali. This is why Israel gets no points for being gay-friendly. Gays cease to become holy when they aren't victimized. When people reject the victimhood narrative, they are apostates from the religion of victimhood and holy suffering. This is also why the hundreds of millions of people who are well fed because of capitalism don't matter to leftists. There isn't any holiness in steadily improving your lot in life. In fact, wanting to have a nice car and a nice house and health care plan with extra options in case something goes south is indecent. It detracts from your victimhood and therefore your holiness.
The veneration of the suffering victim is the real reason that socialists hate capitalism. Capitalism may help the poor but it does it in a way that doesn't have much to do with spiritual development. Because victims are holy, socialists have to make capitalism unholy by saying that it makes the rich richer by making the poor poorer. If uplifting the poor were the main motivation of socialists, they would be some version of free-marketers. Literally, every society that has made their poor population not poor has had some version of a free market economy. It may be a free market economy with less taxation or more taxation or less regulation or more regulation but it has always been a freeish market. This central fact of human history means nothing to them but the spiritual appeal of the victim means everything.
Everything in the present is an echo of what came before. I am an echo of my mother and father's genetic makeup and my writing is an echo of what I have read before. The tradition of American democracy and liberty are a golden echo of the Scottish and English enlightenments.
But sometimes echoes become distorted and garbled and what was once a beautiful composition becomes a jarring and malaphonic cacophony. Think of the Nazis playing Mozart or Beethoven in their rallies. We should recognize that the modern leftist view of victimhood is a dark echo of Christianity rooted in the darker parts of our nature that worship suffering for suffering's sake.
* Buddhism has a concept called the Middle Way which many people interpret as being against the mortification of the flesh.
**I've been informed that the original song was written by U2 and not Johny Cash. In my defense, the Johny Cash version was better.
Published in General