We're moving back from the series on measurement to the whole process of making computer bits out of silicon. Way back, starting with Computers 7, I started a series on patterning; how you can take an idea and draw it small enough that you can apply that pattern to these really tiny circuits. I went over, step by step, each thing you need to do to create the pattern. I skipped entirely the bit where I tell you what, exactly, you do with one of those patterns when you've got them. This is the first of a couple of articles that fit, in manufacturing terms, between Computers 15 (Developing), and 16 (Stripping). You develop your pattern on with photoresist, this is how you make it permanent.
We'll start with etching. Broadly speaking 'etching' covers any process where you start with more material and end up with less material. I mean aside from gambling. Let's say you've got your silicon wafer, you want to etch some of that silicon away. To do this we start by burning your wafer. …Okay, perhaps that's poor phrasing. Put the flamethrower down and I'll describe what I mean. To protect your silicon wafer from the damage the etching process would do to it we're going to want to mask it, with a silicon dioxide layer. Heat your wafer up in the presence of oxygen and this happens:
O2 + Si —> SiO2
Simple enough, right? You heat it to a temperature between 600 and 1200 C, over a specific period of time, and you can control exactly how thick of an oxide layer you 'grow' this way. (Adding oxygen to the silicon crystal pushes the structure upwards and out since there's now more material. Hence the 'growth' term.) Okay, you've got this oxide layer, why exactly did we want it?
There are two basic problems with any kind of etching; you want to etch the things you want to etch away completely, and you want to not etch away any of the things you don't want gone. Therefore we need to mask off the parts we need to keep. Silicon is pretty tough stuff; you need some real nasty chemistry to eat away at it. We'll need a mask that will survive that etching process. Some things that will etch silicon won't touch the oxide layer. We use the oxide layer to protect the stuff that needs to stick around.
Wait. How do we put a pattern into the oxide layer? With photoresist to put a pattern on the oxide, and then it's own etchant. Okay, let's skip the whole patterning discussion. Assume we've got a pattern in a nice, thick, photoresist layer. Now dunk your wafer in hydrofluoric acid. Nasty stuff. You'll probably want to buffer that acid with something weaker (ammonium fluoride seems to be popular), and maybe some hydrochloric acid to deal with impurities. With that lovely cocktail, you'll eat through your oxide in a quick, controlled manner.
SiO2 + 6 HF —> 2H2O + H2SiF6
(But what about the ammonium? That's there to buffer the solution; slow down the reaction to get a controlled rate of etching. It doesn't need to personally etch the material to be useful.)
Okay, you've eaten through your oxide down to the point where you're seeing bare silicon. What's the acid going to do to the silicon? Here's your vocabulary word for the day: selectivity. "Selectivity" is the way you describe how much an acid will etch one substance over another. If a particular acid will eat through your clothes five times faster than it'll eat through your skin then it has a high selectivity between the two materials. Also, you should probably wash that off, maybe change your pants.
But back to the silicon, what's your hydrofluoric acid going to do to it? Not much on its own. That vitalizing cocktail will etch silicon dioxide much more quickly than it will silicon, which means that you can reasonably trust it to etch all the oxide off without altering your silicon. (Generally speaking, high selectivity is useful.) You'll still want to rinse that off before processing it any further.
Okay, but hydrofluoric acid is pretty nasty stuff. If we can't rely on that to etch the silicon, what'll get the job done? There's this lovely mix of Hydrofluoric and Nitric acid we can use. The nitric acid (HNO3) will leave hydroxide ions in the solution
HNO3 + H2O + HNO2 —> 2HNO2 + 2OH(-) + 2H(+)
The hydroxide ions will react with the surface of the silicon:
Si(4+) + 4OH(-) —> SiO2 + H2
Silicon dioxide is then, in turn, dissolved into the hydrofluoric acid as I described a couple of equations ago. But wait, didn't we make our protective layer out of silicon dioxide? Hope we made it thick enough that it'll survive the etching we're doing to the silicon. Again, selectivity matters but in this case, we can get by with a low selectivity. If you put down twenty nanometers of oxide but you only need to etch ten nanometers of silicon, even if they're at the same rate you won't get through the oxide before you're finished with your etch. Again you'll want to rinse it pretty quick to stop the etching from going any further.
Of course, all that's talking in one dimension. The problem with chemistry is that it doesn't much care which direction it's etching in; it's just happy to etch. That can cause all kinds of problems. Here, let me show you, using pancakes: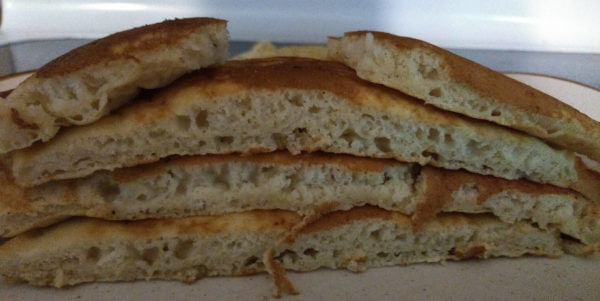 A wafer made of pancakes. I've already started the etch. I suppose I could have added a masking layer but I didn't also feel like frying up some sausages to layer on top. Let's say each pancake is ten nanometers thick. (You probably need a bit more flour in your batter.) You etch ten nanometers deep to get through the first pancake. But while you're etching the next pancake you're also widening the hole; it's etching towards the sides just as it's etching downward. It's undercutting the sausage mask.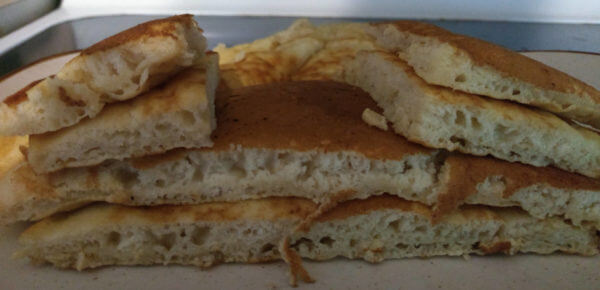 How do we deal with that? Couple things. Perhaps the simplest solution, you can offset your mask. If you expect it to etch five nanometers towards the sides in the time it etches to the depth you need, then maybe you can add five more nanometers of coverage. That way, when you etch under the five nanometers you end up with the size hole you always wanted. Great, right? Works just fine until you need to etch a feature deeper than you need it wide. You end up offsetting your mask so much it piles onto the mask from the other side.
What you need in that case is what's called an anisotropic etch. That is, it'll etch one direction much more quickly than any others. How do you do that? Join us fortnight next as we get into the question of dry etching in 'The Pernicious After-Effects of the Eighteenth Amendment' or 'I Like my Silicon Etching like I Like my Martinis.'
---
This is part 34 of my ongoing series on building a computer, the Punk Rock way. You may find previous parts under the tag How to Build a Computer. This week's post has been brought to you by all those 90's revolutionary punk anthems whose words are sounding more and more reasonable to your older, conservative self, even as you reject their motivating philosophies.