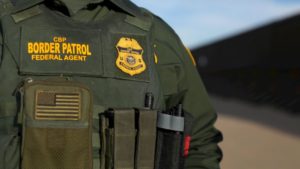 Border Patrol agents have it tough enough: a huge increase in migrants coming from Central America, demands of their time to provide medical transportation, and babysitting. Oh yes, and law enforcement.
But one professor thinks that they need to be chastised for the role they play on the southern border. Kate Cronin-Furman, a professor of University College London, insisted in a New York Times op-ed that she doesn't want to dox the Border Patrol agents. She only wants to embarrass them into leaving their jobs, by collecting and using the information that is available from immigration lawyers and journalists:
The knowledge, for instance, that when you go to church on Sunday, your entire congregation will have seen you on TV ripping a child out of her father's arms is a serious social cost to bear. The desire to avoid this kind of social shame may be enough to persuade some agents to quit and may hinder the recruitment of replacements," she argued.

For someone who is 'just following orders,' the prospect of being internationally shamed as a rights abuser and being unable to travel freely may be significant enough to persuade them to stop participating.
Ms. Cronin-Furman is apparently unaware that these people are carrying out the duties referenced above, as well as arresting smugglers and drug traffickers.
Joe Romero, a Border Patrol Supervisor, says they have learned how to manage resources and are doing the best they can:
'What the Border Patrol is doing is constantly evaluating everything along the border in every sector and area and determining where is the greatest need, so you see the agents shifted from one area to another to adjust to those needs,' said Romero. 'Whether you're working a line or checkpoint there's always something we have to adjust, and these criminal organizations are adjusting too. They're exploiting whatever we've got.'
I assume Ms. Cronin-Furman hasn't been to the border and prefers to believe the propaganda of the Left. Maybe she should set up an interview with a smuggler or drug trafficker or two.
Published in Policing