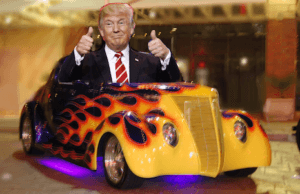 Stocks are red hot…and so are other investments, resulting in these headlines:
The Best First Half for Financial Markets Ever — U.S. News and World Report, 28 June 2019

Global stock markets on track for best first half in 20 years — City A.M., 23 June 2019 (London publication)

By the numbers: Best June for the Dow since 1938, S&P 500's best first half in two decades — CNBC, 29 June 2019
How can this be? I thought we were facing global peril from trade wars, and President Trump's tariffs and Tweets were wrecking everything. What happened?
The view from the City of London, the former center of global capitalism and still a major player, was this:
The stock market expansion comes thanks to central banks around the world signalling they will cut interest rates or launch new stimulus to help deal with growing global headwinds.
But does that really explain six months, rather than one or more bumps in response to one or another major central bank's comments? Surely there is more. The CNBC article, linked above, provides an excellent summary with charts, telling a story of very wide growth, rather than reliance on one or two strong horses. Indeed, the Dow Jones Industrial Average, and the S&P 500, and oil, and gold all have flourished in the first half of this year.
It appears that people have decided that President Trump is serious about negotiations, and that foreign leaders, on the other side of the series of negotiations, are taking him seriously. It makes sense, then, to continue betting on a brighter future. The U.S. News and World Report article, while lacking charts, has a detailed summary of the incredibly broad range of investment instruments that are simultaneously prospering.
What a six months for financial markets. Global equities have piled on $8 trillion, bonds are on fire, oil prices have surged by almost a quarter and a Greek bank is one of the world's best performing stocks.

Everything added together it may well be the best first half of a year ever and one that not even the most wily investor would have predicted after the dire end to 2018 and what has happened since.

The world's two top economies are slugging it out in a full-blown trade war and the recession warning klaxons are blaring, but still the performance numbers and milestones are astonishing.

[…]

"It is very unusual to see this breadth of strength," said HSBC Asset Management's chief global strategist, Joseph Little. "The question is, has it been too fast and too furious. It's a very good question."
Left out of all of these articles are the fundamental improvements on employment in the world's largest economy. American wages are rising for those who had long been left behind. President Trump will not let a week go by without touting the great good employment news for women, African-Americans, and Hispanic/Latino people. He has held two high-profile presentations with men and women who have been freed from prison and given an opportunity to work for a living.
Taken together, all of this seems to say that we are building a more resilient, a broader and deeper consumer base. President Trump seems to be prevailing, at the margin, on energy policy and regulatory reform. He showing signs of actually forcing a slowing of the flood of illegal immigration, pointing towards a longer term pressure on U.S. employers to hire Americans of all backgrounds and to pay them an honest day's wage for an honest day's work. All of this is to the good of a longer term healthy U.S. economy.
No wonder, then, that financial markets of all sorts would be doing so well. If the advocates of capitalism are right, and if we continue to nudge the world towards more honest and open trade arrangements, then we should see the global pie continue to grow. Putin may not like President Trump's more effective checks on the new czar's revived imperial ambitions, but he and his cronies certainly benefit from the rising ruble. Xi may yet crash the trade talks, but after the clown shows put on for two nights by the Democratic presidential hopefuls, he has to be assessing that prospects of influencing an American presidential election again (see President Bill Clinton's Chinese contributors), are fading.
Past performance does not predict future results. There's many a slip twixt the cup and the lip. We live in uncertain times. Yet, there may be more cause for optimism in the Trump/Pence 2020 campaign now than a year ago. The ranks of people with reason to cheer "USA! USA! USA!" have grown since Election Night 2018. Americans eligible to vote are going to know the truth of their own lives and those around them, no matter how much Google and Facebook try to influence them to vote for the tech lords' party.