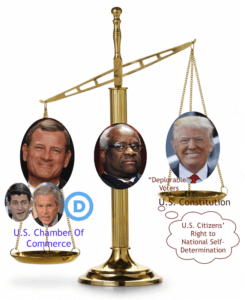 There has been plenty of commentary, on Ricochet and elsewhere (see first and especially Amy Howe's analysis), about the decision penned by Chief Justice John Roberts, joined by the four consistent leftists in relevant parts on Department of Commerce v. New York. One issue, and important consequence, seems unaddressed. By sending the matter back to the Federal District courts, without imposing a very accelerated calendar and requiring a decision back to the Supreme Court by the end of the summer, Roberts has effectively pushed back any actual count of the illegal alien population by a decade! He has kept the political process uninformed, except by competing guesses, presented as statistical models and sample data. This is the point on which President Trump should be hammering daily.
Roberts did not rule that a citizenship question is unconstitutional, but he did not need to, as his opinion, as written, runs out the clock nicely. Instead, he relied on insinuations that Wilbur Ross had racist motives and had lied to cover up these racist motives. By entertaining this smear job by the lower courts, Roberts diverted the conversation from the ultimate bipartisan elite goal, perpetuating their numbers racket.
The Numbers Racket:
Eleven million? We have been fed that number for over a decade now. Where did it come from and what should we make of it? Is it fair to claim that commonsense points to the number having grown much larger? The Washington Post turns out to be a helpful starting point in understanding "how we can be confident that there are 11 million undocumented immigrants in the U.S.:"
The most common source for the 11 million figure is number-crunching from Pew Research Center.
Here is the Pew Research Center's illegal immigration issue summary:
The number of unauthorized immigrants living in the United States has dropped to the level it was in 2004, and Mexicans are no longer a majority of this population. This decline is due mainly to a large drop in the number of new unauthorized immigrants, especially Mexicans, coming into the country. The origin countries of unauthorized immigrants also shifted during that time, with the number from Mexico declining and the number rising from Central America and Asia, according to the latest Pew Research Center estimates.

Here are five facts about the unauthorized immigrant population in the U.S.

There were 10.5 million unauthorized immigrants in the U.S. in 2017, representing 3.2% of the total U.S. population that year. […]
The number of Mexican unauthorized immigrants declined since 2007, while the total from other nations ticked up. […]
The U.S. civilian workforce includes 7.6 million unauthorized immigrants, representing a decline since 2007. […]
Six states account for 57% of unauthorized immigrants: California, Texas, Florida, New York, New Jersey and Illinois. […]
A rising share of unauthorized immigrants have lived in the U.S. for more than a decade. […]
How does Pew get their answer? Here is one of their senior researchers to explain:
It turns out, however, that there may be basic flaws in their model, leading to serious underestimations. A researcher with appointments to both Yale and MIT led a study resulting in a very different set of estimates based on another set of assumptions. Mohammad M. Fazel-Zarandi estimated 22 million, not 11 million, illegal aliens are in America:
Fazel-Zarandi's study compared inflows and outflows of immigrants as well as demographic data. According to the report, the number of undocumented immigrants could be as low as 16.5 million, or as high as 29.1 million.

"We combined these data using a demographic model that follows a very simple logic," Edward Kaplan, a co-author of the report, told Yale Insights. "The population today is equal to the initial population plus everyone who came in minus everyone who went out. It's that simple."

[…]

The researchers emphasized the new number does not imply a growth in illegal immigration but a longstanding miscount of existing undocumented immigrants.
Consider that last point again: the Pew and Yale/MIT models show similar curves but the Yale/MIT data points plot above the Pew data points consistently. Who is right? This matters a great deal, as it disrupts the establishment narrative of confident, settled numbers. Consider an informative NPR report on "how did we get to 11 million unauthorized immigrants:"
The number has been around 11 million for almost a decade.

2017 snapshot

Today, the population of unauthorized immigrants is more urban, less seasonal and less Mexican than it used to be. About 52 percent are from Mexico, and the population is less single and male than before.
So, we should not be too worried, or we should be focussed on the changing population rather than pushing back hard on any politician who tells us we must give "a path to citizenship" for "11 million." This, of course, is the U.S. Chamber of Commerce immigration policy line:
To help advance reform, the Chamber's Employment Policy division is a leader in a broad coalition of supporters that spans industries and includes labor, law enforcement, the faith-based community, and ethnic organizations. The Chamber is leading the charge for commonsense reforms that include:

Green card reform and implementation of temporary worker programs for high-skilled and lesser-skilled workers including those in the agriculture industry;
A national employment verification system that is workable for employers;
Improved enforcement to protect our borders while facilitating the flow of trade and travel;
And a tough but fair process for the 11 million undocumented people who are living in our country today to earn a legal status.
Mind you, NPR, while reinforcing "11 million," admits that amnesty guarantees the next wave of immigration law breaking:
Three million people were granted amnesty under the [1986] Simpson-Mazzoli Act, but by 1990 the number of unauthorized immigrants was back up to 3.5 million.

"Border enforcement never really kicked in in any significant way until about a decade later — the mid '90s," [former INS Commissioner] Meissner says. "Then, the real centerpiece of it, which was employer sanctions, was very weak. There was not really an effective way to enforce employer sanctions and lots of ways for both employers and workers to get around it."

Moreover, those who had been in the U.S. less than five years weren't eligible for the amnesty.

"So those people who couldn't apply for the legalization program became the seedbed for today's 11 million," Meissner says.
Exploiting unenfranchised labor, again?
What we have here may actually be fairly analogous to the conditions at the framing of the Constitution. Then, too, there was a significant population that was exploited for labor without the right to vote, to run for federal office, or to command legal wages. Certain states and localities liked this just fine. In fact, they built their economies on the assumption that this pool of labor would not be disrupted by grants of citizenship rights. Accordingly, in order to get to a document all 13 confederated states could ratify, the formula for House and Electoral College representation allowed these people to be counted, but only gave the states 3/5 credit for unfree persons.
The question today is whether we see the Democrats going back to their bad old ways. The American people deserve to be fully informed, not by estimates derived from assumptions but by the constitutionally mandated decennial census, a door-to-door actual count of persons found in the United States in 2020. This answer, whatever it may be, would best inform our public discourse on the subject—but perhaps that is precisely the problem.
For two decades now, we have had our social betters and governing elites casually smear us as about to run riot in the streets against this or that identity group. Stories must be managed, don't you know, so that Bubba, Junior, and Daisy don't start spitting and beating on people. Now that a non-approved candidate was elected president on the Republican ticket, we have the TruCons of the conservative movement joining in those condemnations and concerns, as David French reliably has in the citizenship question case.
Wilbur Ross agreed to work for President Trump, and dares try to carry out part of the central campaign promise, rather than using his office to #resist the Great Big Ugly Man and his voting minions. So, he is fair game for none-to-subtly smearing as a racist, or at best a liar covering for a racist and all his racist voters. That, of course, is civil discourse, but do not make the mistake of turning it around on your betters.
What is to be done?
President Trump should Tweet and, with every walk-by press availability, speak the key portions of Justice Thomas and Alito's opinions. He should profusely praise Gorsuch and Kavanaugh for their honest application of the Constitution and the law. He should throw in thanks to the Senators who made the thoughtful, responsible choice to confirm these good men.
And, while it would be momentarily satisfying, do not go full Andrew Jackson (founder of the Democratic Party) and "tell the Supremes to pound sand." Instead, President Trump needs to set the two legitimate studies' numbers, 11 and 22, side-by-side and demand the Supreme Court stop hiding the truth from the American people. Remind people of Roberts' claim of no partisanship on the bench. Address Roberts and point out he is being utterly partisan in the result Roberts knew and intended: concealing the truth from the American citizens, from whom the government, including Roberts, get legitimate authority.
Clarity will be key to administration success. Questions about citizenship have been asked of some but not all residents since 1960. It was between the last decade of the 1800s and 1950 that everyone was asked about their citizenship status. See the U.S. Census Bureau Index of Questions — History. Think about what was going on and why real numbers may have helped inform political debate on immigration policy back then, in the midst of heated rhetoric.
Set the conditions for real pressure to get the question onto the 2020 census form. If Roberts stonewalls, start rolling out this passage from a 2005 New Yorker story on former Senator Harry Reid:
Roberts, Reid recalled, said, " 'Oh, on the Supreme Court you can change precedent only if there's this and this,' and he was rattling them off. I hope I didn't act surprised, but I'd never heard anything like that before." Roberts, in Reid's view, left no doubt that he would be very reluctant to overturn precedents. To do so, Roberts had said, the Court would first have to consider a series of objective criteria, two of which stood out: whether a precedent fostered stability in the nation; and the extent to which society had come to rely on an earlier ruling, even a dubious one. "I thought it would be more of a weaselly answer than that, but he said you have to meet all these standards before you can change a precedent," Reid said. Roberts's view of precedent is likely to be an important issue during the upcoming confirmation hearings. Earl Maltz, a conservative and a professor at the Rutgers University School of Law at Camden, says that what Roberts told Reid could be "very significant," because it runs counter to the "originalist" approach of Antonin Scalia and Clarence Thomas, who believe that the Constitution should be strictly interpreted, according to the original intent of the Founding Fathers; on that premise, some previously decided cases, including Roe v. Wade, would be ripe for overturning. "The Constitution is not a living organism," Scalia has said.
[…]
Reid more than once compared Roberts to Justice David Souter, who was appointed by the first President Bush, in 1990, and today is widely detested by conservatives because he frequently sides with the more liberal Justices. Souter and Reid are friendly. "He's my favorite man on the Court," Reid said. "I think he's such a wonderful man, and he believes in precedent. That's all he's doing. He's just following the law." Reid smiled, and continued, "If somebody is a real lawyer and not a Clarence Thomas or Edith Jones, who is there not to be a judge but to be a legislator, it gives us some hope, and so, if he is approved, I would hope he would turn out like Souter or somebody like that." There is, to be sure, little in Roberts's early record to suggest that he is anything but a conservative. A Washington Post report last week, for instance, quoted documents suggesting that Roberts had been an aggressive advocate of Ronald Reagan's agenda when he served as a special assistant to Attorney General William French Smith.

Reid, though, believes that Bush chose Roberts in a moment of political weakness.
This constant drama around personalities on the federal bench ought not be, and ought to have been fundamentally remedied at least after the horror visited on us by Chief (In)Justice Taney through Dredd Scott. That, however, is the subject for another day. Now we need focus on basic political integrity and pushing the Court, Congress, and the administration to stop hiding crucial information from the American people.