Tuesday's bike ride was a 50-miler(*) from Sidney to North Lewisburg, Ohio. It was my closest ever approach to Columbus from the west, by any means of transportation. Along the way, I took photos at four township halls.
I had hoped one of them might be a picturesque old schoolhouse. There are some like that in Ohio and other parts of the Old Northwest. But today's were all pole barns, broadly defined. These are usually less interesting, but one of the sites did have some traces of the old connection between township government and schools, from the days before school districts became independent of local governments, for better or worse.
This was at the second of my four stops, which actually turned out to contain two sites. I first stopped at this site on the southwest edge of the village of Rosewood, in Champaign County.
First I checked the field behind it to see if anything was planted there. A lot of corn in the Great Lakes region didn't get planted this year, due to the cool, very wet spring. It's too late now, so there are a lot of bare fields. But close inspection revealed that this one was not bare; soybeans were coming up, although maybe well behind schedule. (I don't know just how far off schedule it might be, though.)
After getting photos, I went up to look at whatever notices and minutes of meetings might be posted on the window. It's always interesting to know what kind of business is occupying the attention of a township government. In this case, the main news was that this site was for sale! You can submit your bid for the building and lots over at the new township hall and garage on the opposite corner of town.
So I headed over there. I didn't have much hope that a new site would be especially interesting, but it immediately became apparent that this was a former school site! There were schoolyard swings and an old ball diamond backstop that had once been overgrown but now cleaned up, even if no longer used for baseball. (There was grass where the old diamond had been, with no traces of bases or basepaths.) There were also a couple of picnic benches, so I stopped and ate lunch (a Cliff Bar) while contemplating the site.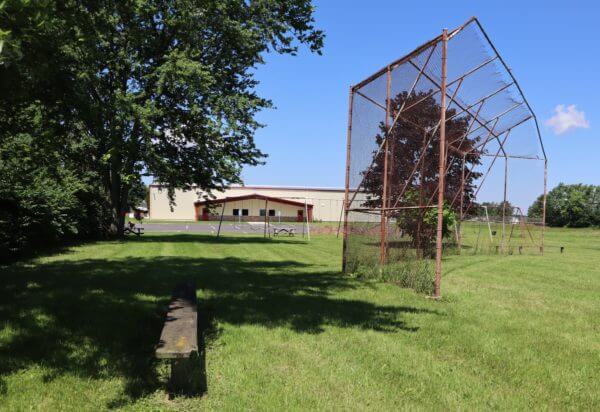 A sidewalk leading to the road looked like it might have been left over from the days of the school, so I quickly finished lunch and headed over there with my camera. And there I saw not only a pair of brick entrance columns, but a little memorial monument with a sundial on top: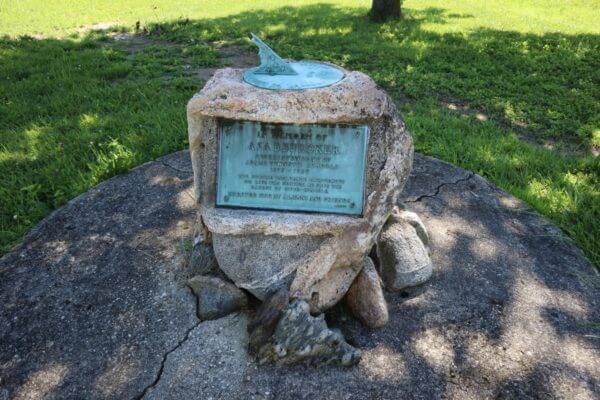 The plaque underneath says, "In memory of Asa B. Buroker, Superintendent of Adams Township Schools, 1907-1920. The guiding influence throughout his life was service. He gave the rarest of gifts – himself. Erected 1930 by alumni and friends."
It's sometimes hard to do research on the history of township schools and how their roles changed as the communities changed and progressive educational reforms were adopted. But I now had a name, which is a good place to start, so in our motel room did some internet research.
Asa Bevil Buroker lived from 1864 to 1924. He came from a large family in the area. He and his wife (who lived on for 30 some years after he died) raised ten children. (Maybe there are descendants in the area; I haven't yet checked the online phonebooks and directories.) He was not superintendent of the school for 13 years, as suggested by the plaque, but was a teacher at this school and elsewhere in the area before becoming superintendent for four years, after having been instrumental in the consolidation of the township's district schools into the one located here. He was not an outside progressive who came in to look down his nose at the locals; he was a longtime part of the community.
I often wonder what the progressive reformers were really thinking, and what the local people thought of them and their ideas. The changes were often controversial, but those controversies are not well documented. A search of a newspaper database has led me to articles about the dedication of the little sundial memorial, but not to information about how the consolidation was accomplished. That's the way it usually goes.
But Asa Buroker wrote an article for the 1906 issue of the journal of the Ohio Education Association, in which he gave some of his viewpoints on consolidation and educational reform. He doesn't come across as one of the arrogant progressives who have trouble concealing their disdain for the local deplorables, so I can see why people honored his memory. For example, he portrays the conflicts between fathers and sons as fathers who want more education for their sons, and sons uninterested in taking advantage of opportunities. It wasn't always that way, as farm fathers often resented the educations their sons might get. But portraying it this way shows somebody very politic and very careful with the sensitivities of the fathers. He was not likely to cause offense with his way of approaching the issue. I'm glad Hillary Clinton didn't have political skills like that, or she might now be our president.
Not that all of Buroker's ideas made sense, but that's more a judgment in retrospect. He wanted to get away from a classical education and teach things that would be interesting and useful for farm boys; holding an attitude not all that different from that of Robert E. Lee in his post-war career as a college president. Buroker addressed the issues of farm boys getting an education and then leaving the local farm community, and thought his reforms could help keep them at home. That was also the idea behind some of the land grant colleges that were getting started in the last half of the 19th century. But the migration from rural to urban America continued, regardless. Buroker thought the kind of education that could hold back the centralizing and consolidation of American economic life could be done by consolidating the schools into large enough units where special curricula could be offered. He didn't say it in those words, of course, and it didn't seem like nonsense at the time.
There is more, but those are some quick impressions I got from his article.
That's how I roll. I go out for a bicycle ride and come back with things to learn about. I'll be working on a repeat tomorrow.
(*) The link takes you to a KML file of the day's route. Google now stores these on Google Drive, so you might get asked if you want to open it with Drive. If you opt to open it in your browser, instead, you should see a Google Map of the route.