Whan that aprill with his shoures soote
The droghte of march hath perced to the roote,
And bathed every veyne in swich licour
Of which vertu engendred is the flour;
Whan zephirus eek with his sweete breeth
Inspired hath in every holt and heeth
Tendre croppes, and the yonge sonne
Hath in the ram his halve cours yronne,
And smale foweles maken melodye,
That slepen al the nyght with open ye
(so priketh hem nature in hir corages);
Thanne longen folk to goon on pilgrimages,
And palmeres for to seken straunge strondes,
To ferne halwes, kowthe in sondry londes;
And specially from every shires ende
Of engelond to caunterbury they wende,
The hooly blisful martir for to seke,
That hem hath holpen whan that they were seeke.
It was not to Canterbury I wended, but to rural Pennsylvania and the hills outside of Pittsburgh (distinguishable from the hills inside Pittsburgh primarily by the lack of buildings, roads, and navigable rivers). Nor was it in "Aprill" (though from the rain and the ambient temperature it was hard to distinguish the months) but in mid-June. Not all pilgrimages need be long and arduous, not in today's world where everything can be reached by car — some need only the effort of a few hours, or a few days. Yet the trips are no less profound for being short in time, for what they lack in arduous work they provide amply in timelessness. In English, we have but one word for Time, and that is Time. We call it by other names, of course, mostly pejorative nicknames (The great thief, the destroyer, one damned thing after another, etc.) but we all know what we mean — The Clock. Yet other languages have multiple concepts of Time. Greek has Chronos-Time, which is The Clock, but they also have Kairos, which is time apart: eternal time, time perpendicular to our own. Chronos has little power here.
One might say that this was my fourth pilgrimage. I had three times visited a monastery not far from my home for weekend retreats, and there Kairos clearly holds sway. The routine of the monks, in daily prayers and services, meal times and readings, and work on the property in the gardens and shops, continues day by day, the eternal rotation of the seasons being interrupted only (but profoundly) by the eternal Kairos of the Hours and Liturgy in which it is said the angelic hosts eternally participate.
And one might also say that not all pilgrimages have concrete purposes in mind, nor any specific healings. A pilgrimage may simply have no other purpose than to reach a place where, in one's general troubles in life, one seeks out a place where prayer is daily lived and felt, and where worship is in the very atmosphere. I was not seeking any specific healing on those three prior journeys, merely respite from a sea of burdens in the occupied realms of Chronos in places where prayer and fellowship were the only purposes.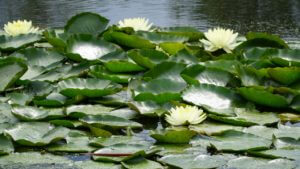 A retreat for writers seems an odd sort of pilgrimage, though I suppose for some the journey was arduous and difficult. People gathered from places as far flung as Montreal, Seattle, Los Angeles, Miami, and New England. For many, this meant both flying and then riding a van another hour or so, all at the mercy of Chronos for the entirety of the journey. I was able to simply drive from home, and as I love road trips, that time was pure Kairos for me. Still, the retreat clearly was a pilgrimage for Antiochian Village is a place like none other I've visited. Set in the rolling hills of rural Pennsylvania is a large retreat center dedicated to the Orthodox faithful. It is part summer camp, and so in a way not unlike many other church camps (rural Pennsylvania seems to have been consecrated by God for the purpose of housing church camps, so many did I pass along the way), but the other part of the grounds is for adults (and thus without bunk beds).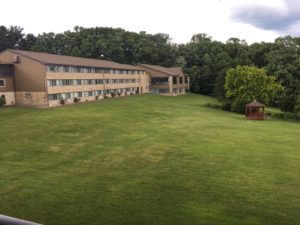 Imagine, if you will, a Holiday Inn of circa 1980s construction and decor. Inside you find a long wing of perfectly ordinary hotel rooms, with perfectly ordinary hotel room things: a couple of beds, a TV, a hairdryer, a bathroom, a small coffee maker, clean towels, etc. But take away the questionable artwork and replace it with icons, or photographs of historic Syrian churches (both intact and in ruins). And in place of the small toiletries shop off the lobby, you instead find a small book store that also sells liturgical supplies, service books, vestments, and scholarly works. In place of a gym, you will find a large library. Off of one wing, you will find a museum of Syrian-Christian history. On the bottom floor, where you might expect an overly-chlorinated swimming pool you instead find a beautiful chapel open day and night for prayers.
Outside it is quiet but for the weather and the cicadas (this being their year here, their high-pitched drone is incessant during the day). Follow the grassy trail from the parking lot and you soon find yourself on a wooded path, with occasional clearings where icon kiots stand, and a large pond with water lilies in full bloom, and frogs that never see but constantly hear. Out here your cell phone connection is practically nil. Kairos reigns and Chronos's grip is weak.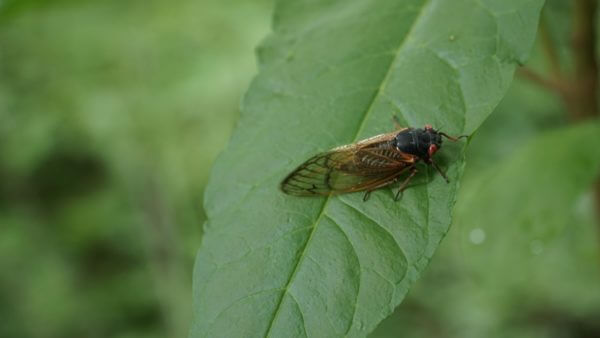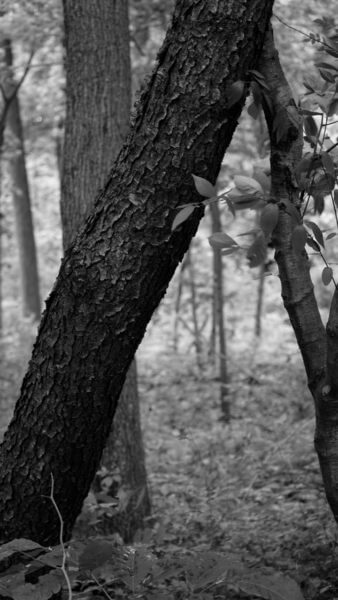 As I have found through my own journey into Christian Orthodoxy, the Orthodox community in North America is both very small and yet still very large. It is also quite spread out. Some have the good fortune to live and work where there is a sizeable network, while others live and work where the nearest Orthodox church might be hours away. The marvel of it all is that in one way or another, everyone is just a few personal connections away from everyone else, if they are only afforded the opportunity to find those connections. A significant part of the community is also deeply creative, looking to share the marvel of their faith in the best way they know: through art and beauty. As one deacon I know has put it, in a way one has to have the soul of a poet to be a Christian in the first place (how else could one believe in God becoming Man, getting executed, rising from the dead, and ascending into Heaven?), and we want to express that poetic marvel.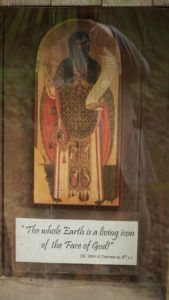 And specially from every shires ende, of America to Antiochian Village we wende, and we did meet with an Equal to the Martyrs. For some 48 hours we mingled, shared our stories, shared our ideas, and shared our faith. In the mornings we met for Orthros, or Liturgy, in the evenings we met for Vespers before dinner. Many clergy were in attendance (they as much writers as the rest of us), as were chanters, crowding the small chapel to its maximum capacity as we sang, all of us united in our faith, our love for Christ, and our love for this gem of Orthodoxy, this Pearl of Great Price which we want to share with the world.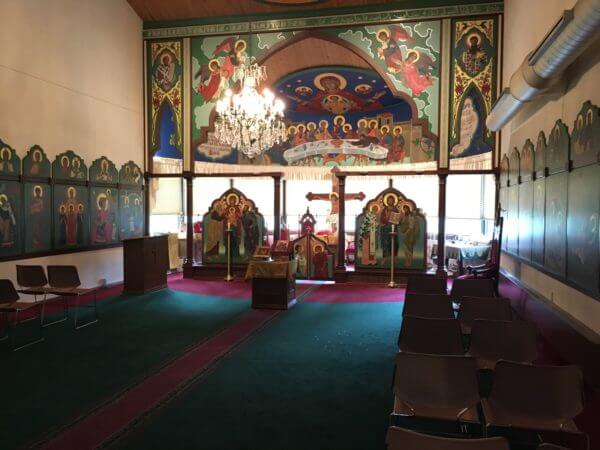 On the grounds of the camp, there is a small cemetery. There lie the remains of several wonderful Antiochian archbishops of North America – men who shepherded the early immigrant communities, who steered the church through schism, and who turned the mission of the church towards all. I have no doubt some of them are Saints. I know one, in particular, is glorified as a Saint: Saint Raphael of Brooklyn. Raphael was the first Orthodox bishop of any kind to be ordained on North American soil (all others having been dispatched to America from other sees). His story is remarkable, for he traveled the entire United States several times over in the late 1800s and early 1900s, baptizing, performing weddings and funerals, and encouraging the faithful. But he worked himself to death, sacrificing his own health for his flock. It is said that such service is equal to martyrdom. He was originally interred in his home church in Brooklyn, but was translated to these grounds in the 1990s. And at times during the hot summer months, children at camp have reported seeing a bishop on the grounds, still watching over his flock.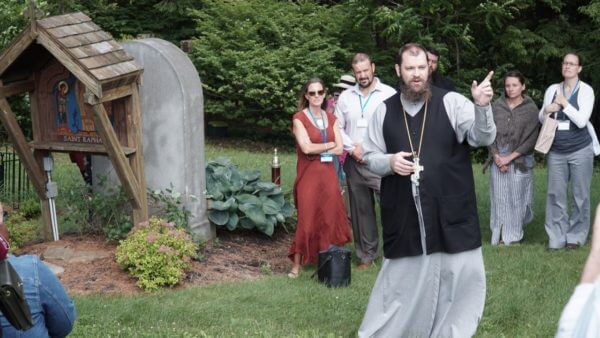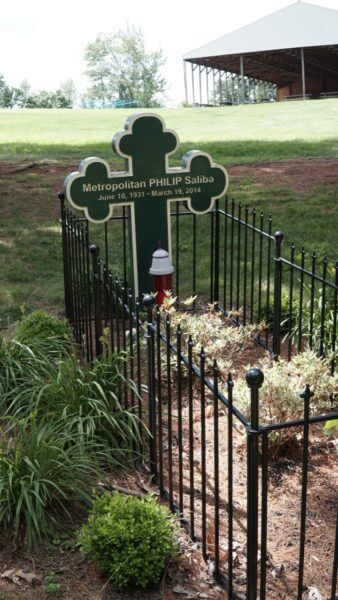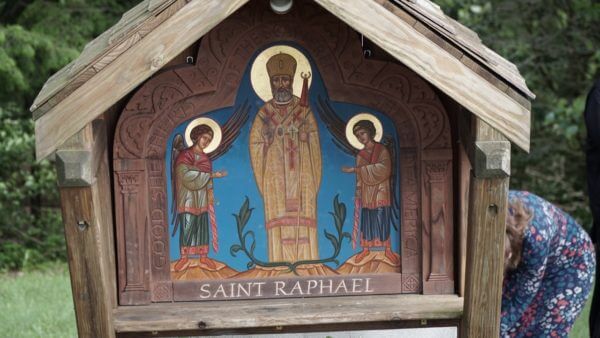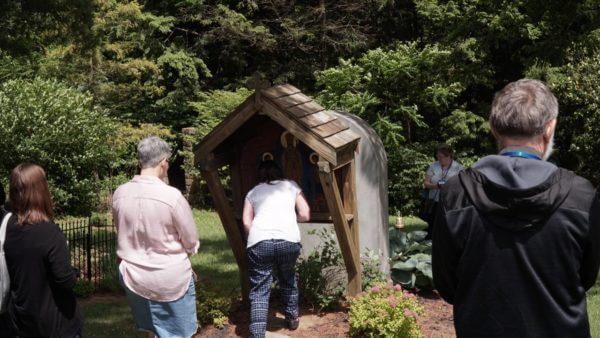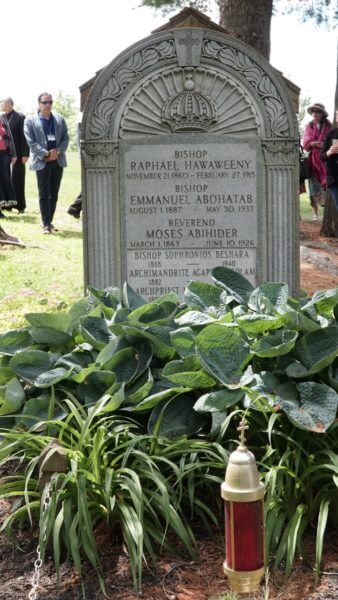 On Friday afternoon, we made the short walk to the cemetery. I took a few moments myself to also visit the grave of Metropolitan Philip Saliba, under whose leadership the Antiochian church took in thousands of Evangelicals. Without Philip's guidance, a great number of us converts might not have found the home we have.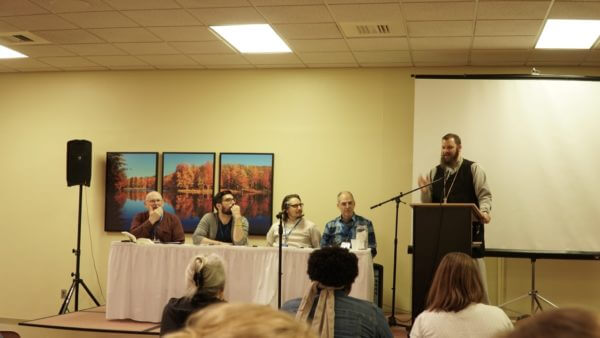 On Saturday, Chronos reasserted authority and we had to depart. I did not particularly want to leave. I made a number of friends there, and hope to meet with them again as Chronos permits. But in having my own car I also had my own time, and so made two other pilgrimages before wending home. First I partly retraced my earlier journey to meet with @She for lunch near her home. I'm not sure how long we talked there, only that we outlasted several waves of other lunchers, and were ourselves only outlasted by the regulars at the bar. Truly Kairos-time. After moderating with my friend for over two years, it was a wonderful blessing to meet face to face instead of through keyboards.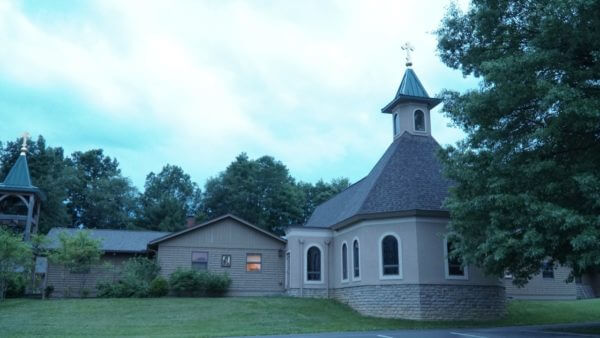 From there I had one more pilgrimage to make (and like Chaucer's companions, it did involve a seedy and dubious inn). North of Pittsburgh, not far from the turnpike as it exhausts itself at the Ohio border, and through a couple of old rust belt towns, now coming back to life through income from fracking, lies a different monastery (for whatever reason, the Orthodox do not call the all-female monasteries "Convents"), one founded by a Romanian princess. I'll save her full story for another time, but this devout Christian woman, raised in luxury but exiled by war and invasion, with her children grown and bereft of either nation or husband, was ordained as an Orthodox nun and founded Transfiguration Monastery. Mother Alexandra was abbess there until her death in 1991.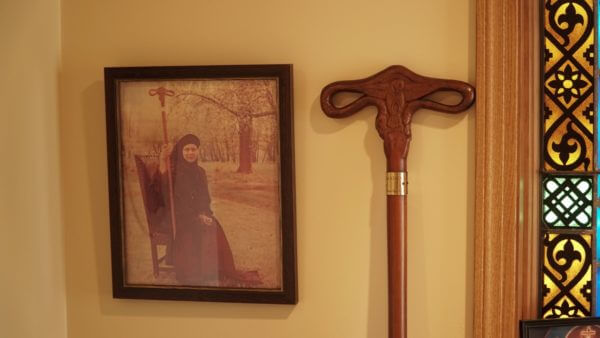 This being the eve of Pentecost, I stayed for the vigil, and returned the next morning for the hours, Liturgy, and Kneeling Vespers of the feast (I could not stay there overnight, being male, hence the seedy Super 8 nearby — if Chaucer had stayed there he would have added "The Exterminator's Tale" I'm sure). Though these services were long (over three hours each), they were Kairos, and of time passing in the outside world I really kept no reckoning. I would have visited Mother Alexandra's grave too, but the pouring rain deterred me. Even in the rain, the grounds are beautiful and tranquil. Still, Chronos bore in upon me again, and the pilgrimage had to come to an end. The tyranny of real life, with its sea of burden, awaited me still.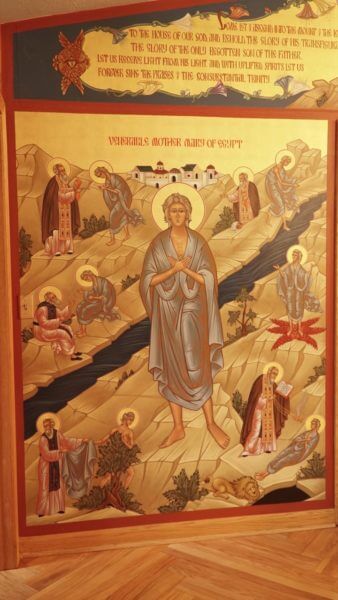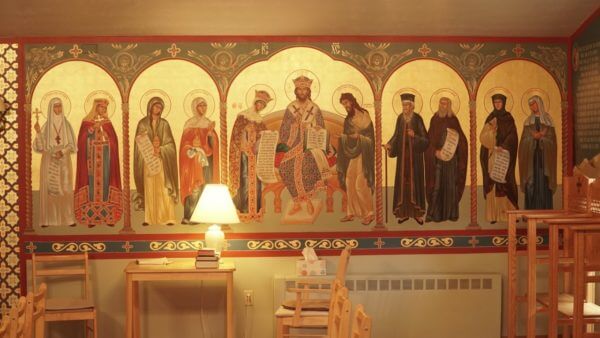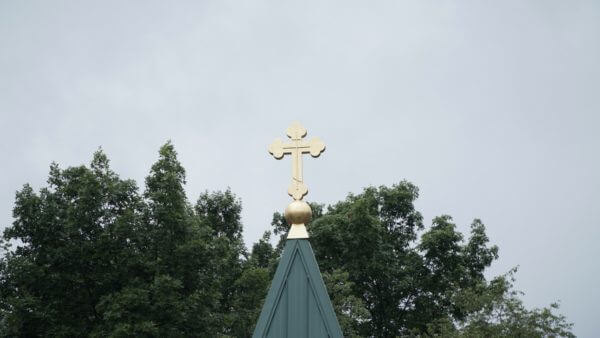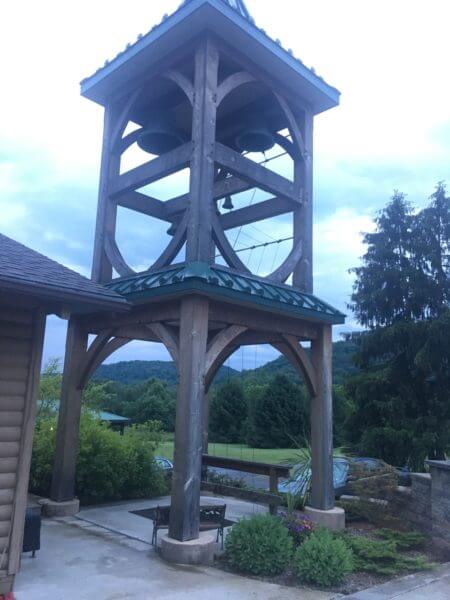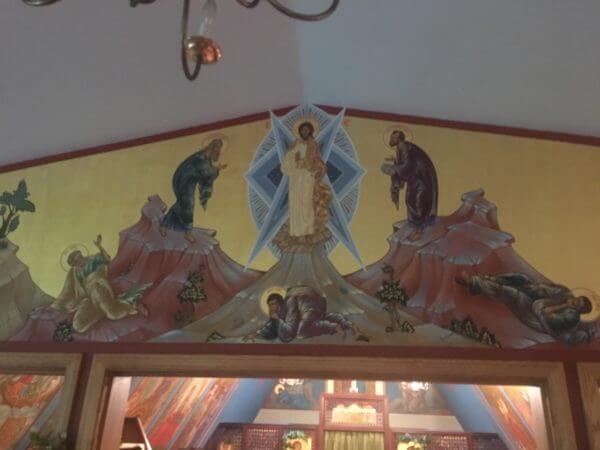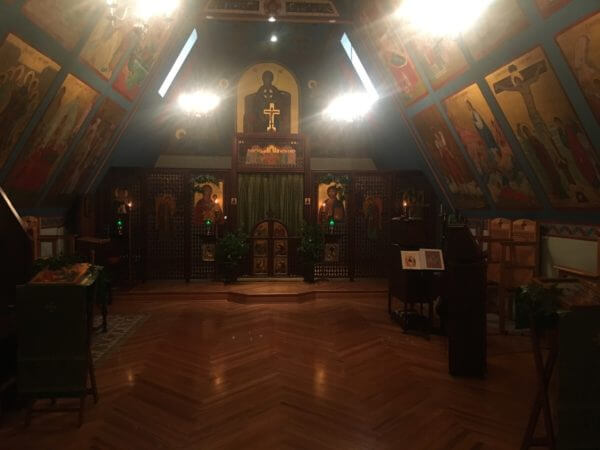 Published in General