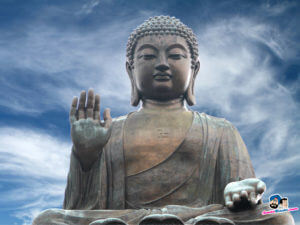 Two weeks ago, I decided it was time to give away the meditation mats and cushions that I had originally purchased for the meditation group I led. (As many of you know, I practiced Buddhism for over 20 years, and broke with my teacher several years ago. I also re-discovered my love for Judaism, and that is where I find myself now.)
I remembered that there was a Zen center about an hour away from here, and wrote them an email, asking if they would like my cushions and mats. They were delighted. When the representative came to pick them up, he asked if I knew a fellow at their center. As it happens, this fellow, a very nice man, had practiced at the same center in San Diego where I had practiced. We've agreed to have a phone conversation.
In the meantime, that contact stirred up many painful memories about my former teacher and my relationship with her. The teacher/student relationship is an intimate one, and we had known each other for many years. Unfortunately, the deeper I explored my practice and pursued my path to becoming a teacher, the more toxic the relationship became. Ultimately her demands were more than I was willing to meet, and I ended it.
It occurred to me, as I was re-visiting my relationship with her, that Zen Buddhism has a built-in potential for violating boundaries. Students are encouraged to use good judgment when choosing teachers, and for a long time, I thought I had. A teacher is meant to assist a student in breaking through (not eliminating) the ego, so that the student may experience the oneness of the universe that is always present. The danger is that breaking through the ego does not mean destroying it. I was certain that my teacher was using her power to do just that. I left when I knew she had gone too far, intellectually, spiritually and emotionally.
* * *
The abuse of power by spiritual leaders and teachers is not unique to Buddhism. Every religion has stories of leaders manipulating their followers; the potential is built into the system. We try to train these leaders to behave appropriately. Sometimes, however, their desire for power and ego satisfaction override good judgment and compassion for the student. A noteworthy issue with Buddhism is that G-d is not included. As a Jew, I always believed in G-d, but He was not directly included with my Buddhist practice; a built-in issue was that if there is no superior power to guide and judge teachers, they become the ultimate power. These conditions make relationships ripe for violating interpersonal boundaries.
Before I found my way back to Judaism, I still identified with the Zen community. I began to realize, however, that the organization had publicly taken a far-Left political position on nearly every major issue. That clinched the deal: I broke with Zen completely. For the record, I believe that no religious community should take political positions
* * *
But religion is not the only practice where boundary violations can occur. The same problem exists in secularism. (Yes, Buddhism could be called a secular religion or philosophy.) Once again, when there are no overriding beliefs, rules, and commitment to a higher power, every secular human being has the potential to try to control others. Violating the boundaries of others becomes secondary to using power to accomplish what a secularist might believe is the "greater good." Given these beliefs, secularists often see religion (and therefore G-d) as a threat. So secularists violating the boundaries of religious believers is not an issue for them; their use of power is of prime importance.
Finally, the term "socialism" is on the radar of America. No one can agree with what that term means, which is a problem in itself. The lack of an agreed-upon definition allows the promoters of socialism to call it whatever they wish. Generally, socialism requires (whether people admit it or not) government control of the means of production. That means that private ownership is in conflict with the goals of socialism. In addition, personal freedom, free speech, free thinking, congregating outside of government-mandated meetings is contrary to the goals of socialism. As a result, our personal boundaries will be threatening to socialism and will need to be eliminated.
* * *
I have brought up Zen Buddhism (as representative of my experience with a potential abuse of power and boundary violation), secularism (which denigrates any religious institution which elevates anyone or anything above the individual), and socialism (which paradoxically denigrates the rights of the individual and extols whatever serves the state), because they are all potential threats to our ability to manage our boundaries and therefore manage our lives. I have experienced the threat first-hand. I now know and believe there is only one way which I will allow my personal boundaries to be vulnerable.
And for me, He is always present.