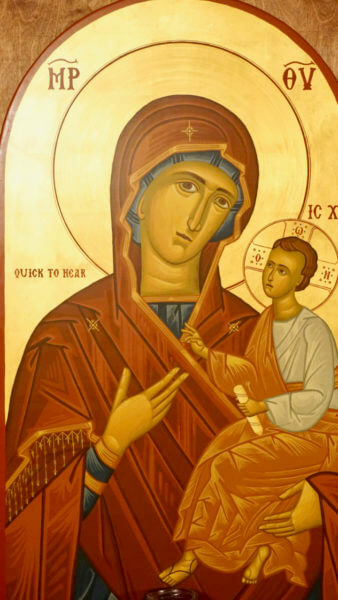 In Part A I gave an overview of just why Mary is so highly venerated in the Orthodox Church. In this second part I will show some of the major examples of her icon types, and what they each represent. This will not be exhaustive, of course, for styles and types have changed over the centuries, and some nations and regions have seen the emergence of different themes that have not gained as much traction in the wider Orthodox world. Each major type has a different message to convey about both the Theotokos and Christ (for her importance is a reflection of Christ), and so each will be found in a different context within either church or home.
There are certain common elements to how the Theotokos is depicted in all of her different icons. The first thing any viewer should note is that Mary always has three stars (or star-like flowers) on her cloak: one on her forehead, and one on each shoulder. The origin of this theme is so old that it is unclear, being even seen in early Christian frescos in catacombs. On these early pre-iconographic depictions a great amount of what is shown is symbolic in ways that later icons would not do – this was done at a time when Christianity was still persecuted, and was moreover spreading through people whose only prior religious knowledge was of the Roman pantheon. Keeping the artwork symbolic and somewhat abstracted both aided in its teaching, and in evading scrutiny when caught. In these early works, for instance, one will often see Christ depicted as "the Good Shepherd", a beardless young man tending or carrying sheep. The three stars on Mary are likely a holdover from that time. These stars represent her past, present, and ever-virginity.
Mary's cloak is usually red, and is covering over a blue tunic and kerchief. The blue garment is a sign of her humanity, while the red cloak shows that she has partaken of divinity through her carrying Christ, the God-Man, in her womb. Her cloak often has fringe or tassels on the sleeves, indicating royal status. This is in constrast to how Christ is usually shown, wearing a blue cloak over a red tunic – in this case showing how He has become man, but is still divine. Lastly Mary will usually have a nimbus around her face, just like all other saints, but instead of seeing a saint's name written about her you will see the Greek letter "ΜΡ" and "ΘΥ" (an abridgment of "Mother of God").  
Nearly all icons of Mary show her in relation to Christ. She is either holding Him as a young child, He is an adult. In icons where Mary is carrying the Christ-Child, He is often depicted holding a scroll of wisdom. It is rare that Christ is depicted as an infant, usually instead being somewhat older, and sometimes with an almost adult face. This is because Christ is God-incarnate and possessing wisdom and authority at even a young age. In the other icons, Mary will be seen usually gesturing towards Christ. Always our attention in these icons should be drawn to Christ. There are some icons that do not have Christ present, but He is always implied.
Note: While I give the Greek names for these icon types, the words in quotations afterwards are not always literal translations so much as more common names or approximations.
Platytera, or "More Spacious than the Heavens"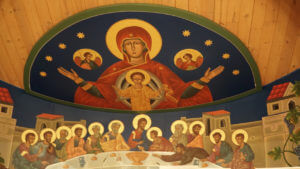 If you enter a very large Orthodox church, this may well be the first icon you even notice. Here is the Theotokos looking directly back at the congregation, with her arms spread wide in the old gesture of prayer called "Orans" (you can see an example of this in catacomb paintings*, and many Orthodox still use something of the gesture during certain prayers, especially the Lord's Prayer). Hovering in her center you will see an icon of Christ, but neither as an infant or as an adult, holding a scroll in His left hand, and making a sign of benediction (blessing) with His left. The icon represents how Mary, a mortal, contained within her womb the uncontainable God, a cosmic paradox. God is greater than His creation, and yet Mary bore Him for a time. This is perhaps my favorite Marian theme for all that it conveys, and for the serenity of Mary. A warden at the largest church in our area also rather fondly describes it as an overtly missionary icon, for in the wide sweep of her arms in prayer she also welcomes all who enter. This is also sometimes called "Our Lady of the Sign".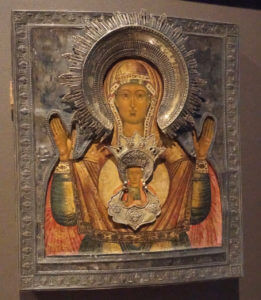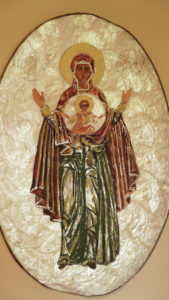 Hodegetria, or "She Who Shows The Way"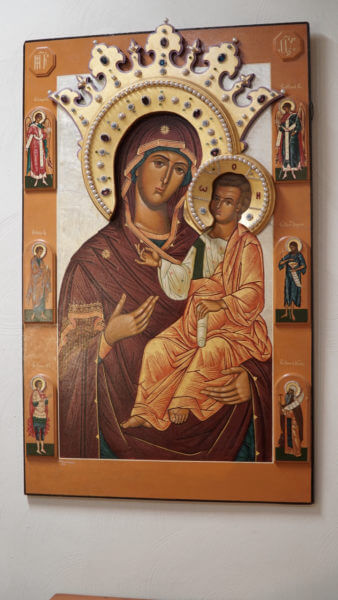 This icon type show the Theotokos holding the Christ child, either on her left or her right side, and gesturing towards Him with her hand. Though Mary is always the larger figure in this icon form, she is always directing the focus of attention to Christ. Christ meanwhile is usually again holding a scroll, but rather than making a sign of benediction He is gesturing with 2 fingers, indicating that He is both fully God and fully Man. Mary's gesturing to Christ is to say "He is the way," just as Christ himself said in John 14:6, "I am the way, the truth, and the life." This icon type is very common on the iconostasis because of this apt message. Very often you will also see the phrase "Quick to Hear" written on the icon as well. If you recall from part A, and Mary's ongoing ministry for Christians everywhere, the Orthodox frequently pray for intercessions from Mary, for as the Mother of God she is indeed quick to hear prayers.
Eleousa, or "Tenderness"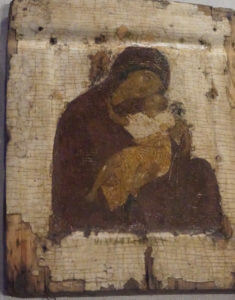 In this type, Mary holding the Christ Child to her cheek in a motherly embrace, while the child is stroking or touching Mary's own cheek. This is a much-beloved type frequently found on its own, and less frequently on an iconostasis. Very often Mary appears mournful in these icons as if she already has awareness of the coming crucifixion. Perhaps the most famous (and quite touching) example of this type is the Virgin of Vladimir. If you look closely, you'll see Christ's small hand on the back of her neck, reciprocating the tender embrace. This is an iconic style very often seen in homes, for this style is especially resonant with mothers. It is a very human portrayal.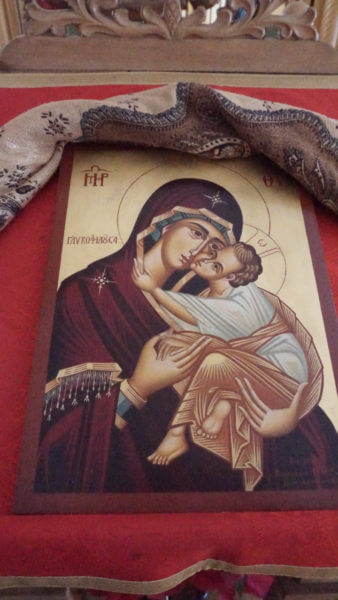 Deesis, or "At the Cross"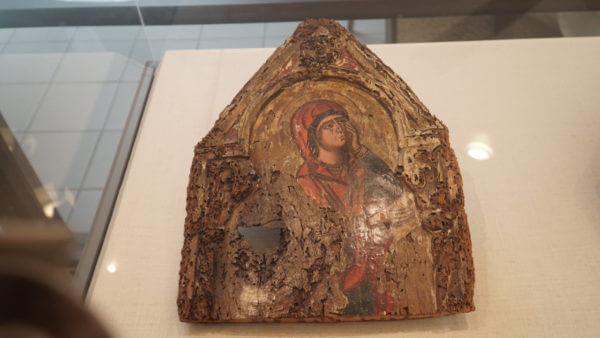 In the Deesis icons, Mary is gesturing towards the crucified Christ on the cross, and she is visibly mourning. The Deesis is one of the few iconographic depictions of Mary where she is sometimes featured alone. It is not uncommon, especially on large iconostases, to see Mary in Deesis as but one panel among several in one of the upper tiers of saints, gesturing towards Christ at the center.
Panachranta, or "The All Immaculate"
This type is very similar to the Platytera in form, except that Mary's is seated on a throne and holding the Christ child, instead of reaching her arms out in prayer. The message of the icon is otherwise much the same as the Platytera type, conveying that Mary contained the Uncontainable God.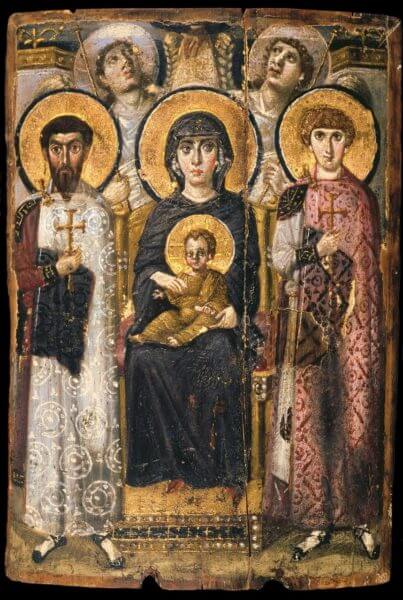 The Burning Bush
"The angel of the LORD appeared to him in a blazing fire from the midst of a bush; and he looked, and behold, the bush was burning with fire, yet the bush was not consumed." (Exodus 3:2) (NASB) (Kindle Locations 1882-1884). The Lockman Foundation. 
As with the Platytera icon above, this is another expression of the marvel at how Mary, a normal mortal human female, could contain the Uncontainable God within her womb, and yet not be destroyed. As with the famous Burning Bush of Exodus, in which the Angel of the Lord appeared to Moses without the bush itself being consumed by fire, so Mary is frequently likened. This icon is frequently shown very stylized, instead of an actual burning bush, with two overlapping diamonds – red for the fire, and green for the bush – and Mary, holding Christ, at the center. Within the points of the red diamond, sometimes one may see the ancient symbols for the four gospel authors – a man for Matthew, a lion for Mark, an ox for Luke, and an eagle for John (these come from Revelation). Prophets may be represented in the green points, and the design can become very complicated in its depictions.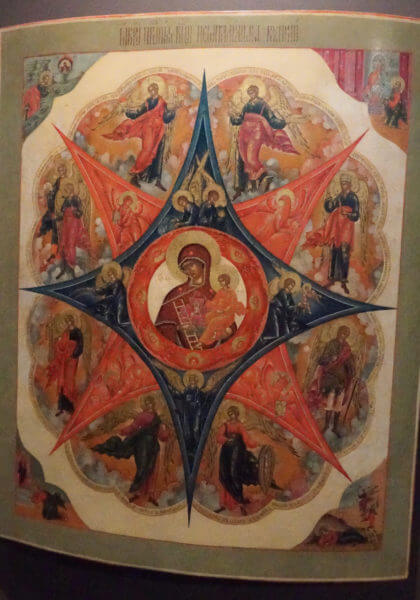 Skepi, or "The Protection"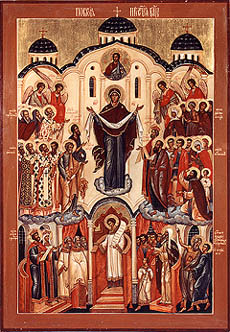 This last icon type differs from the others in that it depicts a major event that occurred centuries after Mary's life. In the mid 10th century, Saint Andrew, the Fool for Christ (holy fools are something of a subject unto themselves), along with Saint Epiphanius, his disciple, in a prayer vigil in the Blachernae church in Constantinople (where, since the 5th century, Mary's actual cloak and veil had been kept), witnessed the Theotokos open and descend through the dome of church, mystically spreading her veil over the entire city in a sign of her protection. Shortly after this, the city was saved from an invading Rus fleet. Since that time, Mary's protection has been sought many times during invasions and wars. Today both St. Andrew's vision, and a refusal by Greece to capitulate to the Axis in WWII, are celebrated in October, though on different dates.  
The icon shows Mary above the Blachernae church and holding her veil over her arms, with St. Andrew (usually just covered in a cloak, or wrapped in a sheet – fools often going nearly naked) and St. Epiphanius below. She is sometimes attended by the hosts of Heaven, including angels, and other scenes may be depicted below. Sometimes Mary is depicted alone too – this icon type can have a great number of variations.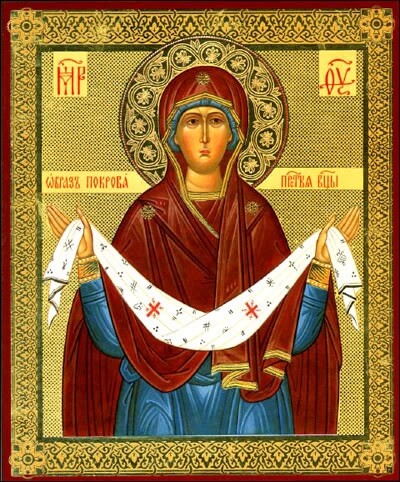 Conclusion
As I said at the outset, this list is not exhaustive. Some of the types not discussed above were already covered in earlier essays (in particular the Nativity and the Annunciation). There are types, particularly in the 17th-19th century Russia, that I have not covered here – these tend to be more florid and imaginative due to Renaissance influence (I'll put a few examples in the comments). Some of the Russian styles remain quite popular there, but have not necessarily been taken up by the rest of the Orthodox world with as much enthusiasm. The types discussed in this essay are the most common and ancient of themes.
Sources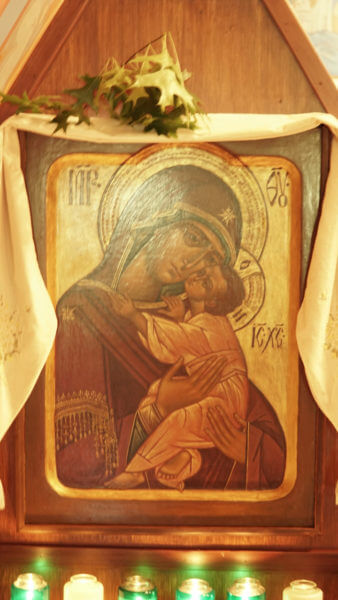 DeYoung, Stephen, https://blogs.ancientfaith.com/wholecounsel/2018/09/21/queen-and-mother/
Kimball, Virginia, Discovering the Way of Joy in Icons of the Mother of Christ, Joy in God Press, Westford, MA, Rev 2.031719
Maximovitch, John (Rose, Seraphim, Translator), The Orthodox Veneration of Mary, The Birthgiver of God, St. Herman of Alaska Brotherhood, 1978
Matthews-Green, Frederica, The Open Door, Paraclete Press, Brewster, MA, 2004
Matthews-Green, Frederica, Mary As the Early Christians Knew Her, Paraclete Press, Brewster, MA, Fourth Printing, 2017
Nouwen, Henri, Behold the Beauty o the Lord: Praying with Icons, Ave Maria Press, Notre Dame, IN, 2007
Vassilaki, Maria (editor), Images of the Mother of God, Ashgate Publishing, Burlington, VT, 2005
The Lockman Foundation. Holy Bible: New American Standard Bible (NASB), Kindle Edition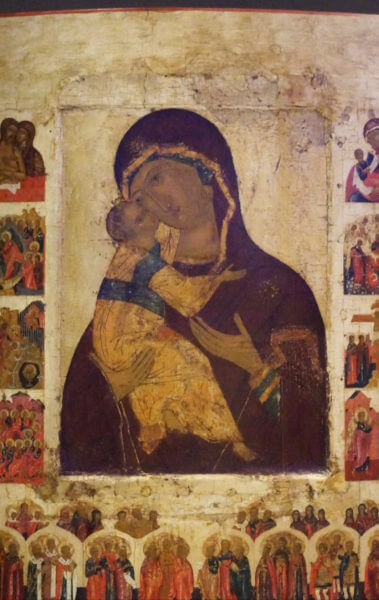 https://en.wikipedia.org/wiki/Hodegetria
https://en.wikipedia.org/wiki/Theotokos
https://en.wikipedia.org/wiki/Catacomb_of_Priscilla
https://en.wikipedia.org/wiki/Blachernitissa
https://en.wikipedia.org/wiki/Our_Lady_of_the_Sign
https://orthodoxwiki.org/Panagia_Hodegetria
https://sttikhonsmonastery.org/stm11.html
https://orthodoxwiki.org/Theotokos_the_Unburnt_Bush_icon
https://orthodoxwiki.org/Protection_of_the_Mother_of_God
http://www.ec-patr.org/afieroma/churches/show.php?lang=en&id=02
https://en.wikipedia.org/wiki/Intercession_of_the_Theotokos
http://www.saintsophiadc.com/2013/10/agia-skepi-ohi-day-and-the-people-of-greece/