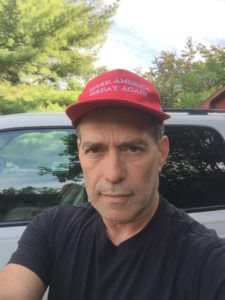 I ran out of coffee at home yesterday, so last night while I was in town I stopped at the local Starbucks to pick up a bag of dark roast. As I pulled into my parking spot, I noticed an Obama-Biden sticker on the car next to me. I figured that meant overt displays of political affiliation were allowed, so I grabbed my Make America Great Again cap from the dash where it lives, popped it on my head, and went inside.
My favorite gay bartender/barista was on duty, so after nodding a quick hello to him, I grabbed a bag of Verona and walked up to the counter, where a young fellow I didn't recognize, a bearded college-age kid, was waiting to take my order.
I handed him the bag of beans, asked him to grind it for flat-bottom drip, and fished out a Starbucks gift card that, I figured, had enough left on it to complete the transaction. The young fellow rang up my order and turned away to grind my coffee. When he came back and I held out my card, he waved it away and said: "we got it, you're all set."
"What do you mean?" I asked.
"I have a ton of coffee credits. Employees get them. I put it on mine," he told me.
I asked if he was serious, and if he really wanted to do that. He said he was, and wished me a nice day. So I thanked him, picked up my bag of ground coffee, and walked out.
---
I have yet to experience any negative feedback while wearing the Make America Great Again hat. I've had a few positive comments, a couple of unexpected but pleasant conversations with strangers during which politics was never mentioned — and, yes, maybe an odd look or two. But free coffee? That's a first.