I got a knock on the door yesterday around 5:00 pm. Upon answering I found a guy with long hair pulled back in a ponytail, a beard, hiking boots, and a dress with a Greenpeace T-Shirt over it.
He introduced himself as Katrina.
He was asking for donations to "save the world" as "we are running out of time." I asked what the plans were for the money; he said to sue corporations who are destroying our planet.
I explained that the fastest way to save the planet was to lift everyone out of poverty (while noting that capitalism was making amazing progress in that regard) because no one was going to care about the planet while they were feeding their kids dirt soup. And that we needed corporations for that.
Quickly noting I was a lost cause, he said he "had limited time to save the planet" (which I thought was kind of clever), and excused himself.
My only regret is that I didn't tell him to call his mother.
This morning my daughter went out the front to get her girls in their car seats. She and I and my son-in-law were standing on the porch talking … when in our avocado tree we discovered a huge bear. Running into the house would have left the little girls alone (but safe) out front in the car. Not knowing what to do, we pulled out our phones and took pictures.
Here's the only good one I got once he (she? it? they?) climbed down.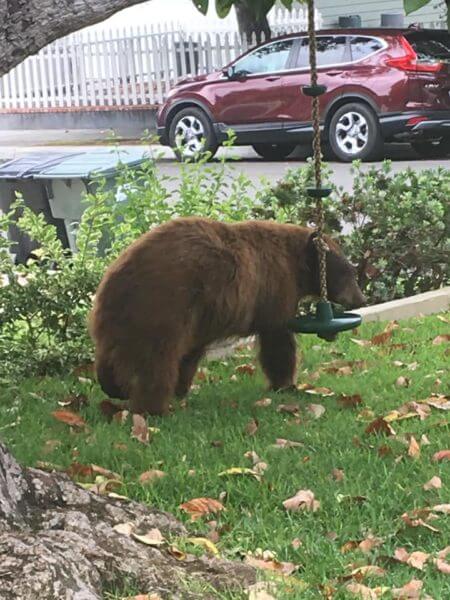 Related to this experience, last week in our neighboring town of Sierra Madre a man was mauled by a bear after its cub attacked his dog. I followed the story on FB, where everyone unanimously took the side of the bear and cub. We have encroached on their habitat, they mean us no harm, we can live side by side, mamma bear was protecting her cub, blah blah blah
The bears got the sleepy shots, and DNA tests were done to ensure they had the right bears. They were relocated to the high desert and released into the wild. The next day they were busted rummaging in a dipsy dumpster in Lancaster, got the shots again and were relocated again to an undisclosed location.
I've been predicting for a while that the bear problem around here was getting out of control and someone was going to get hurt. There have been several people I know who have had real property damage from a bear breaking into their garage and rummaging through their refrigerator. One got in our across-the-street neighbor's kitchen a few years ago. And while Monrovia is "the gem of the foothills," I am many blocks south of any undeveloped land and only two blocks north of Foothill Blvd (the old Route 66)
After meeting Katrina yesterday, my first words to my husband were, "we gotta get out of here." After the bear encounter this a.m., I'll be repeating them to him …
Published in General