Thirty-six years in the television business has taught me many things about my media brethren. Among the ones that stand out are two biggies: 1) No one has a harder time communicating clearly with one another than a bunch of people in the communications business and 2) No one is less aware of how their actions are perceived by the general public than an industry driven by ratings.
This orgy of stories about Joe Biden is a classic case study.
Biden has spent 47 of his 76 years squarely in the spotlight of the national media. Everything that is being written about him now, everything that is being said about him with their put-on "serious journalist" voices, all of it that is being treated as new and damaging revelations has been known for decades.
It was all known in 1988 when Biden first ran for the White House. It was known in 1991 when he led the Clarence Thomas hearings. It was certainly known in August of 2008 when Barack Obama chose him to be a heartbeat away from the presidency. And more damning, it was certainly known how his son, Hunter, was using the old man's position in the White House as a way to strike it rich with the Ukranians and the Communist Chinese.
Every step of the way these "journalists" were happy to ignore all of the things they now find so objectionable about "Uncle Joe" because they were there to do what they do best – cheerlead for whatever was passing as the burning progressive "most-important-issue-of-our-lifetimes" at that moment. Now that the current sin has been identified as being male and white – and Biden is so white he's almost translucent – they have turned on him with a vengeance.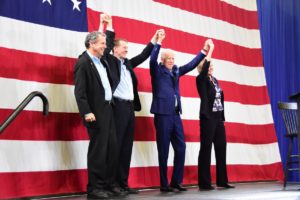 On Thursday, Kasie Hunt of NBC tweeted out a piece by former Cleveland Plain Dealer reporter, and now syndicated columnist, Connie Schultz condemning Biden and his working relationship with segregationist Democrats that populated the Senate when he first got there. "My message," Schultz wrote, "on Twitter and on my public Facebook wall: If Joe Biden wants to boast about his relationship with a racist, he is not who we need to succeed the racist in the White House."
Connie Schultz had no problem with Joe when the former Vice-President was stumping for her husband's re-election less than a year ago. In fact, Sen. Sherrod Brown (D-OH) called it "a great honor" to have Biden at his side. Of course, it could be that the rumors that have circulated in Northeast Ohio are true that the Browns were ready to make their own run for the White House and felt that Biden's entry into the race knee-capped him.
All of this serves to just further denigrate, if possible, the standing of these media shills in the eyes of the public. All of them adored Biden as Obama's Number Two. They cheered him during the VP debates in '08 and '12. And they knew him and they knew his history and they could not have cared less about it. But now they are oh, so woke as to his terrible, terrible past.
Which makes one wonder how they believe this plays with the general public. Maybe they think their audiences have the memory of a goldfish. Maybe they think their audiences are gullible or stupid enough to believe these truly are newly unearthed facts. Maybe they are so far from any pretense of "journalism" they don't care. Or maybe, just maybe, they believe we have always been at war with Eastasia.
Published in Journalism