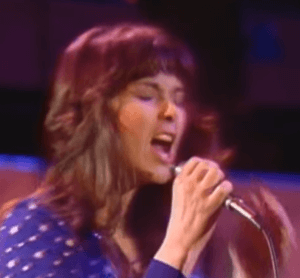 Happy Birthday to Ann Wilson of Heart, born 19 June 1950. She and her younger sister, Nancy, are the heart of Heart, a band that burst onto the world stage from the Pacific Northwest in the mid 1970s. They were part of the soundtrack of my youth. Wait a minute. 2019-1950= . . . 69. That just can't be right.
Ann Wilson was the distinctive lead vocalist, while Nancy provided great harmony and kicking guitar licks. Their debut album, Dreamboat Annie, was released in America our bicentennial year, with "Magic Man" and "Crazy on You" propelling them up the radio play charts. They struck while the iron was hot, releasing Little Queen in 1977 and Dog & Butterfly in 1978. These women did their own thing, playing neither the tough girl nor the pop tart. They did not need an image manager, as they actually had musical and songwriting talent.
Here is the title track from their first album, performed live on BBC's music television series The Old Grey Whistle Test:
Here are the Wilson sisters, acoustic, no backup, singing their third album's title song "Dog & Butterfly" live to a Seattle hometown crowd.
Just to make clear that this was a band with actual vocal chops, watch the back stage banter and harmonizing on two 1960s songs, followed by them live on stage, with Nancy's long acoustic intro winding up the audience to launch into "Crazy on You."
All of which brings us back around to "hot." A hot band, led by hot chicks, was naturally "Cooking with Fire:"
Published in Group Writing