Atomic Force Microscopy is a refinement of that long and hallowed scientific tradition: poke it with a stick and see what happens. Picture, if you will, a blind man walking across the street. He taps the ground with his cane, profiling the height of the surface. That tells him where the curbs are; he doesn't trip because he knows when to step up and step down. Now picture that blind man in a skate park, full of ramps and contours. He could, by painstaking effort, tap his cane up and down the entire area of the skate park and build up a picture in his mind where all the half-pipes lay, even though he can't see 'em himself. Now picture him in that same skate park, doing kick-flips and grinding like a pro. Because that sounds awesome.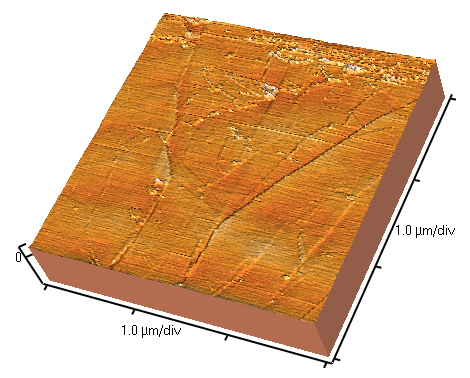 Atomic Force Microscopy builds up a portrait of the surface of a thing by rubbing a tiny, tiny needle across it, and reading it like you'd read the grooves on a record. Heck, you could probably play it like a record too, only it'd sound all staticky because nobody bothered to lay down music on that spot to begin with. (Although…)
What exactly are we working with? You start with a cantilever. Here demonstrated by the use of a popsicle stick.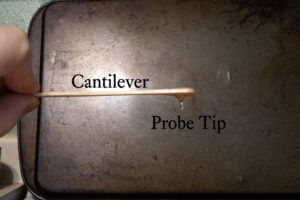 If you were actually building one of these you'd want it to be small; microns-wide.Rather than use a sugar-based needle you'd etch it out of whichever material. (Which material? There's a diversity of options. Not going to cover 'em.) The tip itself gets down to a couple nanometers wide for a standard AFM, It can be less if you're using one of the specialized variants. Oh, and build a lot while you're at it; these things break easy. A quick internet search shows they cost about $9 per, if you buy in bulk. The cheap ones. Replace 'em using a pair of tweezers and a steady hand.
How does it work? There are a number of variants on the general principle, but they share certain points in common. Take your cantilever and move it across the surface. The cantilever will bend upwards when your needle is crossing a bump, and downwards when it's going over a dip (at that scale there are forces which cause these things to tend to stick to one another.) Bounce a laser beam off the back of your cantilever; the laser will pick up and amplify the deflection. Measure where the laser ends up with a photodetector and you're golden!
What good is it? Over certain domains, you get better images than a scanning electron microscope. You also don't need to destroy the sample in order to image it (whether you do anyway is your business. You vandal.) Me, I've never used these things much; never since I left the tech school. But let me tell you about that project I alluded to up above.
We were attempting to make graphene. Well, we never actually made graphene; that scotch-tape method isn't as easy as they make it sound. But thinking ahead, if we made graphene how would we know? The usual method is to look for it under an optical microscope. We wanted to use an AFM to verify we were getting a one-layer-thick bit of graphite. And to make sure we could measure something as astonishingly small as the distance between one layer of graphite, well, we tried to do just that using a solid mass of graphite. Here's the actual scan result: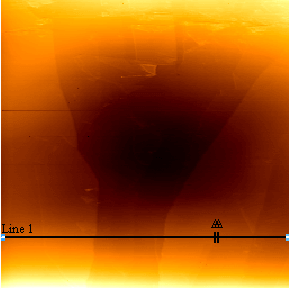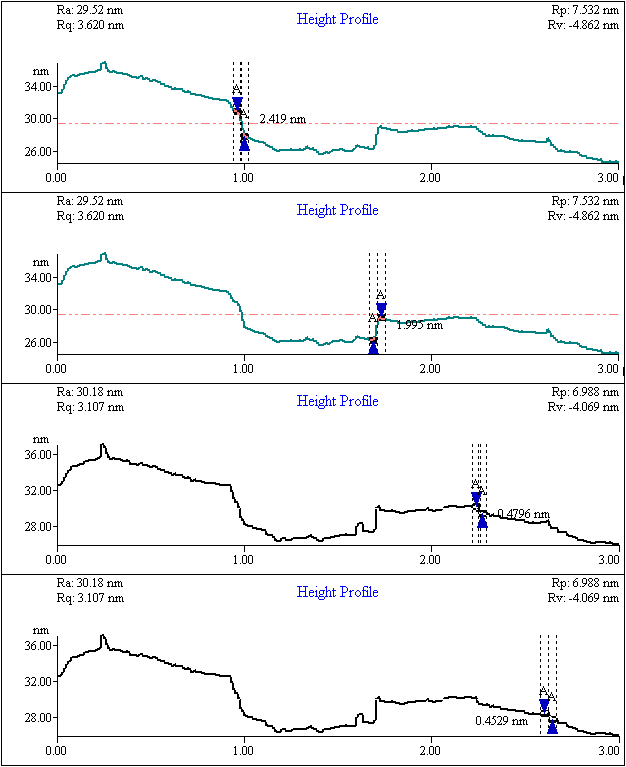 How did we do? The literature value for the distance between layers of graphite is 0.341 nm. The smallest height we measured was ~20% higher than that; which indicates we were probably measuring a step of exactly one layer of graphite. Why is it some fraction of a layer thick? I still wonder about that; I don't have a good answer. But let's take a quick detour back to the main subject so we can wrap this one up.
One variant on the Atomic Force Microscope, (it was invented first but it's harder to grok), it's called the Scanning Tunneling Microscope. In that case, you merely wave your probe over the surface. You keep an electric potential difference between your sample and your probe. Electrons will occasionally quantum mechanically tunnel from one to the other (yeah, this is why we didn't start with this one). The number of electrons that tunnel will depend on the potential barrier, or in real words the distance between your sample and your probe. Measure the current running through your loop and you'll have a measure of the profile of the surface. This makes an extremely sensitive method, and it can be used to image — and manipulate — single atoms.
Here we have a short video of IBM showing off. (They have a perfect right to brag, they invented the machine and the technique) What you're looking at is an animation where the still photos are 'drawn' by carefully placing individual atoms on a cryogenic-temperature substrate. May I present to you a boy and his atom:
Join us fortnight next when we take a final stab at measuring micro- and nanoscale thicknesses in "Layers on the Wafer of my Mind" or "your Shaolin Shadowboxing is weak to My Thin Film Interference!"
---
This is part 33 of my ongoing series on building a computer, the cheap-as-we-can-get way. You may find previous parts under the tag How to Build a Computer. This week's post has been brought to you by Wikipedia! Yes, once in a great while Wikipedia has has a human-readable article on a scientific topic, and this week we struck gold! Wikipedia!