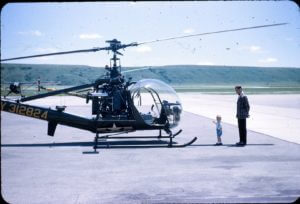 My father sent me this photograph some time back. It must be from late 1964 or early 1965. The smaller young fellow is a very young me. The lean young man is my father. Mother must have taken the picture. It is a good place to start in reflecting on my father. As his story on this earth is not yet done, any account must be limited by some organizing principle. What follows are snapshots of early days, family, fitness, and faith.
We are obviously on an Army flight line. My father joined the Army after medical school, took the old direct commission charm school, learning to wear the uniforms, march, and talk basic Army speak. Then he went off to Fort Rucker, Alabama, then and now the home of Army flight training. He qualified as a flight surgeon, preparing him for his assignment at Fort Riley, Kansas. Fort Riley was home to the First Infantry Division, the "Big Red One."
I have no memory of those first few years, but the family story over the years is consistent. Dad had bought a pair of sturdy steel frame Schwinn bicycles. His daily task, on getting home from the day's duty, was to strap me into the child seat mounted over the rear tire and take me for a ride. This gave my mother an hour's quiet and break from a small boy's energy. Reportedly, I would often arrive home asleep, clutching a stalk of bottlebrush grass in my little fist.
My first memories with Dad come from the early years after he left the Army, having done a three year tour, and began his residency. The two things that most impressed a young boy were one day at an outdoor gun range and a visit to a near-by naval air station. Now, we made multiple visits to both, but I carry two impressions.
The range:
Dad was deadly serious about gun safety. We children would sooner have grabbed a cottonmouth than touch one of his firearms without his immediate permission and supervision. So, there I was with him, sitting at a shooting bench on an outdoor rifle range. The range was "red" with people down range finishing up changing or marking targets. A shot rang out. I saw a man frantically duck for cover behind a large old tree part way down the course. The entire firing line erupted in men, including my father, shouting "CEASE FIRE!" I assume that the offender was cashiered from membership, never to return.
We did not stop going to the range. When we moved to the foothills of the Appalachian Mountains, Dad took both me and my eldest sister up into the hills, where he would supervise selection of a safe shooting site. There he encouraged our development of rifle handling skills and an enjoyment of shooting.
With all the slightly damp and rotting deadfall, there was no real risk of ricochet. So, after we had, between us, expended the first little cardboard box of .22 ammunition, we would set the first empty box on top of a log. We were shooting an already well-used pump action rifle, fed by a tube magazine under the barrel. The drill was to shoot just under the box, kicking it up into the air. As the box flew, we would pump the action, while following the box, and shoot under it again, just as it landed. The game was to see how many hops in a row you could get before you missed or the box disappeared behind something.
Through the years, Dad taught us, by example, an ironclad commitment to gun safety as well as a basic appreciation and competency with long guns and handguns.
Willow Grove Naval Air Station:
While I do not recall the early Army days and helicopters, I do remember the cheap entertainment, which a medical resident with children could afford, of going to watch Navy jets take off and land. We would be standing just outside the chain-link perimeter fence and wearing hearing protection, always wearing hearing protection.
Dad has always been deadly serious about taking care of your hearing and sight. I took that seriously enough to wear foam earplugs to loud parties in college. As a consequence, I still have more of my hearing than most of my peers, and perhaps only a hint of tinnitus in one ear, despite many an evening in loud country dance clubs and the occasional rock concert.
So there we were. The big grey Navy F-8 Crusaders flashed by with a roar. These early supersonic-capable jets had a large air intake under the nose, like a giant gaping mouth. The early engines, relatively inefficient, were all raw power and noise. It was glorious fun.
Family:
The stories of Dad coming home to get me out of Mother's hair, and the memories of time spent with him shooting or enjoying watching aircraft, are pieces in the mosaic of his commitment to family. A few years after residency, he found himself consumed with work in a hospital, where his department juggled two specialties at the same time. He had spent many evenings after work and supper studying to qualify for the new field. Now he was not getting home for dinner regularly.
This was an important factor in his decision to rejoin the Army. If that seems odd to you, understand, as his Army friends always said, "you're not in the real Army." That is, he was coming back into service as a field grade doctor, who would usually work a regular clinical schedule. Sure, there was a schedule for on-call evenings and weekends, but it was just that: a schedule.
It was always expected, enforced by my father and mother, that dinner was family time. We all were expected to be there, to bow our heads in prayer, then to pass the food around before diving into our plates. Our parental unit was a real unit, a team at the two ends of the table. Dad made the decisions, throughout his working life, to put family ahead of chasing status symbols that would demand hours, days, months and cumulative years chasing the things we cannot take with us when our bodies go back into the ground.
At the same time, he certainly stuck to work that was not always a joy to him, steadily providing material sustenance and a consistent example. My father was not silent about work but made clear that it was only a part of life. We had music, art, gardening, and generally a well-rounded life. Dad made a point, with Mother, of not having parties filled with shop talk. Friends were cultivated in a life beyond the thing that paid the bills, while Dad steadily practiced medicine with quiet competence (such competence as to draw unsolicited compliments from peers).
Fitness:
When Dad left his rural childhood home for college, he made the decision that he needed to stay in shape and that a college student of modest means could best do that by lacing up a pair of tennis shoes and running. This was two decades before the running fad, and long before real running shoes. He ran, rain or shine, through the years until wear and tear led to him downshifting to a daily walk. We all kid him about wearing shorts year round, yet he has a point: he still has cannonball calf muscles. No old-man chicken legs there!
For many years we lived on a large military base shared by a Ranger battalion. Dad always ran after work and before dinner, except on weekends when he tended to run in the afternoon if memory serves. He would put in 3 or 4 miles a day. You could always tell when he, a man in his forties, had encountered a young Ranger. Dad would arrive home flushed and a bit out of breath, as he just could not resist running the younger man down. After all, Dad had been running for more years than that kid had been alive.
While his friends kidded him about the medical corps, he took exception to knuckleheads who thought they were in MASH. He shined his low quarter shoes each day and wore the uniform properly. He also insisted on meeting the Army standards for physical fitness, not expecting any slack for doctors.
The Army had a three-event periodic physical fitness test, with push-ups, sit-ups, and a two-mile run. Now we have already established that Dad was going to smoke almost everyone on the run, even if they were half his age. When it came to push-ups and sit-ups, he took a certain old-fashioned officer attitude: do the number required. Every morning, when he got out of bed, he dropped to the floor, did his push-ups, rolled over and did his sit-ups, then went about his day.
Dad never had to think about the periodic test, and never had to prepare, as he was always maintained the standard. All of us children carried this lesson with us, to one degree or another, so have not had avoidable cardiac health or related fitness problems so far.
Faith:
Mom and Dad met in the context of a church, and have lived their lives in the Christian faith. I mentioned prayer before dinner. Actually, prayer was something practiced before every meal. Aren't you grateful for this food? Then say thanks. It was so ingrained that I was startled when a college classmate asked what I was doing when I sat down at the cafeteria table. Was I not feeling well? No, I was just giving thanks, despite the lousy cafeteria food.
Besides prayer, Sunday mornings were worship and bible study. One evening a week would be a home bible study, rotating around homes. There was usually some Bible reading after dinner and before we got down to noisy family talk over a big pot of tea. When I went off to college, I was sent out with my father's college pocket watch and a finely bound Bible printed on India paper. On a flyleaf in the front, Dad gave me fatherly advice, quoting poetry and scripture.
These days, Dad has taken to writing sonnets to my mother. Yes, that is quite romantic and a fine example to us younger folk. He also carefully set pen to quality paper and laid out his personal statement of faith, a credo in his own words. A day may come when I will have the duty to read them aloud. For those who have seen my father's life, who have known him through the years, the words will not be surprising.
The title of this reflection evokes a classic Sandra Boynton cartoon, captured on this coffee mug. As it happens, my father has always liked cows, incredibly large yet peaceful creatures. He retired from the Army after over 12 years as a "full bull" colonel. Through all the years, and life's endeavors, he has indeed been an individual outstanding in the field.
Published in General