It used to be that a witty way to say "yes" was to instead answer "Is the Pope Catholic?". Funny stuff, because there was nothing more certain than that. But after Friday's speech on global warming, I am really starting to wonder. 
Global warming alarmism is a religion. It has a deity (Gaia); it has a shared collection of transcendental beliefs; it has an apocalyptic end-times story; and it has many fervent believers, converts, and adherents. It also has non-believers (skeptics) and heretics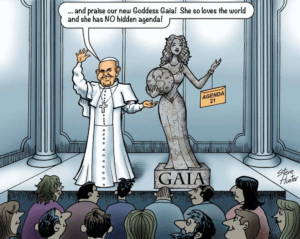 (deniers) that are condemned by the virtuous. "Don't you believe in climate change?" is how they challenge outsiders.
In the Friday speech, Pope Francis preached on how we must repent:
"that only one decade or so remains in order to achieve this confinement of global warming… time is running out! The climate crisis requires 'our decisive action, here and now' and the Church is fully committed to playing her part."
He further preached on atonement:
"Carbon pricing is essential if humanity is to use the resources of creation wisely…The failure to deal with carbon emissions has incurred a vast debt that will now have to be repaid with interest by those coming after us. Our use of the world's natural resources can only be considered ethical when the economic and social costs of using them are transparently recognized and are fully borne by those who incur them, rather than by other people or future generations."
All of this has left me confused. I know that Pope Urban VII put Galileo under house arrest for questioning heliocentric teachings. The Church officially apologized for that in 1992. I know that Bro. Gregor Mendel is considered the father of genetic science. It seemed like the Catholic Church had managed to harmonize science with scripture, but then Pope Francis had to go all Beto with the Gaia thing. Now, if someone jokes, "Is the Pope Catholic?" I can only wonder….
Published in Religion & Philosophy