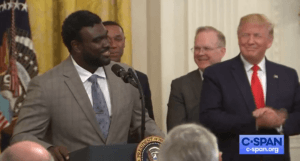 There are those who mouth pieties about compassion. Former president George W. Bush comes to mind, perhaps because he made such a point, with his father, of distinguishing himself from that mean man (according to all the best sort of people) Ronald Reagan. Bush 41 touted "a thousand points of light," and backhanded Reagan with his inauguration address. Bush 43 proclaimed himself a "compassionate conservative."
"I call my philosophy and approach compassionate conservatism. It is compassionate to actively help our fellow citizens in need. It is conservative to insist on responsibility and results. And with this hopeful approach, we will make a real difference in people's lives."
Grant Bush 43 this: he effectively used U.S. taxpayer dollars to make a real difference in the public health of Africa. He seriously addressed HIV infection rates there. Of course, he did less than nothing for Christians in the Middle East, bringing catastrophe upon them while mouthing pieties. And he subverted any real move to secure our southern border, while sending our military everywhere else and working with Congress to exponentially grow the surveillance state. Whatever it took to keep the lid on American workers' wages, in service of the Chamber of Commerce.
Real compassion is not found in phrases, or postures, but in deeds, as James wrote about faith:
But someone will say, "You have faith and I have works." Show me your faith apart from your works, and I will show you my faith by my works.

(James 2:18, English Standard Version)
Here is what real compassion for Americans looks like:
It was not a Bush, nor a Clinton, nor "the one we've been waiting for," who actually took the political risk to truly, decisively act. This action is another thread in the fabric of promises kept to remember those Americans who were forgotten by the powers that be, by the bipartisan political machine. If we actually seek to enforce immigration law, and if we really expand domestic employment opportunities, then we will need to bring back in people we used to exclude. We will need to give a second chance for employment to people who we first held accountable for crimes.
Published in Domestic Policy