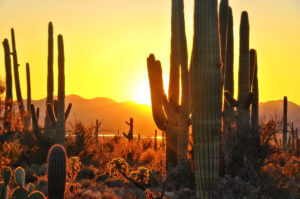 After a mild few months, summer heat finally hit Phoenix this week. No return of our record-breaking 122°F; yesterday was a balmy 111°. The show "King of the Hill" best expressed non-Arizonans' view of the Valley of the Sun.
Bobby: 111 degrees?! Phoenix really can't be that hot, can it? (steps out of car) Oh my God, it's like standing on the sun!

Peggy: This city should not exist. It is a monument to man's arrogance.
Jonah Goldberg had a summer speaking engagement at the Goldwater Institute while I was in their employ. I directed him to our patio for his afternoon cigar break. Ten minutes later, he returned saying, "You live in hell!"
Why do I live in hell? My parents escaped the frozen tundra of Sault Ste. Marie, MI, ultimately ending up in its climatological evil twin. Their last February there, they must have thought, what's the exact opposite of this? Living here since I was a wee lad, I'm used to the intensity, though outsiders think my neighbors and I are crazy.
We only have two months of awful heat — mid-July to mid-September. That's when the humidity rises, keeping the temperatures north of 100° late into the evening. We're not there yet, but I'll take two hot months here over four months of gray, icy misery in the upper Midwest.
Still, the heat can drive some people batty; a former co-worker comes to mind. This middle-aged female, let's call her Didi, already had a few idiosyncrasies.
Her claim to fame — which she proudly shared with every new employee — was her one-night stand with George Harrison. When the younger folks weren't dazzled by the awesome, Didi would enthuse, "well, that was in the '60s when The Beatles were huge. It was a very big deal!"
Didi also drove a dark blue '60s Mustang, and didn't want to ruin its original condition by installing an air conditioner … despite the fact that she drove 25 miles to work every day and lived in hell.
One toasty July day, I asked how she could stand the heat.
Didi: "Oh, I have a great system! Right before I leave my house in the morning, I dump a bucket of water over my head."

Me: "Uh… you…"

Didi: "Yeah, a bucket of water! You know, my car is fast, so I just roll down all my windows and it works just like a swamp cooler."

Me: "A bucket?"

Didi: "And since it gets so windy, my hair and clothes are all dried off by the time I get to work."

Me: "Of water?"

Didi: "A lot cheaper and better than air conditioning, that's for sure!"
And then prior to leaving the office, she would take said bucket into the ladies' room and repeat the process.
By the time the next summer rolled around, she had to make a change in her routine. As she loudly confided to me, she now had a serious incontinence issue. "I can't use the freeway anymore — you never know when it's going to hit!"
Unfortunately, the various gas station attendants along her route didn't understand why a middle-aged woman soaked head-to-toe was frantically demanding a restroom key from them every few days. Didi lamented, "they look at me like I'm a crazy person!"
You don't say.
---
This is an entry in June's theme series: "Hot Stuff!" We have a lot of open days as the summer season starts. Please stop by and sign up to share your own angle on the topic, however loosely construed.