Every year about this time, my wife Marie and a friend host a "high tea" at our house for about 20 ladies, usually a mix of Americans and Japanese.
Man, it's posh! The Pump Room in Bath, England, the site of many a high tea in Regency novels, has nothing on Marie's teas. (The photo below, taken before the piles of delicacies were put on the tables, doesn't really do the scene justice.)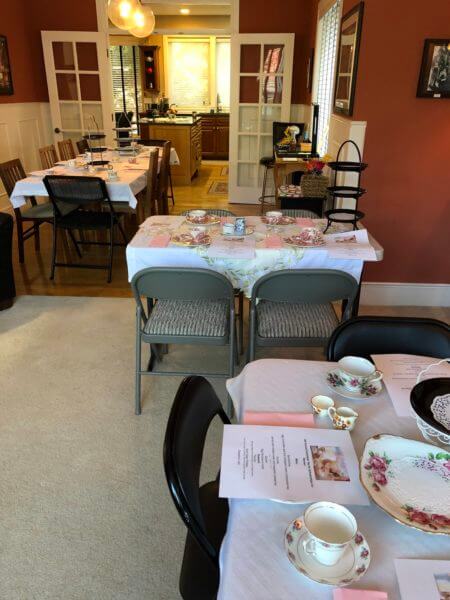 Marie and Toshimi, the co-hosts, spent days in the kitchen preparing for the tea, making scones (of course), pavlova (a layered meringue-based dessert), grapefruit Jello (Japanese love Jello), finger sandwiches, quiche, egg mousses on tiny toasts, key lime parfaits in little shot glasses, and three or four kinds of tea. Marie brings out her finest china, silverware, and teacups. All the ladies wear skirts or dresses. As I said, it's posh. Here are Marie and Toshimi.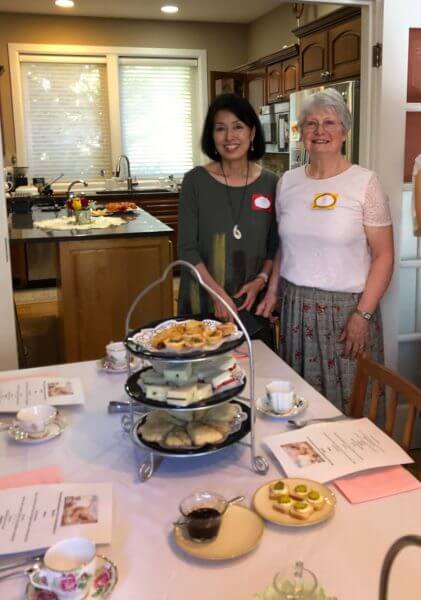 The guests are asked to donate 20 bucks, money that goes toward the scholarship of an older woman returning to college. Some of the women give more.
For my contribution to the festivities (Marie's been doing these for six years), I always give away one of my jigsaw puzzles to the best beans-in-a-bottle guesser. I call the puzzle you see below "Four Puzzles in a Bento Box." Those animals you see are pieces of the jigsaw puzzle to their right.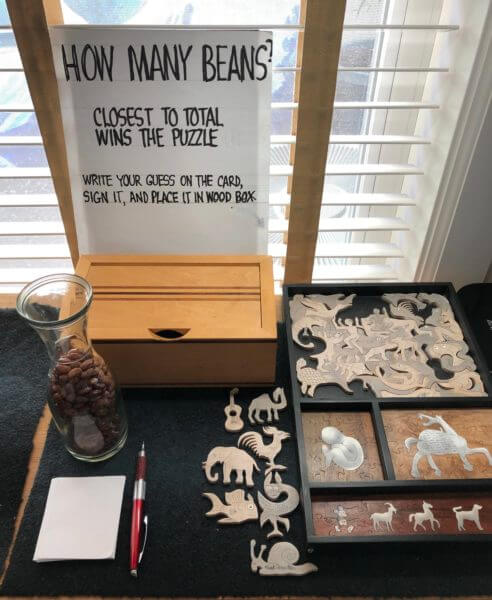 Bob the dog and I stay out of the way during the affair. While it's going on, we take a long walk and then hang around outside on our deck, where I drink coffee and do my crossword puzzles. I drop in occasionally to refill my coffee. I don't stay long. The cacophony of 20 women all talking at once drives me back to the deck with Bob. A high tea is no place for a man or a beast.
Here's one of the numerous flower arrangements that Marie scattered about the place. I made the structure for this fool-the-eye illusion. Marie grew and arranged the flowers.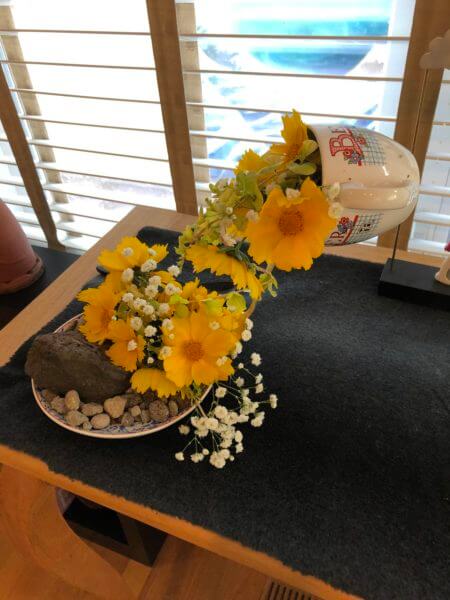 As I looked about Marie's tea this year — with its fancy flower arrangements, scones topped with clotted cream, elaborate table settings, women in dresses, and five kinds of tea — I thought that a high tea might very well be the apex that 5,000 years of civilization have been moving toward. At the least, we've come a long way from luncheons where half-naked men squatted around an open fire, their eyes darting suspiciously at their fellow diners, while they silently gnawed on a wildebeest — and all without a single scone or a cuppa to brighten their existence.
Published in General