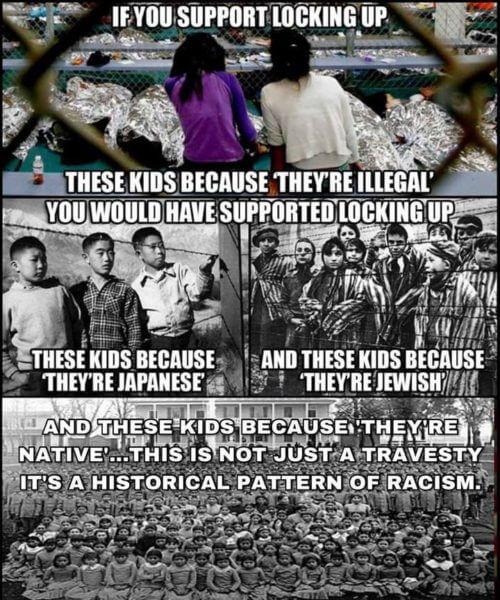 Unlike many users of this site, I don't harbor any particular feelings of hatred for Facebook. It's a convenient way for me to keep in touch with family and friends, and there's a lot of fun and interesting things posted there.
There is also plenty of politically charged nonsense posted there, but I usually just scroll past it or glance it over without commenting. I don't post political things myself, and rarely respond to political posts.
However, every once in a while, if I have the time and am in the right mood, I'll see something and feel compelled to respond. I always end up taking a long time to write things out if I do respond, because I want to choose my words carefully, be respectful, and try not to fall into the same trap of oversimplifying and vilifying the political opposition as those whose posts I respond to.
So I commented on a post that shared the image above. Here is the text of my response:
I reject the analogy. It's not the same thing. The kids of Japanese ancestry being locked up were U.S. citizens who had not been charged with any crime. The Jewish kids were locked up for the purpose of eventually exterminating them all. The native children were those born of an indigenous group whose land had been forcibly taken from them by conquerors and were now going to be stripped of their culture and forcibly assimilated. Those three groups were targeted on the basis of their ethnicity, NOT actual law-breaking. There are significant and relevant differences in the reasoning behind the detainment of these different groups and and what the ultimate goal was behind detaining them.

It is regrettable to have any human beings locked up and detained, but there are situations and factors where such detainment may be justified or necessary as a practical matter for enforcing laws. The children in the top photo, I believe, are detained because they are foreign nationals whose parents and/or human traffickers brought them into a different country without first obtaining that country's permission (and I do believe that every country has a right to determine what the rules are for who may or may not enter and to enforce them), and the country now has to go through the process of determining whether their parents qualify for asylum or not. Allowing these persons to wander freely in the population may make it extremely difficult to later locate and deport them if it is determined they do not have a legitimate claim to asylum.

I think there are honest critiques to be made about current immigration enforcement policies, but I tire of accusations of racism being used constantly to try to delegitimize one side in a debate around a complex and complicated issue. It is important to look to history to help better understand the present, and drawing parallels can be a useful exercise (heck, I'm a social studies teacher, so I try to teach that), but it's also easy to fall into a trap of glossing over significant differences in context between different situations in history when trying to make a rhetorical point.
I'd be curious to hear anyone's feedback on if they think I have anything wrong or to hear how they personally would have responded to it.