Question: How can President Trump claim to represent all U.S citizens, regardless of sexual orientation, when he banned transgender individuals from joining the military? Isn't that discrimination?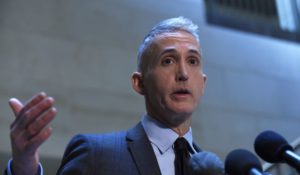 Trey Gowdy's Response (in a CNN interview): "Nobody has a 'right' to serve in the Military. Nobody. What makes people think the Military is an equal opportunity employer? It is very far from it….and for good reasons–let me cite a few. The Military uses prejudice regularly and consistently to deny citizens from joining for being too old or too young, too fat or too skinny, too tall or too short. Citizens are denied for having flat feet, or for missing or additional fingers. . .
"The Military has one job: Winning War. Anything else is a distraction and a liability. Did someone just scream 'That isn't Fair'? War is VERY unfair, there are no exceptions made for being special or challenged or socially wonderful.
"YOU must change yourself to meet Military standards…..Not the other way around. I say again: You don't change the Military… you must change yourself. The Military doesn't need to accommodate anyone with special issues. The Military needs to Win Wars….and keep our Country safe….PERIOD! If any of your personal issues are a liability that detract from readiness or lethality… Thank you for applying and good luck in future endeavors. Who's next in line?….any other questions?"
Trey Gowdy isn't serving in our government any longer, and I sure miss his direct, no-nonsense style. He knows that people's belief in their entitlement could put this entire country at risk. The Left believes that every one of us must bow to their gods, whether they are sexuality, equality, fairness (on their terms), political correctness and accepting everything from transgenderism to climate change.
I disagree.
As Trey Gowdy says, the military has one job: winning wars.
Published in Military