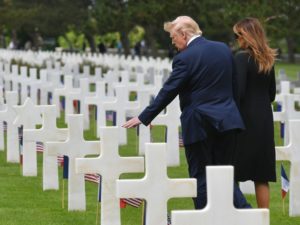 Donald Trump will never have the smooth public speaking style of Ronald Reagan. I suspect that there will always be a halting pace to his speeches that would beset many of us. His natural setting for honest discussions is much more eye-to-eye and, many would say, street level. But I have come to believe that he brings an emotional honesty to both stages.
Trump's words overlooking the Normandy site of so many brave, life and death struggles crammed into those desperate first hours on June 6, 1944, were among his best. He has actually become quite good at times. The last State of the Union was excellent. And he is believable. He may not write the full text of his speeches but I am now sure he does not leave in anything he does not believe. I do believe that the words, regardless of the author, reflect the man.
But that day, that remembering of this greatest of all land invasions, was hardly about any who spoke or heard. It was about a single word in Trump's remarks. He only used it twice that day. But it is a word I notice and listen for whenever those who govern us (or bring us "news") grace us with their opinionated but incomplete thoughts. It is hardly used despite it being central to everything we were created to be nationally.
Although only used twice, the word was used well by Trump. It was at the beginning so that all that followed fit within the meaning held by its seven letters. It was toward the very end. It bookended his thoughts.
The President observed that they were all "gathered here on Freedom's Altar" to remember those allies who gave so much "for their countries," "for their brothers," and "for the survival of liberty." Liberty is that single word. The public discourse rarely uses it anymore. Just listen. There will be substitutes that are good words themselves such as freedom and democracy. But we were not created to be a democracy. We were created for liberty — liberty of the individual. Democracy gives us some voice but it does not give us liberty, history has proven that. In fact, it can take liberty away if the vote says so.
We are a republic. But not for the sake of being a republic. That is simply the best form to preserve as much individual liberty as possible and keep an ordered, just society.
Freedom can certainly be considered a synonym for liberty and is often used that way. But if it is correct or not, I feel it carries a more general sense to it than liberty which, to me, is more personal and individual.
I feel the Founders/Framers saw it much the same. "Life, Liberty, and the Pursuit of Happiness" and securing "the Blessings of Liberty" were central to our founding documents.
The nation was founded so that we would be secure in our liberty — not for a guarantee from the worldly tides around us. It was an extension of a western tradition of free-will that had grown to the point of creating a home for its cultivation. It was a place for the exercise of individual, free choices. It is through the exercise of these choices in a free society that true character is best built. Even the most convicted atheist benefits from the Judeo-Christian tradition of an individual, personal God, and the individual responsibilities and choices which come with it.
One of the residential effects of a culture of individual liberty and choices is the ability to adapt, to innovate. Nowhere was this better displayed than in the often confused hours of June 6, 1944. The Normandy Invasion was a complicated masterpiece. It was also a steaming hot mess. So many things went wrong with so many untried, never before attempted things with so very, very, much hanging on the outcome.
Landing craft fell short of the beach, paratroopers so critical to taking out and cutting off key Nazi armaments were dropped in the wrong places, brave men had to plunge into the water and struggle just to make the shore, there were communication foul-ups. But in the desperate chaos, Americans raised in that liberty of independence made vital adaptations, innovations, and turned almost countless "hopeless" situations into a combined victory for liberty. Most were not seasoned vets but young, very young, men who still had been raised in that culture of liberty, responsibility, rise, and achievement. Assumed risk is always a companion of liberty.
But the soldiers of the landing crafts made the beaches despite losses as high as 90% for the first wave and 70% for the second, the Boys of Pointe du Hoc created new scaling methods while penned flat to the face of the cliffs and then followed a former Texas A&M Aggie over the top, the scattered paratroopers found fragments of other companies and moved on to adjusted targets, the deadly machine gun fire was finally quieted and the Allies had a toe-hold on continental Europe. An American general later observed that no other army in history could have made so many critical adjustments under such pressure. These young, hastily-trained "sons of liberty" responded as only a responsible, independent-minded citizenry can.
Mark Levin has managed to give us several gifts of clarity as an author and commentator on both radio and now television. But perhaps his clearest is the simple title of his masterpiece Liberty and Tyranny. Our choices really are that simple. All of history, as well as our daily choices about society, operates on a somewhat sliding scale between Liberty on one end and Tyranny on the other. We cannot give up the choices, the liberty, of our lives without sliding toward the tyranny end of the scale.
There are no "perfect times" in history. Nor will there be until a more divine hand is at the helm. Those of our time speak little of Liberty and even give conditional qualifications to the words we try to substitute for it – such as equality and justice. The equality of liberty does not need a qualifying word in front of it because it means being equal in the eyes of the law and of God. There is no "racial," "economic," or "environmental" justice. There is only justice. These are simply phrases to distract from the very necessary concept of individual liberty. Tyranny will always prefer people to see themselves as classifications or victims instead of independent individuals.
I will keep listening for "that single word" to be used more and more. But I will also be aware of tone with which it is used and the central role it is given. I would hope that it (and its very real meaning) is something we all become comfortable with again – actually not just comfortable with, but passionate about. It is our path to remaining "a noble nation, with a virtuous people, praying to a righteous God."
Published in General