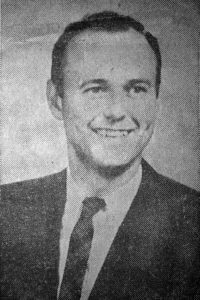 Three weeks ago, my dad talked to me for the last time. Three days ago, he died.
During those final weeks, any words surprised me. He was diagnosed with dementia eight years ago, four years after that with Alzheimer's disease, and hasn't been able to converse for several months. Every visit, he was a bit quieter, a lot thinner; a little less like Dad.
But he could still manage that sweet smile I remembered from my youngest days. Dad was gentle, peaceful, and seemed happy for visits, even when he didn't know who we were. My brother, sister, and I would sit around dad's couch or bed; he was content to eavesdrop on our conversations, occasionally revealing sparks of recognition.
He played guitar in his younger years, preferring outlaw country; Cash and Willie and Waylon. In the '60s, Dad would hang out at Waylon's club on the outskirts of Phoenix before the singer hit it big. We'd play Dad some of his favorites on our smartphones and watch his face brighten. When words fail, music remains.
Dad was also one of the funniest people I knew. Never pie-in-the-face clowning, but subtle. Think Bob Newhart, his favorite comedian. The long pause, the slight reaction, the unexpected reply that broke up the room. Evening after evening, we'd watch Newhart or "The Odd Couple" reruns, as long as a Western wasn't on the other channel.
There's no way to sum up a life. His little lessons on hard work, faith, and honesty, and his living example of each. The fishing trips where he seemed almost annoyed when a bite would disturb the moment.
His memories were fading before he was diagnosed. As his mind receded, he would recount stories from his younger years. Stories I'd never heard that were buried until more recent memories evaporated. Ice fishing from his car on the frozen lakes of northern Michigan. Emergency-landing a homemade plane with his college buddy when they ran out of gas midflight. Tales about my boat-building grandfather who died when Dad was just 12.
My Dad's last words were the same ones he said whenever we talked. Each time he dropped me off at school, talked on the phone after my latest Navy deployment, or shared our monthly lunches and brunches, he always made sure to end it with, "I love you."
I love you too, Dad.