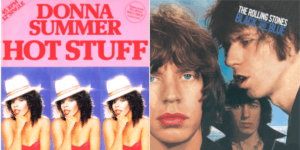 Y'all went and made me do it. You knew I would go to Charmin and outhouses if pressed. So, here we are: disco.
The Rolling Stones went disco with "Hot Stuff" from their 1976 Black and Blue album. The lyrics are simple to trite, and the music a repetitive dance track. It did not make the Top 40, unlike the ballad "Fool to Cry."
Credit the Stones with trying to give the people what they wanted, but if you want a dance tune titled "Hot Stuff," you really want to go with the Queen of Disco. Donna Summer recorded an entirely different song, also entitled "Hot Stuff," on her 1979 album, Bad Girls. Produced by English producer Pete Bellotte and Italian producer Giorgio Moroder (the master of synthesizer pop), "Hot Stuff" was the lead single and became Donna Summer's most popular song.
The synthesizer and guitar lines are distinctively Giorgio Moroder, but the attitude is all Summer. She smolders without showing up nearly naked, unlike [fill in the latest pop tart here]. Donna Summers began her collaboration with Moroder and Bellotte after meeting them in Europe, where she was performing stage plays, like Hair, (auf Deutsch)!
The same year that the Rolling Stones' "Hot Stuff" fizzled, Donna Summer was cooking with "Love to Love You Baby," one of her early collaborations with Bellotte and Moroder.
The lyrics are not more sophisticated than the Stones' "Hot Stuff," but imagine them played back to back in a discotheque. Summer was in her element; the Stones, not so much. It is as if the Stones were waving their fans' lighters, while Summer ignited a disco inferno. In the immortal words of Jerry Reed, "When You're Hot, You're Hot [When You're Not, You're Not]:"
Published in Group Writing