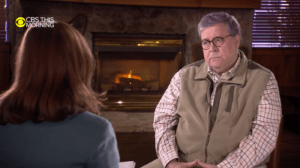 Like all of us who have followed the activities of the extraordinarily competent new Attorney General, William Barr, I have heard all manner of spin put on his statements, letters, memoranda, casual meetings in hallways with various Government officials such as Nancy Pelosi, and testimony before Congress. Somewhere in that storm cloud of words, one line in his recent interview and earlier in his testimony to Congress kept coming back to me, and so I sat down and read, closely studied in this case, the actual transcript from CBS News of his interview with that network's Legal Analyst, Jan Crawford, to be absolutely certain I was on sound footing when I used one of the phrases I thought I had heard in that discussion. Sure enough, there it was on p. 13:
JAN CRAWFORD: What have you seen? What evidence? What makes you think, I need to take a look at this? I mean, what have you seen in the summer of 2016?

WILLIAM BARR: Well, I'll say at this point is that it, you know, I- like many other people who are familiar with intelligence activities, I had a lot of questions about what was going on. I assumed I'd get answers when I went in and I have not gotten answers that are well satisfactory, and in fact probably have more questions, and that some of the facts that- that I've learned don't hang together with the official explanations of what happened. (Emphasis mine)
Those two little words kept coming back to me, like an "ear worm," and finally it popped into focus when I remembered Dr. Franklin's use of those words to describe the potential jeopardy in which all the signers of the Declaration of Independence found themselves after that heroic but dangerous act.
I am quite certain that anyone who has read this transcript carefully has to come away feeling that if certain of our "former law enforcement and intelligence officials," to use the weasel phrase so lovingly employed by the Lamestream Media for their favorite leakers (as if we did not know their names were, among others, Comey, Brennan, and Clapper) have not obtained the best criminal defense lawyers can buy by now, they are even crazier than I think they are. And, that is clearly a rather high (low?) bar, to be sure.
Other members of "our betters," to borrow one of Dr. Sowell's favorite sobriquets, who fall into the Praetorian Guard mentality to which the Attorney General made reference (p. 11), such as Felonia von Pantsuit, might also want to take a look at other passages in this interview, such as this passage, which can be found, for the ready reference of her defense lawyer, at pages 12-13:
JAN CRAWFORD: Um, what's the status of Huber's investigation in Utah? I think the former Attorney General Sessions had asked him to look at this.

WILLIAM BARR: Right, so Huber had originally been asked to take a look at the FISA applications and the electronic surveillance but then he stood back and put that on hold while the Office of Inspector General was conducting its review, which would've been normal for the department. And he was essentially on standby in case Mr. Horowitz referred a matter to him to be handled criminally. So he has not been active on this front in recent months and so Durham is taking over that role. The other issues he's been working on relate to Hillary Clinton. Those are winding down and hopefully we'll be in a position to bring those to fruition.
Perhaps Madame Secretary can free up some time from her new gig as a keynote speaker at conferences about Cyber Security (giving new meaning to the old phrase "you cannot make this stuff up"!) and making speeches attacking Bernie Sanders as a "sore loser" (see above) to share this passage with her defense attorney.
Other members of our elite who may wish to have some specific expressions used by the man who will be making prosecutorial decisions on their future to refer to their defense attorney would most certainly include the "FBI lovebirds" to whom the Attorney General was clearly referring when he made these remarks (p. 15):
JAN CRAWFORD: But it seems like you have a concern that there may have been a bias by top officials in the FBI as they looked at whether to launch and conduct this investigation?

WILLIAM BARR: Well it's hard to read some of the texts with and not feel that there was gross bias at work and they're appalling. And if the shoe were on the other–

JAN CRAWFORD: Appalling.

WILLIAM BARR: Those were appalling. And on their face they were very damning and I think if the shoe was on the other foot we could be hearing a lot about it. If those kinds of discussions were held you know when Obama first ran for office, people talking about Obama in those tones and suggesting that "Oh that he might be a Manchurian candidate for Islam or something like that." You know some wild accusations like that and you had that kind of discussion back and forth, you don't think we would be hearing a lot more about it?
This interview was truly a treasure trove of "fascinating details," as Mollie Hemingway put it in her excellent review this morning in The Federalist entitled "Top 28 Moments from Bombshell Interview," shedding so much of the kind of light so many of us had almost despaired of ever hearing again from a high public official.
What was that sound I just heard? Was it possibly the sound made when the plug is pulled and a body of liquid — in this case a muddy, slimy mixture of muck and corruption and sleaziness — begins the sure but slow process of draining?
What a great day for our Beloved Nation! Hallelujah!
Sincerely, Jim
Published in Law