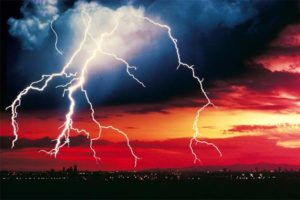 Few people I know like the heat of a Florida summer. In fact, if people say they enjoy it, we assume they have a screw loose. Part of the culture requires that you complain about the heat at least once in a conversation. And when summer starts early, as it seems to have this year (today it will be 98 degrees), the moaning and groaning are cacophonous.
So, I commiserate with others on the weather; it's always a good conversation opener. When I meet someone new or am not feeling fully awake, the weather is always a reliable topic. And something we can all agree on.
But quite honestly, I've come to realize that commenting on the weather for me is just a lazy habit. For example, I have never paid a lot of attention to the weather when we have made decisions about where we will live. We've lived in Massachusetts (humid summers, nasty nor'easters), Colorado (where in the 1980's we were snowed in for several days), California (which has many more problems that negate the mild weather), and now Florida, the lightning capital of the US (with its humidity and thunderstorms). My husband hates the cold, so no matter how hot it gets, he rarely complains. He knows when he has a good thing.
I didn't mind the cold wherever we live, just the icy streets after a freezing rain. And I don't mind the heat, I just take my walks early in the morning. What I've learned is that there are many things more important than nasty weather, hot or cold. And you can always count on the weather changing.
Instead of focusing only on the outer world, I've learned to appreciate the inner life, where the weather can't touch me. In here, I can find stillness beyond my emotional storms. I can find insight where the outside world doesn't reach me. I can find truth when the world is busy fighting evil.
From day-to-day, with our prediction tools, we never know for sure what the weather will be like.
But today, in here, the weather is just fine.
Published in Group Writing