For a metropolis of 500,000, Mesa, Arizona still has a small-town feel. Each year, veterans' organizations and community members gather to honor our war dead at the original Mesa Cemetery, established in 1891. This year, the downtown posts of the Veterans of Foreign Wars and the American Legion hosted the ceremony. The ceremony was simple and dignified, conducted in unseasonably mild weather.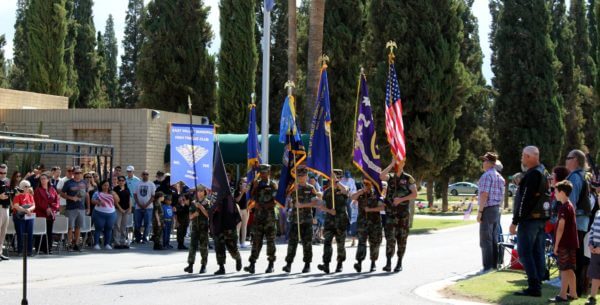 The colors, the flags of the nation and of the veterans' organizations, were presented by the East Valley Young Marines and Sea Cadets. The Pledge of Allegiance was followed by a very good, and gutsy a cappella rendition of the National Anthem. An invocation by the East Valley Masonic High 12 Club chaplain was followed by introductory remarks. A local author, Patricia Palmer, recited her prose work, "I am an American Soldier:"
It's mid December of 1777 and the place is called Valley Forge. It is a terrible winter. I have no shoes and my feet are wrapped in old dirty rags. I am exhausted after marching for miles. My feet are frozen and I have left a trail of bloody footprints. My belly aches from hunger. The winds howl as I sit around a small fire eating fire cakes made of flour and water. I have dysentery and fear I will not last the winter but I am an American soldier and I will survive.

[…Onward through our wars until we arrive at 2015…]

Today is the day I will die on foreign soil. It is October 22nd, 2015 and I am a Staff Sergeant with special forces. I have already won eleven Bronze stars fighting for my country. Today I will help free 70 Kurdish hostages from imminent torture and death. My government says this is not a combat mission but my wife will tell my four sons that their dad died a hero during combat in Iraq. I do not think of myself as a hero, just an American soldier doing what he is trained to do. I am the first American to die fighting ISIS Terrorists.

[,,,]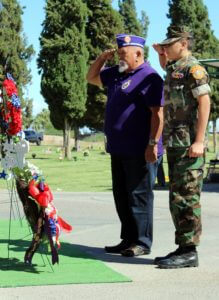 With the appropriate tone set, the Young Marines returned to carry each organization's wreath, accompanied by the organization's representative. These were placed before the colors, and honors were rendered. Here is the Military Order of the Purple Heart wreath laying.
With all the wreaths laid before the colors, everyone rose for the rifle salute and taps. Here is the American Legion Post 26 Honor Guard in mid-volley: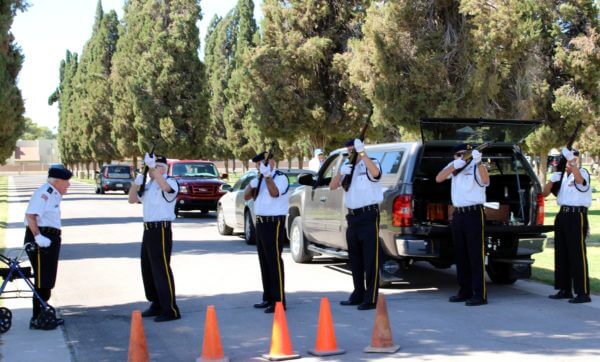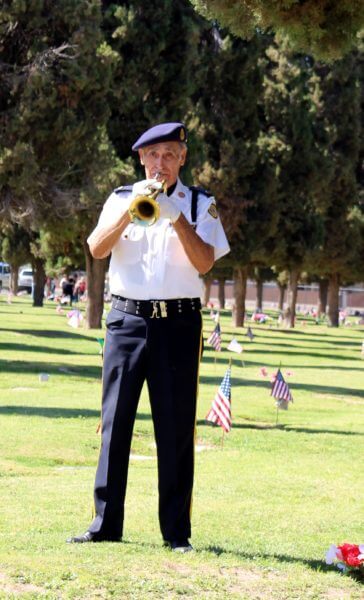 Taps really must be played live, not from a recording. There is always risk in a live performance, but the sound makes all the difference in the world. The bugler, from the American Legion, is a spry nonagenarian. He blew Taps with a clear tone and steady notes.
The ceremony ended with a benediction. People mingled and slowly departed. It was only around 10 in the morning, yet the cemetery grounds were actually filling as those who came for the ceremony left. Families, with multiple generations, were quietly gathering around grave sites.
A young man, in his mid twenties, knelt near a tree, not directly next to an particular grave marker. His girlfriend or wife standing by his shoulder. A few minutes later, as I changed lenses in hope of bringing a flight of classic T-6 trainer aircraft in close, I looked back and the young couple were gone. Who had he come to honor? Perhaps a fallen comrade who rests far from here.
Many of our fallen, then, were being held in living memories. Others were noted by an American flag, planted at their grave marker on Saturday morning. As these graves were searched out and marked, it often took some clearing of soil and dry grass clippings. For all our good intentions, the particular facts, the lives of this World War I and that World War II veteran, are being forgotten by the living.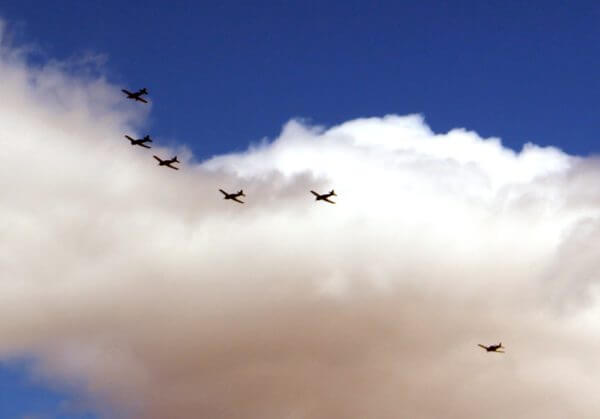 It is said of those in tombs of the Unknown, that they are "known only to God." That is no trite phrase. It is profoundly true. The God who is there does indeed know each human in all of history. May they be found on the rolls for paradise, and not perdition!