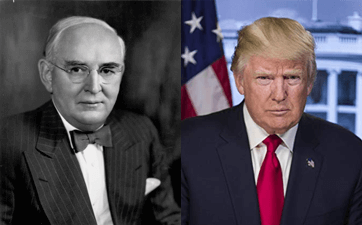 NYU political science professor and some-time Time columnist, Ian Bremmer, found himself in a bit of hot water early on Sunday by tweeting out this: "President Trump in Tokyo: 'Kim Jong Un is smarter and would make a better President than Sleepy Joe Biden.'" It was retweeted by journalists and politicians alike as gospel. The only problem being is that it was totally made up. His defense? "Plausible."
And it is plausible. Trump treats every transaction in the White House no differently that those he did in business out of Trump Tower. He lives by the old saw, "You catch more flies with honey than you do with vinegar." That means heaping praise on people that maybe don't deserve it. It confounds political friends and foes alike. But it could also mean that Trump has figured out something the rest of the political class has not.
For decades (and perhaps for centuries, even) the conventional wisdom has been a variation on the Vandenberg Rule. Arthur Vandenberg was a long-time US Senator from Michigan and as Chairman of the Foreign Relations Committee his support was pivotal for the policies of President Harry Truman in the late 1940's. In a major speech from the floor he has been credited with coining the phrase that "partisan politics stops at the water's edge." It has also been a long accepted tenet of foreign policy discussions that when it comes to pronouncements from the heads of state everything can be divided into two categories: those meant for the niceties of diplomacy and the harsh things that must be said "purely for domestic consumption."
But in the internet age do those categories even exist? Or has Trump simply figured out that this duality of intended audiences simply makes no sense when every word is streamed live or tweeted out shortly after it's uttered? And even if your take is, "No, Trump's not bright enough or savvy enough to see it that way," the question doesn't change. Does it make sense to woo foreign powers in private while feeding pablum to domestic audiences?
Published in General