India's 2019 federal election was called on May 23, with the ruling Bharatiya Janata Party (BJP) and its allies winning an increased majority of 350 out of 543 seats in Lok Sabha, the lower house of the Indian Parliament. The BJP won 300 seats itself, which means that they will not need to govern in coalition, but have enough seats to form Government in their own right.
This is what the results look like on a map (BJP+ is of course saffron):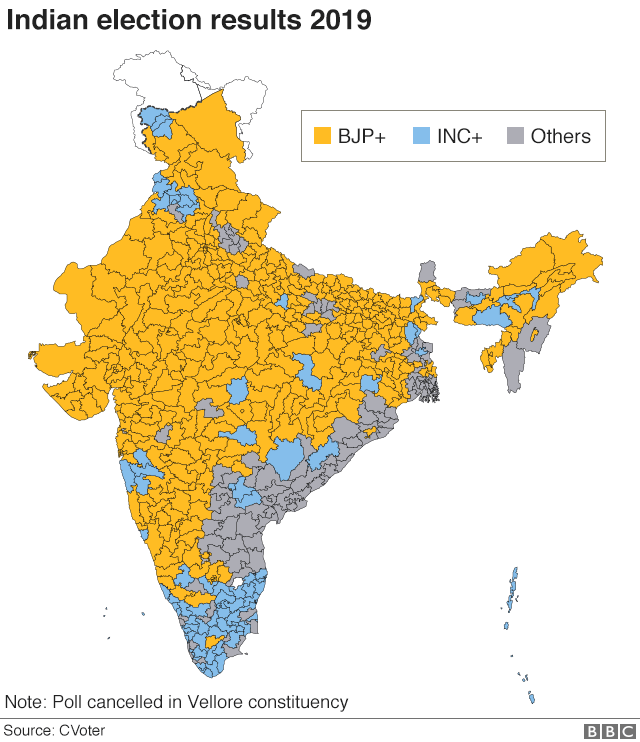 This was an enormous exercise, involving about 900,000,000 (nine hundred million) registered voters, 11,000,000 (eleven million) election monitors and with polling conducted in seven phases across the country over a period of six weeks.
NDTV has an interactive map which allows you to filter by party and click on individual constituencies for details of the winner.
The BJP won the election despite some arguable failures in delivering on its 2014 campaign pledges (most notably regarding employment – at over 7% the unemployment rate is the highest it's been for some time) and a slowing growth rate (down to 6.5%), both of which are due to some external factors (the impact on the global economy of some nascent trade wars and trade sanctions on the country that supplied a significant amount of India's oil imports) but also due to the implementation of two Govt initiatives: demonetization and the GST roll out.
To be fair, they were both arguably good for the country in the long run but were never going to be implemented without difficulty in a country where there was/is a vast irregular economy that functions in cash. That said, voiding about 80% of the value of notes in circulation [could be exchanged for replacements] overnight shows a remarkable sang froid while breaking eggs to make an omelet. (Not, now that I think of it, a good metaphor for a vegetarian trending party.)
Imho the reason the BJP won despite these handicaps was because (1) in India today for political leadership it is not just TINA but TITA (2nd T = Terrible), and (2) it had its Plan B (Hindu Nationalism) which is far from played out.
The only notional alternative to the BJP is the sad remnants of the Indian National Congress (INC). Electorally dominant for literally decades after the freedom struggle placed it front and center in the national consensus, the INC won about fifty seats in this last election. At least one of the reasons for this is that it doesn't seem to have any new policies, and is still perceived as the degenerate fiefdom of the Gandhi-Nehru family. The current leader of the party (Rahul Gandhi, son, grandson and great-grand son of Indian Prime Ministers, including India's first [Jawaharlal Nehru] and then its longest serving [and perhaps most detrimentally influential to the body politic, Indira Gandhi] lost the traditional "family seat" of Amethi in UP – although his Italian born mother (this counts against them, we have a xenophobic streak) won hers next door.
Heads have rolled in Congress post election (iow resignations of some very influential people have been offered and accepted), but not Rahul's – and that, frankly, is an excellent illustration of the problem. At this point, India has no meaningful political opposition, and until Congress gets its act together or is displaced by another party, it won't. A remarkably good-natured discussion on that here, if you have any interest in Indian talk shows (sometimes a bit shouty, almost inevitably bilingual, but IMHO they can be more intelligent on politics than any others that I've seen; this one also illustrates an enduring truth about Indian politics – that the people who govern, from either side of the aisle, have more in common with each other as a social class than they do with the rest of the country they represent, no matter what they say while canvassing).
Anyway – despite the impacts of demonetization and the GST introduction on the poor (the majority) the BJP was able to win because it campaigned on (Hindu) Nationalism – something that was hyped further by Pakistan's timely attacks in Kashmir during the election. While their last (2014) election campaign won on promises of development (partially and patchily delivered) this one was won on a Nationalist (security and cultural) platform. (Development was markedly absent from the conversation, as was any discussion of demonetization and its discontents.)
Using attitudes to the cow and to beef as a proxy (and, sorry to say, to Muslims as canaries in the coal mine):
If you compare a map showing cow slaughter related lynchings in India with the electoral map above it shows a significant (though not 100%, because India) overlap.
It's turning out to be hard to copy and upload, but a map showing a ban on beef is pretty similar: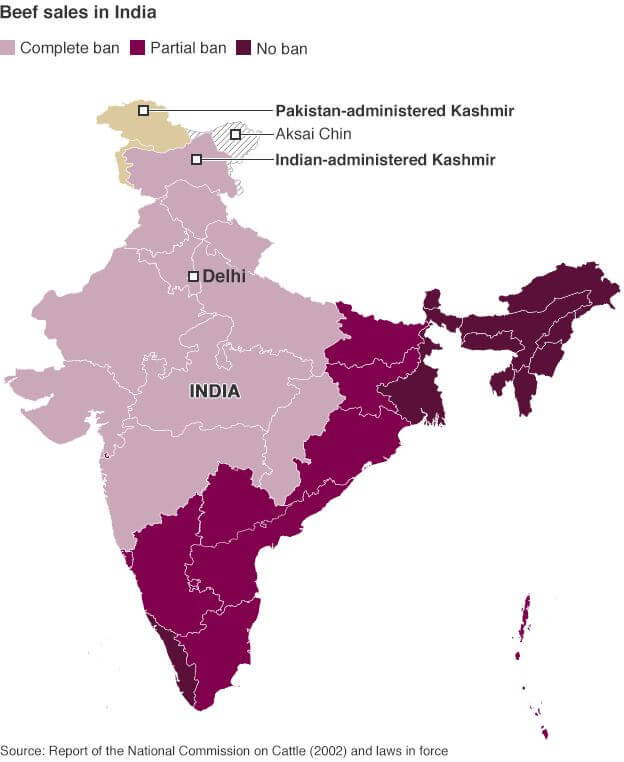 Edited to add, post cogitation prompted by Garry McVey's response: and our view of cows and cow slaughter as a proxy for The Nation and attacks on it seems to vary depending on which parts of India had Muslim rulers and for how long. The Mughals were not the first or the last Muslim rulers in the subcontinent, but using them as a conveniently large and simple example, the longer a place was ruled by Muslims (but where the population stayed majority Hindu) the greater the focus on the cow and cow slaughter reflected both by law and by incidence of violence: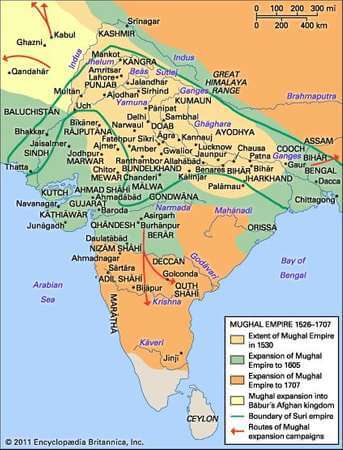 It doesn't explain Bengal (iow, there are clearly exceptions) but it's an interesting correlation. The deep South, which was never ruled by Muslim kings, is a lot more relaxed about all of this. And it really seems to be a function of these medieval rulers rather than concentrations of (presumably drawn to The Beef) Muslims. I'm using the cow etc. as a proxy for a larger world view which is culturally Indo-Aryan rather than Dravidian, IMHO.
So in summary, India's most economically liberal party won the election on the basis of some profoundly illiberal social currents. India is still working through its historical baggage (to be fair there's a lot of this), but let's be optimistic?