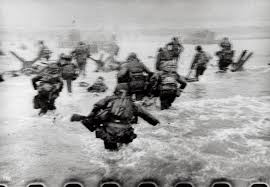 Friday's online Wall Street Journal carried the usual Saturday column by Peggy Noonan. Aside from having been one of President Reagan's speechwriters, Noonan is not ordinarily one of my favorites, but today's column, "Which Way to Pointe du Hoc?" really hit home for me for some very personal reasons.
One of the main reasons I signed up for a D-Day to the Rhine tour was that I wanted to stand on the spot where President Reagan stood when he delivered one of the most powerful speeches ever delivered by any President, "The Boys of Pointe du Hoc," with a number of the survivors of that truly miraculous assault straight up a 150-foot cliff sitting on the front row. There is a video of that speech and every time I watch it I realize anew that it represents the very essence of what Memorial Day is all about. I have been trying to read everything I can get my hands on about this particular part of D-Day, and every time I find something else, I learn about one or more miracles which took place that day; courage and bravery beyond mere words. They were The Boys of Pointe du Hoc. Thank God for them. And all their Brothers in Arms.
As I assume this column is behind the WSJ paywall, here are a few of the passages which relate to the miraculous climb straight up those cliffs and the President's remarks on the 40th Anniversary of D-Day, June 6, 1944:
The week after next marks the 75th anniversary of the Normandy invasion. People will be thinking of D-Day and seeing old clips of the speechifying that marked its anniversaries. I will think of two things. One is what most impressed Ronald Reagan. He spoke at the 40th anniversary, on June 6, 1984, at the U.S. Ranger Monument, and seated in the front rows as he spoke were the boys of Pointe du Hoc.

"Forty summers have passed since the battle that you fought here," he told them. "You were young the day you took those cliffs; some of you were hardly more than boys." Many were old now and some wept to remember what they had done, almost as if they were seeing their feat clearly for the first time.

Reagan spoke with each of them afterward, and what moved him most wasn't all the ceremonies. It was that a bunch of young U.S. Army Rangers had, the day before, re-enacted the taking of the cliffs, up there with ropes and daggers, climbing—and one of the old Rangers who'd been there on D-Day and taken those cliffs 40 years before got so excited he jumped in and climbed along with the 20-year-olds.

"He made it to the top with those kids," Reagan later told me. "Boy, that was something." His eyes were still gleaming. Doesn't matter your age, if you really want to do it you can do it.
There is a video accompanying this article showing President Reagan shaking hands with each of the Rangers, and showing one of them sobbing as the President grabbed his hand; the memory of that day, The Longest Day, was just too much for him, a proud member of Rudder's Rangers, to bear.
Another passage describes the derivation of the title of her column:
A second thing I think of: My friend John Whitehead once told me, in describing that day, of a moment when, as a U.S. Navy ensign, he was piloting his packed landing craft toward Dog Red sector on Omaha Beach. They'd cast off in darkness, and when dawn broke they saw they were in the middle of a magnificent armada. Nearby some light British craft had gone down. Suddenly a landing craft came close by, and an Englishman called out: "I say, fellows, which way to Pointe du Hoc?"

Jaunty, as if he were saying "Which way to the cricket match?"

On John's ship they pointed to the right. "Very good," said the Englishman, who touched his cap and sped on.

John remembered the moment with an air of "Life is haphazard, a mess, and you're in the middle of a great endeavor and it's haphazard, a mess. But you maintain your composure, keep your spirit. You yell to the Yank, 'Which way to Pointe du Hoc?' and you tip your hat and go."
It won't be long before I'll be standing where our President stood and remembered The Boys of Pointe du Hoc, and I will look down those cliffs and I will look over those graveyards where some of the bravest and most courageous Americans rest, and I will be so proud to be an American, like that aging Ranger, I will cry.